Marple Council Schools Roll of Honour
Old Boys who answered their country's call during the War 1914 -
A fascinating glass slide recently came into Marple Local History Society's archives with a group of other, seemingly unrelated, photographic images from the early 1900s. It's a study of a Roll of Honour document that must have been a "work in progress" when the photograph was taken.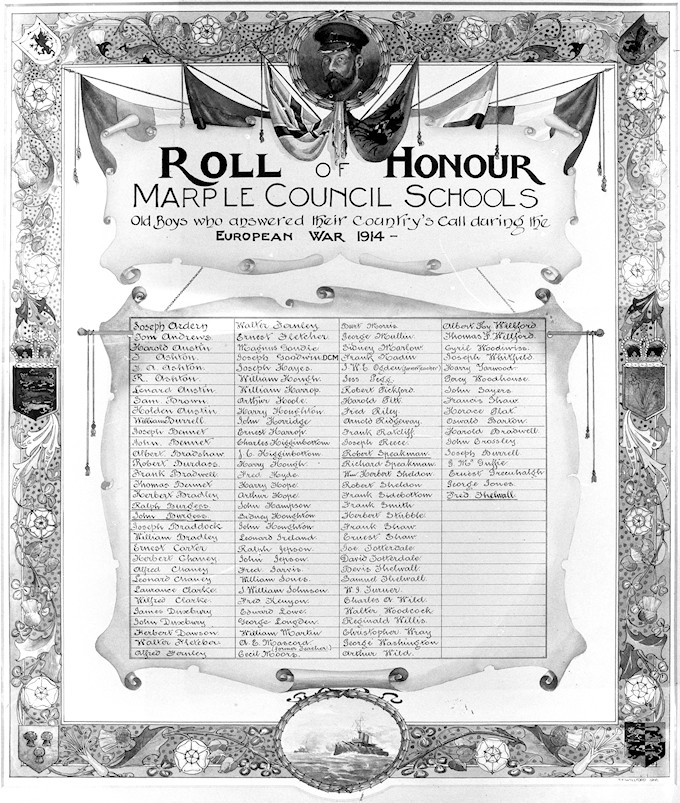 Roll of Honor Marple Council Schools - click for a larger version
Whether the original document still exists is currently unknown but it would be wonderful to track it down in an archive somewhere to see if it was ever finished and how it looks today.
Why is this Roll of Honour unusual?
Commonly Rolls of Honour like this usually list those from a particular area, group or club who fell during the conflict. This one is quite unusual because it lists all those who answered the call and includes men known to have survived the war too. The photo is even more unusual as it depicts an unfinished document at a particular point in time, almost certainly while the war was ongoing.
We know much less today about the men who survived
It is relatively simple to find information about soldiers who died during the Great War today. The Commonweath War Graves Commission keeps on-line records that are easy to access. Of course in Marple's case, we also have the fruits of extensive research done by the authors of the book "Remembered: Marple Men who fell in The Great War" and the WWI Timeline in Memorial Park. So we can readily find information about the men on this Roll of Honour who died during the conflict.
There are paid options such as Ancestory.co.uk and Findmypast.co.uk where it may be possible to find service records of men who survived. However, service records alone won't tell us what happened next for these local men who managed to survive the war and come home. Finding out that kind of information could become a lifetime's work for a single researcher!
How can local people help complete the picture?
It is hoped that by putting this information in the public domain for people to discover, it will enable decendants of these men to tell a little bit about their ongoing stories. Did they come back and marry their local sweet-heart? Did they have lots of children and grandchildren? Or maybe they struggled to get over their experiences and the outcome was much sadder?
So if you find a relative on this Roll of Honour and you would like to share some information about what happened to them please get in touch via the contact page.
Here's the list of names and what we currently know: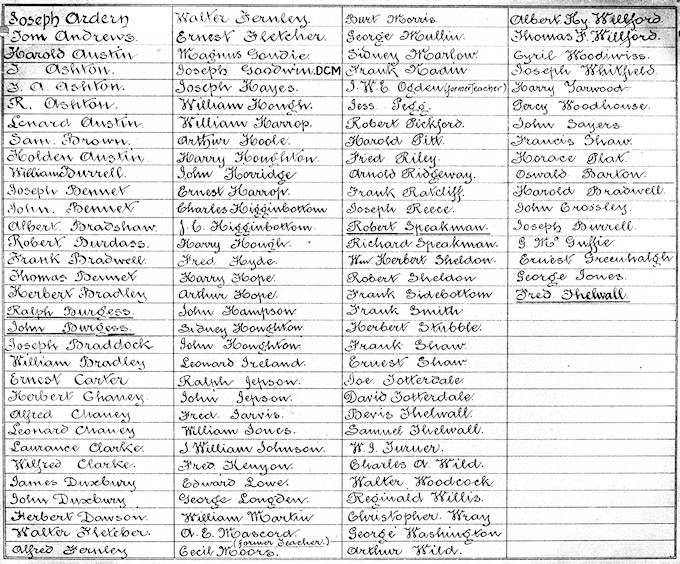 Roll of Honor names only - click for a larger version
Table of names and what we know:
This table is a work in progress too.
Additional details, links and snippets will be added as more information is discovered.
Name
What we currently know

Joseph Ardern
KIA 20 June 1915, age 19
Tom Andrews
Harold Austin
T Ashton
T A Ashton
R Ashton
KIA 6 March 1915, age 32
Leonard Austin
DoW 11 May 1916, age 19
Sam Brown
Holden Austin
Holden got married and had 3 children: Marjorie, Kathleen and Joan.
William Burrell
Joseph Bennett
DoW 14 August 1916, age 31
John Bennett
Albert Bradshaw
Robert Burdass
Frank Bradwell
KIA 14 November 1915
Thomas Bennett
DoW 30 April 1917, age 26
Herbert Bradley

Ralph Burgess

Maybe Ralph Hall Burgess, son of James and Mary Ann Burgess, of 310, Higher King St., Hurst, Ashton-under-Lyne Died 29 October 1915, aged 21

John Burgess

Maybe John Burgess, son of James and Mary Ann Burgess, of 310, Higher King St., Hurst, Ashton-under-Lyne Died 10 June 1915, aged 20
Joseph Braddock
KIA 22 October 1917, age 20
William Bradley
Ernest Carter
Herbert Chaney
KIA 22 March 1918, age 25
Alfred Chaney
For more information see Leonard Chaney below.
Leonard Chaney
I am a Grandson to Leonard Chaney, who was brother to Herbert and Alfred on the list. Herbert you know about, he died in the German 'Big Push' in 1918. Both Leonard and Alfred survived the war. They were the sons of Alfred Charles Chaney, who was coachman and then driver for the Barlow family at Woodville Hall. Leonard and his wife Maggie worked in service, mainly at Compstall Hall. They also worked for Dr Yuell in Church Lane. Latterly, with failing health due to being gassed, he was the greenkeeper at Marple Bowling Green. He died in 1959. Alfred went on to be a Lieutenant at the end of the war and ran a house in Alderley Edge. He died in 1979. Andrew Cooper.
Lawrence Clarke
Wilfred Clarke
James Duxbury
Died 4 April 1917, age 22
John Duxbury
Herbert Dawson
Walter Fletcher
DoW 4 October 1915, age 21
Alfred Fernley
Walter Fernley
Ernest Fletcher
Ernest Fletcher was my grandad. He survived the war and lived with his wife Maggie (nee Shaw) on Brindley Ave in Marple. He died aged 64. He had three children Muriel, Alfred and Derek. My grandma Maggie Fletcher moved after his death to Shirley Ave in Marple. Think most of Ernest's family came from New Mills. Denise Dakin
Magnus Gondie
Joseph Goodwin DCM
Joe Goodwin - a Marple Hero
Joseph Hayes
William Hough
William Harrop
Arthur Hoole
KIA 25 September 1916, age 22
Harry Houghton
John Horridge
Ernest Harrop?
Charles Higginbottom
J C Higginbottom
Harry Hough
Fred Hyde
Harry Hope
I am the son of Joan Hope who was born in Marple in 1922. Harry and Arthur Hope were uncles of my mother. Harry survived the war. He married May Mycock in Compstall in 1919. They had one son, James Harry, born in 1923. In 1930 the family emigrated to the USA. James Harry was killed in WW2 in the SS Leopoldville disaster aged 21. Harry died in the US in 1954.

David Watson.

Arthur Hope

Arthur survived the war too. He married Grace Shaw in Ikleston in 1916. They had one daughter, Mabel, born in 1916. Arthur died in 1956. David Watson.

John Hampson
Died 23 November 1919, age 22
Sidney Houghton
John Houghton
Leonard Ireland
Ralph Jepson
Fred Jarvis
William Jones
J William Johnson
Mellor?
Fred Kenyon
Edward Lowe
George Longden
William Martin
A E Mascord (former teacher)
Maybe 2nd Lieut Alfred Edgar Mascord 6th Bn Royal Welsh Fusiliers, Teacher from Coventry KIA 6 May 1918 age 26
Cecil Moore
Burt Morris
KIA 7 June 1917, age 21
George Mullin
Sidney Marlow
Frank Nadin
J W E Ogden (former teacher)
Jess Pegg
Jess was born in Windlehurst, Norbury, in 1889 and went to school in Marple when his father, George Pegg (railway signalman at Rose Hill Station), moved there with his wife Elizabeth (nee Sutton) and 5 boys and a girl, Ivy (then Lizzie was born in Marple). Jess was in the Territorials and I believe he went to Lovesgrove Camp near Aberystwyth and think he met my grandmother, Margaret Jones there. From the Medal List I know he was assigned to the 1/6th Cheshires, but most of his records are lost. He was gassed in the war and I guess he went to Lymm in Cheshire for recuperation and was joined by Margaret who took a job as hen-keeper. She left from Lymm to marry Jess in Marple, probably after he had been transferred to the Sanitarium at Stepping Hill Hospital. They lived on Brindley Avenue and had one child, my mother, Gladys Pegg. He worked as a gardener and chauffeur for Miss Hill and her brother Major Hill at "Kalaw", Church Lane. Jess died in 1933 and he is buried in one of three family graves in All Saints Church. Anne Elizabeth McKay.
Robert Pickford
Compstall?
Harold Pitt
Fred Riley
Died 20 December 1914, age 31
Arnold Ridgeway
Frank Ratcliff
Joseph Reece

Robert Speakman

Died 9 February 1915, age 25
Richard Speakman
KIA 15 September 1918, age 26
Wm Herbert Sheldon
Robert Sheldon
Frank Sidebottom
Frank Smith
High Lane?
Herbert Stubble
Frank Shaw
Ernest Shaw
Joe Totterdale (Totterdell)
David Totterdale (Totterdell)
Died 21 September 1917, age 40
Bevis Thelwall
Samuel Thelwall
KIA 25 October 1917, age 20
W J Turner
Charles A Wild
Walter Woodcock
KIA 19 September 1918, age 24
Reginald Willis
Christopher Wray
George Washington
Arthur Wild
Albert Hy Willford
Thomas F Willford
Cyril Woodiwiss
Joseph Whitfield
Harry Yarwood
Percy Woodhouse
John Sayers
Francis Shaw
Horace Platt
KIA 1 July 1916, age 19
Oswald Barton
Harold Bradwell
John Crossley
Joseph Burrell
KIA 25 September 1916, age 18
G McGuffie?
Ernest Greenhalgh
KIA 22 October 1917, age 24
George Jones

Fred Thelwall

DoW 28 July 1916, age 23
Underlined names
Four names are underlined. It is likely these men were known by the writer to have been killed. We can't be certain of that as the date of death on some others are earlier than those underlined but at the time deaths were not always immediately known. Sometimes men would be recorded as missing for a long time before their fate was confirmed to the local community.
Question marks?
In a few cases it is uncertain if the handwriting has been interpreted correctly.
Joe Goodwin's DCM
The letters DCM look like they have been added after Joe Goodwin's name was originally included on the Roll of Honour. As Joe was awarded the DCM for his actions taking place on 12 March 1916, we can be sure that the photo was taken some time after this date.