Memories of old Marple By Hannah Mary Sheila Robinson, Nee Burden
(illustrated with images from the Virtual History Tour of Marple)
Many people will have known the late Hannah Robinson, who lived in Marple all her life. These are Hannah's memories of Old Marple in her own words written in 2015....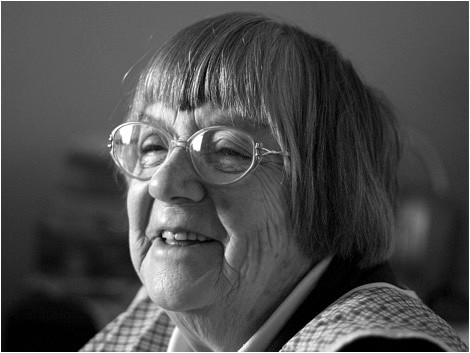 Hannah Robinson 1935 - 2020
I was born on Ellesmere Avenue, Marple on the 15th of May 1935, which was the year of the Silver Jubilee of King George V. When I was four years old I moved to a stone cottage at 14 Chadwick Street and I've lived in that same street for 74 years. The older generation I grew up with have long since gone and some of my generation have gone too.
The houses on Chadwick Street were all rented and the gardens were a hundred foot long. There were no bathrooms in the houses so lines of tin baths were hung outside the cottages on bath night. On the other days we just had a good wash at the kitchen sink.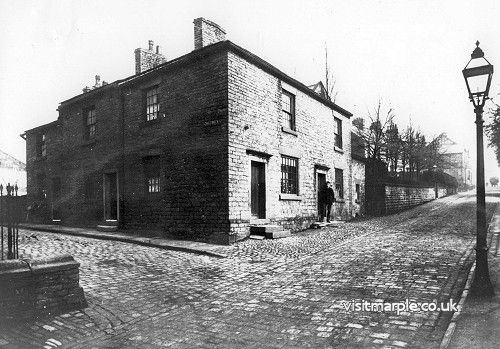 An early image of the junction of Church Lane and Chadwick Street.
In the gardens we kept chickens, so we always had eggs. We also had pet rabbits and the other neighbours even kept pigeons and ducks. The toilets were at the top of the garden and when it snowed we all had to dig through it to pay a call. It's only in the last four years that those original outside toilets were pulled down.
As we grew up on Chadwick Street nice flowers and rose trees were planted, so there was always a lovely view in the Spring and Summer months. Where the Chadwick Street car park is today there were a row of red brick stone cottages adjoining the Carver Theatre. Behind them were another row of houses on Chapel Fields where my Grandma, Uncle and Aunty all lived.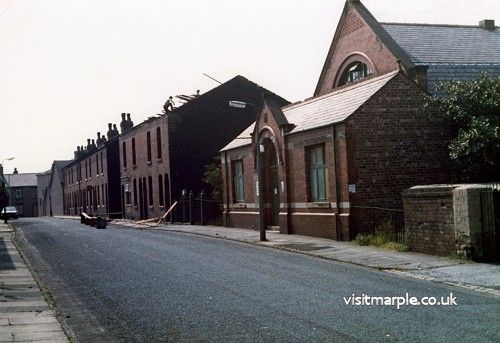 Chadwick Street Parish Hall and houses backing onto the Carver in 1970
There was a little shop in Chadwick Street called Turners. A lady called Lizzie ran it and they sold toffees, butter, cheese and bread that they baked in a little bakehouse where the Walmsley court flats are today. There were steps leading down to an outside shed where she kept supplies of paraffin and vinegar, which she measured for you in a jug. Lizzie's brother, Jim was disabled and couldn't walk. He had a large three-wheeler bike without pedals which he climbed onto and operated with his hands. He would go down to the bakehouse on his bike and do all the baking for the shop. Jim was a cheerful man despite his disability.
There was a Parish hall on Chadwick Street and during the Second World War you could go there to get a hot dinner and a pudding for a few pence. In later years the Church lads brigade practiced in the Hall.
The Methodist chapel on Church lane played a big part in the lives of generations of my family. My Grandma used to go there, and my brother and I went there to Sunday school with my cousins and friends. When it was the Anniversary we used to recite and sing on the front of the Sunday school platform. We always had new clothes on that day even though money was scarce. When Sunday school was over we had to change and our new clothes went back into the wardrobe on coat hangers. New clothes were always kept for Sunday school and special occasions and we usually outgrew them before we'd had a chance to wear them properly!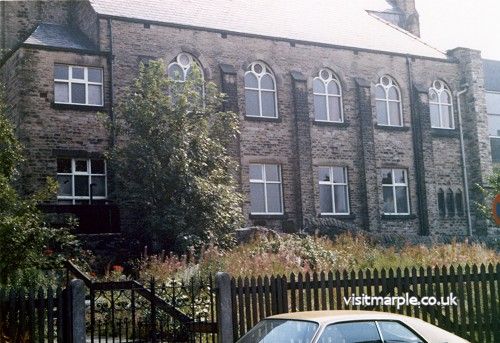 Marple Methodist Church buildings viewed from Chadwick Street in 1970.
Over the years there have been a lot of Christenings, Weddings and Funerals at the Methodist involving our family. When I was five I went to All Saints Primary School with my brother Walter. Four generations of my family, from my Mother and her family to my son, John and granddaughter, Hannah have all been taught at All Saints.
Walter and I stayed until we were eleven years old, then some children went to High School and some to the Willows on Hibbert Lane, which is now Ridge Danyers College. I liked going to school. There was no canteen at the Willows so we used to walk in an orderly fashion to the Carver Theatre for our dinner. The caretaker was Mr. Lister and the staff used to make nice meals for us, a particular favourite was the home made Meat Pie which everyone liked. Sometimes we got seconds if there was any left! Nobody liked the Prunes and Custard much but the Crumble was a big favourite!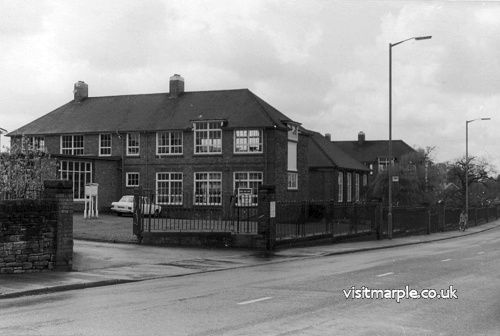 The Willows School in the 1960s.
Across the road from Chapel Fields on Church Lane there was a greengrocers shop run by Mr Davies and he used to sell us an apple to go back to school with for a penny. Where the car spares shop is now was another little shop where, during the war, we would go with our ration books for tea, butter and bacon. A brother and sister team, Mr and Miss Tattersall, ran it.
Facing the Carver theatre was a chip shop run by Mr. Hawley. They made potato fritters as well as Fish and Chips. Where the new road passes the car spares shop there was a cul-de-sac with a few cottages called Poplar Square.
Where Iceland is now was a Primitive Chapel and at the side of Iceland was Chapel Street, which stretched right to Church Street. Facing that was Emley Street with a little chip shop called Browns, where we used to go for a 2d portion of Chips or a three-penny mix of chips and peas. Sometimes if we could afford it we had a fish between us but back then that was a luxury. They were hard times but they were happy times.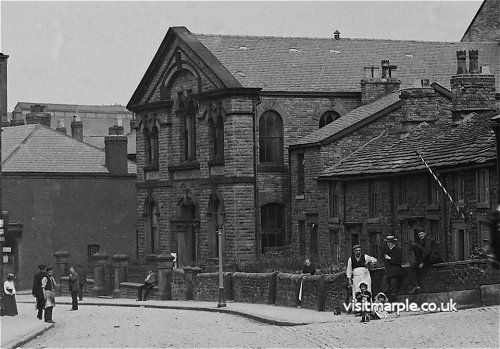 Trinity Chapel on Market Street, roughly where Iceland is now.
My father, John, came from Bradford in Manchester and met my Mother, Mary, at the Roman Lakes. John and his mate Harry rented a wooden hut on a farm in Marple Bridge. The Roman Lakes has had a big impact on our lives, as you will see later on.
I left school at fifteen and went to work with some of my friends at the Goyt Mill. We worked in the winding room, which was on the ground floor. We were called 'Lady Winders' because it was the cleanest room in the Mill. The card and ring rooms were a lot dirtier, especially with all that cotton blowing about. My cousins and brother worked in the card room. We had trips out to Blackpool and enjoyed having a singsong on the coach and playing on the amusements when we got there. We didn't have a lot of money to spend but again, they were happy times. At Christmas in the Mill we'd stop the machines and all have a party, we looked forward to it. My brother, Walter met Mary, a girl from Romiley, and got married. Just after that he was called up to do National Service and was despatched to Catterick camp in Yorkshire before being posted to Germany. During this time Walter and Mary had their first son, Kevin.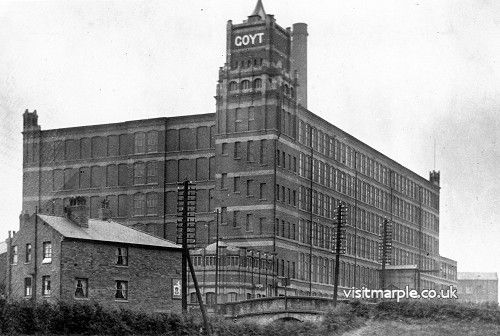 The Goyt Mill
The Mill stayed open for another six years and then out of the blue management came to tell us it was closing, everyone was really shocked and saddened. Some of the older workers had spent all their working lives in the Mill. I still see friends from the Mill days although a lot of them are no longer with us.
After the Mill closed I went to work in the Warehouse at Strines Printworks. It was there I met my husband, Ernest. I knew Ernest and his brother, John, from the Willows school on Hibbert Lane. Their parents had an Ironmongers shop in Town Street and their Granddad worked at Marple Bridge Co-op. Their mother was Scottish and her sister came to live in Marple Bridge, marrying a local lad Charlie Ardern, and going on to run the Roman Lakes.
I left Strines Printworks and went to work at Marple Swimming Baths for five years. I left when I learnt I was expecting our lovely son, John. John was born in 1971 at St. Mary's Hospital, Oxford Road, Manchester. At this time my Mum and Dad were still living at 14 Chadwick Street and by now we had our own home, a stone cottage at number twenty-four, five doors down from them, where we live to this day.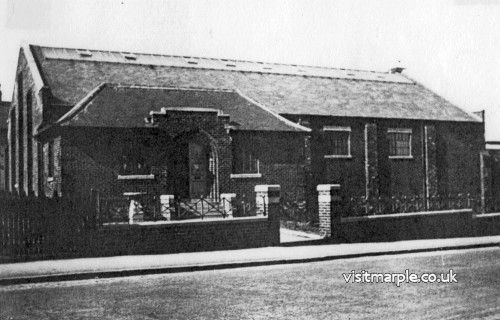 Marple Swimming Baths not long after being built in 1931.
My mother and Father were married fifty-seven years and they lived in Chadwick Street until they sadly passed away, in 1987 and 1990 respectively. In 2005 my son John got married to the lovely Alexandra and in 2010 they had a beautiful little girl, Hannah Rose, who is now four years old. Hannah is our only Grandchild and she's a joy to us, with her mass of ginger curls.
I was 80 in May (2015), and well...that's my story!
Hannah Mary Sheila Robinson Nee Burden
I'm very sad to add a footnote that Hannah passed away on 9 December 2020, aged 85. Her son John says it meant a lot to her that people were interested in her stories and I'm so glad that she shared them with us. Mark Whittaker, 10 December 2020.
If you have anything to share about Marple's history and heritage, including photos for the Virtual Tour, or if you would like to write an article like this for publication on the web site please get in touch using the contact page.