The Marple Website: background, history and acknowledgements
This is the first and best community web site for Marple in Stockport, Greater Manchester, or as some will still insist, Cheshire. It was first started in October 1998 with the aim of providing useful information for local people and potential visitors and to contribute to the fantastic community spirit that abounds in this small canal town on the edge of the peaks.
The site developed from an initial urge to learn how to make use of the free web space offered by my very first Compuserve email account in the mid-1990s. I started off in the usual way, playing around with family photographs and hobbies but soon realised that the most important thing on any web site is good content. I was never going to create an interesting site about an ordinary family of four from Marple that people would want to visit and keep returning back to.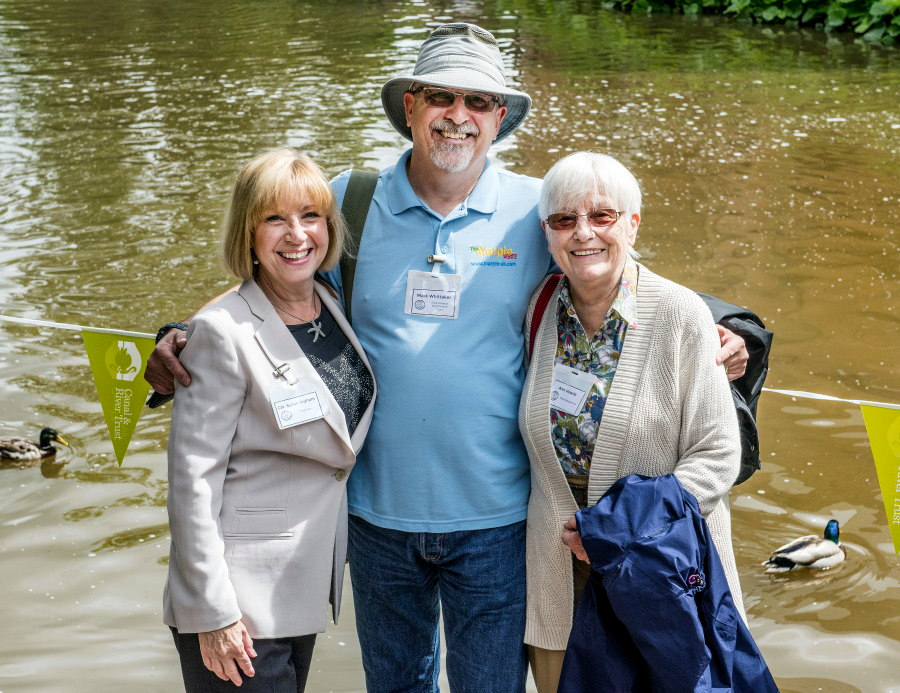 Cllr Susan Ingham, Mark Whittaker and Ann Hearle in 2016 by Arthur M Procter

I hit on the local theme after a colleague mentioned a site he'd seen for Northwich in Cheshire. There was nothing like this for Marple or any of the surrounding areas, so I decided to give it a try. I didn't realise at the time how interested I would become in Marple and its local history or how many helpful people I would find who were willing to contribute. I'm pleased to say that I've made many new friends as a result of these pages, both locally and around the world.
If you enjoy what's here please consider joining the forum and contributing to discussions. If you have a Marple related web site or run a group that you would like adding to the Community Directory or links pages, if you would like to become a web site sponsor and support the site while promoting your local business, if you have any suggestions for improvements, or would like to discuss any other matters relating to the site please get in touch. I particularly welcome contributions and articles on local history and attractions or other matters of interest to the local community.
Contributions from local people
The first major contributor to the site was retired printer Gordon Mills, who generously allowed me to reproduce his series of guided 'Walks Around Marple', even though they were still for sale at the time. Gordon was soon followed by local photographer David Brindley, whose fine collection of local prints enhanced the site and gave visitors a glimpse of the attractions of Marple and the surrounding areas. These two features plus my own growing compulsion with local history, and Marple Hall in particular, formed the backbone of the site as it is today.
From around the turn of the century until early 2010, retired firefighter Peter Clarke was involved in the web site too and made some great contributions, in particular the site's first Pub Guide and the original version of the Virtual History Tour. We also achieved some significant projects in the real world, not least of which was the Restoration of the Iron Bridge in Brabyns Park. We also formed a small local business called Marple Promotions selling cards, calendars and other Marple related paraphernalia in order to promote the town, wrote in local papers about Marple's history and helped form several local groups including Friends of Marple Memorial Park, which I'm still involved with.
Since around 2007, photographer Arthur M Procter has became an increasingly prolific contributor to the web site and the Virtual Tour with his wonderful photos capturing and recording the many events in and around Marple. Arthur is also responsible for most of the great photos used in the headers of this upgraded site. Others who have also given their support and encouragement or made significant contributions to the site since it began are listed in the acknowledgements below.
A new President for Marple Local History Society!
I was incredibly proud and honoured to be invited to become the President of Marple Local History Society in October 2021. Of course I accepted, even though it is a little daunting to follow in the footsteps of the wonderful Ann Hearle (pictured below right with me and Cllr Susan Ingham). Ann was a good friend since the days that we worked together on the Iron Bridge Restoration Project, and the last person to occupy this role. I look forward to supporting Marple Local History Society Chairman Hilary Atkinson and her committee to the best of my abilities for many years to come.
Here is how the society announced my appointment in their Newsletter:
At the October meeting our chairman, Hilary Atkinson, announced that the committee has invited Mark Whittaker to be our new president. Mark has been a driving force behind many of the developments we have introduced in recent years and we would not be in the position we are in today without his technical assistance and strategic advice.

The Virtual Tour on the Marple Website showcases our extensive collection of historic photographs. Mark hosts our website and solves our technical problems and he carried out the original development to get our digital archive, Omeka, up and running. We stand out as one of the most progressive local history societies in the country and Mark has played a key role in getting us to that position.
Thanks and acknowledgments are due to:
Gordon Mills, David Brindley and Jack Turnbull, Peter Clarke, Andy Cook and Jon Bintliff, Ann Hearle, Hilary Atkinson and Marple Local History Society, Christopher Thompson and Charlie Emmett, Bill Ardern and the Marple Carnival Committee, Adrian Taylor, Tina Clarke, Cliff Ranson, David Bennett, Mary Greenwood, Jo Wright, of Spot-On Interpretation, for her fantastic pencil sketches featured at the top and bottom of the new site and Gill for accepting her role as frequent computer widow.
Mark Whittaker
Some sources and references used during the construction of this site:
The Peak Forest Canal: Its Construction & Later Development by Olive Bowyer 1988 New Mills Local History Society.
The Peak Forest Canal Marple to Whaley Bridge by Edward L.Hill - Gordon Mills & Co.1966
The Peak Forest Canal and Tramway by Brian Lamb - 1976.
"Remembered" - P.Clarke/A.Cook/J.Bintliff - 11 November 1999.
The History of Marple & District - Marple Local History Society - Rapidprint 1993.
"Your Guide to Marple" - Marple and District Chamber of Trade Official Guide 1991.
A Short Guide & History of Marple Hall - H.Cotton, printed by the Author at Marple Hall 1934.
An Invitation to Marple Hall - Anne Bannister - Gordon Mills & Co. 1971.
Marple Hall, Bradshaws & Isherwoods - Anne Hearle - Marple Local History Society 1996.
A Short History of Marple Hall from 1606 - Compiled by F.Tunstall from notes by Henry Bradshaw-Isherwood - G.H.Bailey printer.
Marple Township - Reprinted from East Cheshire Past and Present by J.P.Earwaker M.A.,F.S.A (1880) - Reprinted by Gordon Mills & Co.
Further sources are acknowledged on the relevant pages.