Formal Public Consultation started 8 February 2023
Marple Neighbourhood Forum has prepared a Neighbourhood Plan for Marple and Stockport Council is now seeking your views on its content until 26 March 2023.
Marple Neighbourhood Plan sets out planning policies that, once adopted, will guide future proposals for development in the area until 2038. The Localism Act 2011 gives communities the ability to shape the future of their area and the types of development they would like to see. The forum was set up in 2016 and has engaged with residents, businesses and organisations in the area via newsletters, topic group discussions, meetings and surveys in order to understand what the key issues are. Views have also been sought more widely using a stall in the town centre and on the forum's website.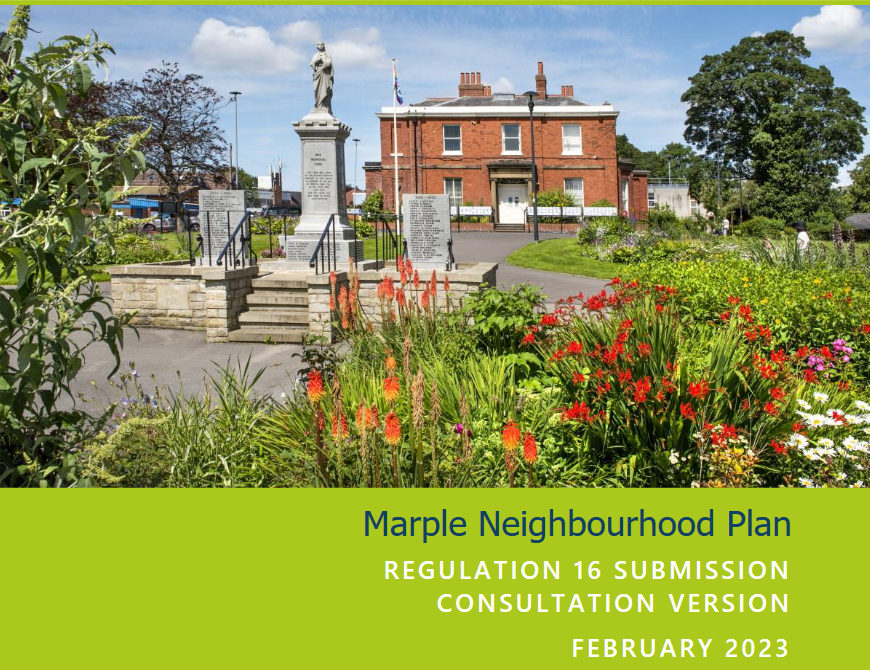 Following a round of local consultation on a draft plan in Winter 2021/22, the forum has now officially submitted the Plan and supporting documents to the council to undergo a formal public consultation under Regulation 16 of the Act. After this the plan will be subject to an independent Examination and, if successful, will be brought forward for a Referendum.
The plan includes chapters with policies and aspirations on the following topics:
Town Centre – Enhancing character and appearance, support for a new food store.
Getting Around – Encouraging walking and cycling and development in areas with good public transport access.
Housing – Supporting housing that is affordable and serves a range of needs.
Natural Capital and Climate Change – Safeguarding open spaces and supporting the efficient and clean use of energy.
Community Space – Ensuring opportunities for enhancing wellbeing and staying active are protected such as sports facilities, indoor community facilities and canal towpaths.
Heritage and Tourism – Protecting the character and appearance of local heritage assets and facilities that encourage visits.
Business and Employment – Protecting existing employment land and encouraging the growth of new business.
The council is inviting your comments on the proposals, and specifically to what extent you agree or disagree with them.
Please view the Plan and supporting documents and provide your feedback via the link at the bottom of this page. The consultation runs until Sunday 26 March 2023 at 23:59pm.
The plan is also available to view on deposit at the following locations during staffed hours:
Civic Complex, Piccadilly, Stockport, SK1 3XE (Mon – Thu 8.30am to 5pm, Fri 8.30am to 4.30pm)
One Stockport Hub, 16-22 Merseyway, Stockport, SK1 1RA (Mon – Fri 9am – 5.30pm, Sat 9am – 4pm)
Marple Library, Memorial Park, Marple, Stockport, SK6 6BA*
High Lane Library, Buxton Road, High Lane, Stockport, SK6 8DX*
*The opening times for Stockport libraries can be found here.
Responses to the consultation may be made:
Via the council's website using this link: https://consultation.stockport.gov.uk/planning/marple-neighbourhood-plan/
By email to This email address is being protected from spambots. You need JavaScript enabled to view it.;
By post to the following address: Stockport Council, Planning Policy, Stopford House, Piccadilly, Stockport, SK1 3XE