Movie Premier: Oldknow 200
A delightful record of the Oldknow 200 event in Marple 30 years ago!
In 1990 the community of Marple celebrated the bicentennial of the building of Samuel Oldknow's Mellor Mill alongside the River Goyt. This record of the fortnight-long event was filmed and produced by local man Tony Sheldon with help from partner and Production Assistant Denise Ambery. At the time only 25 copies of the VHS video were made, with one copy in Marple Library.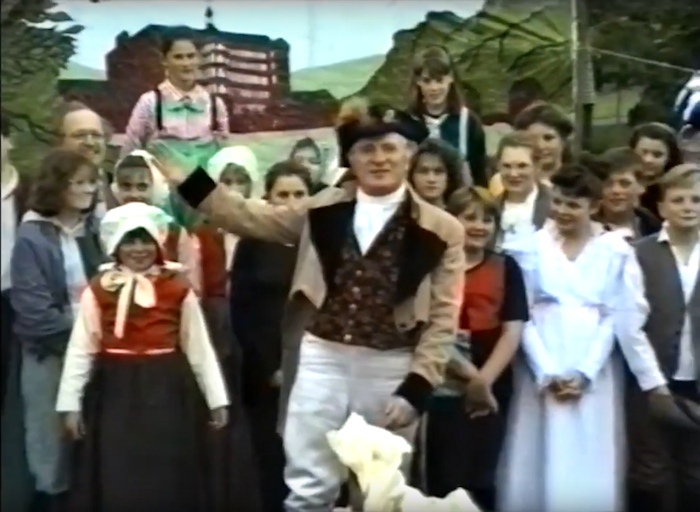 Trevor Jones and the cast of "A Fine Yarn".
So this on-line premier of this wonderful look back at Marple's History narrated by David Brindley will be the first time that many folk have seen it. Here's a brief introduction in Tony's own words:
We made this film to record the unique celebration of Marple's history that took place in 1990, 200 years from the date of the building of Oldknow's mill at Bottom's farm. We both worked at Granada Television, and I had acquired a SVHS camcorder. At the time, the mill had not been excavated and so much has changed. The video was edited at home on basic equipment before the advent of domestic digital cameras so the picture quality is not up to current standards, but I hope that it still captures the moment when so many Marple people came together to make an amazing community event.

Tony Sheldon / Denise Ambery October 2020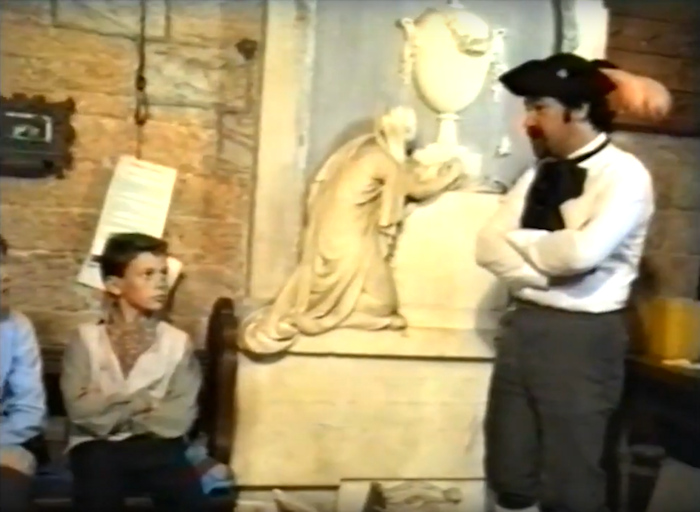 A youthful Steve Abbott tells Oldknow's story inside All Saints' Church.

And what an amazing event it was!
Looking back through the 48-page Festival Programme for the Oldknow 200 Bicentenary celebration reveals an incredible range of activities aimed at raising awareness of Samuel Oldknow's role in shaping the Marple we live in today. Kicked off by a revitalised Marple Carnival and ending with a Rally of Boats at Top Lock, the whole fortnight was filled with something for everyone.
We hope you enjoy the film....
Acknowledgement
A special thank you to Tony Sheldon and Denise Ambery for allowing their film created in 1990 to be shared on The Marple Website. Also to Anne Frazer for help preparing the film for publishing on-line.
Film Credits
Narrated by: David Brindley.
Camera, writing and production by: Tony Sheldon.
Production Assistant: Denise Ambery.
Model of Mellor Mill by: Tom Oldham.
Guitar music composed and performed by: Bob Carnegie.
Graphics: Chris Chrisnall.
With special thanks to: Steve Abbott; Lynn Hutton; Maggie Willett; Marple Local History Society; Bottoms Hall Farm and also the musicians and cast of "A Fine Yarn".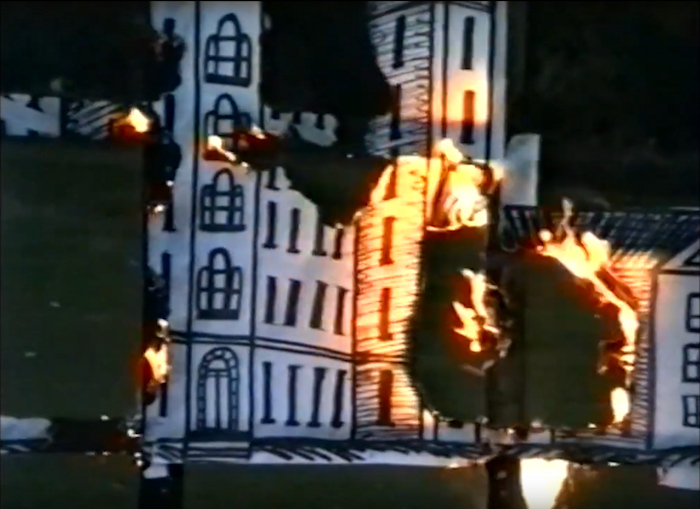 Oldknow's Mill was destroyed by fire in 1892 (Click next to see...)