Tom Oldham talking about his memories of Mellor in 1997
This is a video from Marple Local History Society's archives of Tom Oldham recalling his memories of Mellor. It was recorded in 1997 by Gordon Mills and Stanley Knott and was converted from VHS tape to digital format by The Marple Website in January 2011. In February 2020 it has been uploaded to Youtube and migrated to the new website.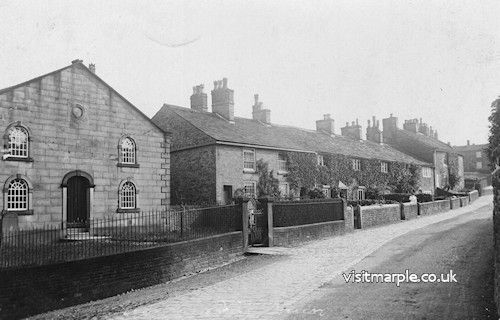 The Chapel and New House Hill at Moor End, Mellor
Tom was born in Mellor in 1910 and talks about his earliest memories of life in the tiny "Top Mellor" village before there were any of the services we take for granted, like gas, electric and water. He remembers going to Mellor School during WWI and also recalls various adventures as a young boy roaming the hills and valleys of Marple and Mellor.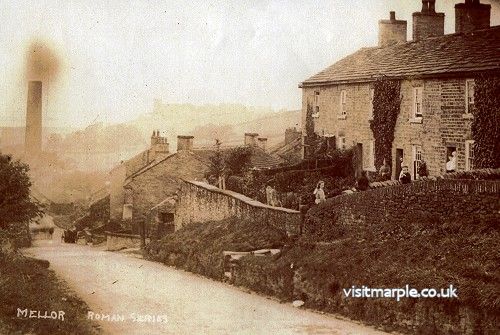 Waller Mill chimney, Mellor Sunday School and Green Doors Cottages at Moor End c1900
Tom was a very active member of Marple Local History Society and was author of several of the society's booklets, including "Samuel Oldknow" and co-author of "Historic Industries of Marple and Mellor". He also built the fantastic scale model of Oldknow's Mellor Mill that is still displayed in Marple Library.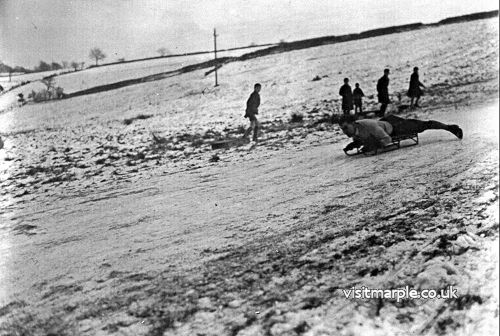 Tom Oldham sledging on Ale House Brow in the 1930s
Do you have anything like this to share with the Marple Community?
If you have anything to share about Marple's history and heritage, including photos for the Virtual Tour, or if you would like to make a recording like this for publication on the site please get in touch using the contacts page.