"THERE'S FROGHALL UP THE CALDON"
By DAVID BRINDLEY and JACK TURNBULL
Two hilarious accounts of a trip on the narrowboat "ALICE" from Marple to Froghall Junction undertaken by two totally bewildered, bemused beginners in 1989.
The first account is The Daily Log written by Cap'n Jack 'Titanic' Turnbull; the second, in verse, by his crew member and cook, David 'Beans Again' Brindley.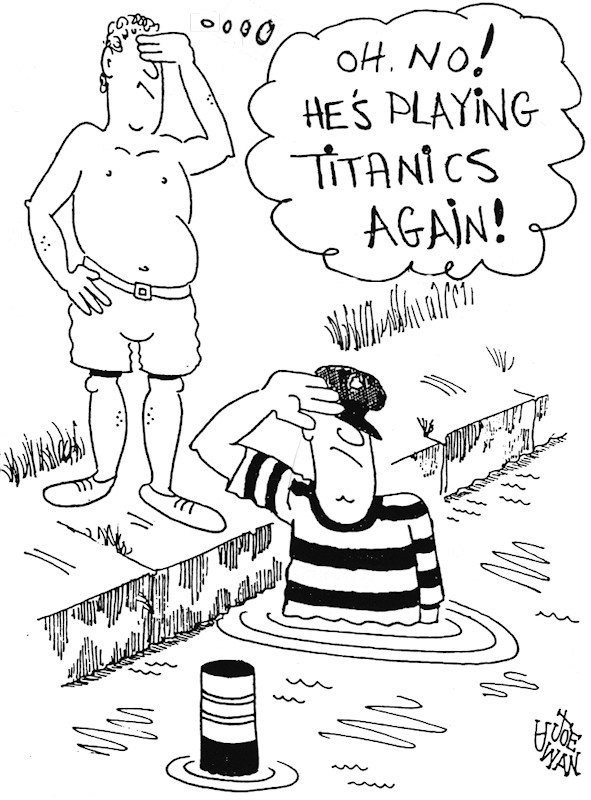 READ ON IF YOU DARE!
CAST and CREW:
THE BOAT Played by 'ALICE', a 29 foot steel narrow boat complete with all usual facilities, plus a pot bellied stove. She had a mind of her own and a strong tendancy to pull to starboard like a broken shopping trolley.
CAPTAIN / CHIEF ENGINEER / BILGE RAT / SCRIBE / CRIBBAGE ACE Played by Jack 'Where's my Pipe' Turnbull. Captain because he was the only one with a hat. Scribe because he was the only one with a pen and Cribbage Ace because they were his cards. One-time trained killer with HM Forces, coerced into this voyage by:-
ENSIGN / SHIP'S COOK / ELSAN TECHNICIAN / SENIOR PHOTOGRAPHER Played by David 'I thought the gap was wider than that and anyway it was only a little bump' Brindley. One-time Music Hall Artiste, now a proud Grandfather and Vodka Taster for Shirley Avenue and Cheshire.
Cartoon by the late JOE DWAN:
Joe, a local cartoonist, had the distinction of being the best "drawrer" in his class at school. Inspired by this he enrolled at the Ancoats Art College where he soon became very disillusioned owing to the fact that his tutor, a certain Mr Lowry, insisted that Joe depict on canvas his environment. Since he was no good at drawing cobbles, chimleys and thin people Joe chucked it all up and went to live in Paris. Living in a garret, he tried to emulate Vincent Van Gogh but, besides not being able to draw cobbles etc, he couldn't draw sunflowers either! Almost staving to death, he headed back for home and got a job as Acting Deputy Assistant Cartoonist on a popular magazine of the time - 'THE RAGBONE, COAL AND HAND CART OPERATIVES WEEKLY.' Joe passed away in February 2012, age 82.
'THERE'S FROGHALL UP THE CALDON' © David Brindley & the late Jack Turnbull has been reproduced on the Marple Website with permission from the authors and for the amusement of the online waterways community since December 1999. It was migrated to the new site in January 2020. This hilarious tome should have pride of place on the coffee table of every narrowboat.