Lost Bravery Medal returned to family 91 years after Hero's death
On the 21st August 1918, Richard Ingham was with the 6th Batallion of the Manchester Regiment fighting on the Somme in one of the bloodiest battles of the 1st World War, a battle that would bring about the the end of the war. The British Army was on the offensive and Richard's division attacked the village of Mireaumont near Beaucourt.
This was Richard's day of glory and the citation to his DCM says:
"During a critical phase in an advance east of Collincamp on 21st -8-1918, this man, seeing that one flank of his company was exposed, on his own initiative, took his Lewis gun out and covered the flank until other troops arrived. He kept 60 to 70 of the enemy in dug outs unable to get away and they were taken prisoner. He himself was exposed to heavy fire throughout."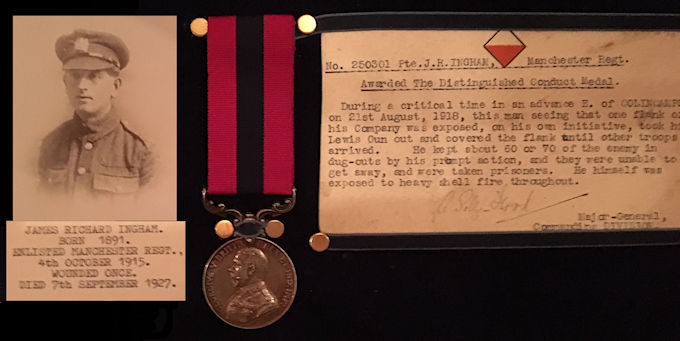 Richard's DCM was one of just 28 won by the 6th Batallion during the war.
Richard returned home soon after, went back to work at Frends Die Works with his brother Walter and married Gladys. They set up home in in a small hamlet near Mosley but not long after tragedy struck. Having survived the war that claimed his older brothers Charles Henry and disabled Joseph, both he and Gladys sadly died of Influenza in September 1927 within days of each other. They had no children and it was not known what became of their estate and the DCM was lost.
91 years later, Yvonne, Richard's great-neice and her husband Neil happened to be searching for a war record of a relative on her husband's side, who they thought may have been awarded a medal. Quite by chance they came across an Auction of War Memorabilia in London and were surprised to see a lot for the DCM of a Private Richard Ingham complete with his photograph and citation. They realised that they had found the long lost medal but frustratingly they were too late to bid for it as the medal had already been sold. Neil decided to contact the Auction house and ask them to put him in touch with the buyer asking if they would sell the DCM back to Richard's family.
Many months went by with no response, and we assumed that the buyer wasn't interested in parting with the medal, but then out of the blue Neil received an email from him. A retired Army Officer had bought the medal, he explained that he'd moved to Australia and that he had only recently received the email. Although he was a collector of medals and was pleased with his purchase of Richard's DCM, he was willing to let the medal go back to the family appreciating the value that the medal has to us. He kindly sold it for only what he paid and also paid for special delivery courier to send to the UK.
We are so pleased that Richard's medal is back with the family. It was obviously meant to be.
Susan Ingham, 21 August 2018