Contact Person: Local number on branch page.
Address: Heaton Moor Centre, Thornfield Road,
Area: Heaton Moor,
Town: Stockport
Postcode: SK4 3LD
Phone: 116 123 free from any phone.
Website: Samaritans of Stockport & District
Twitter: @StockportSams
About Samaritans of Stockport & District
There are about 25-30 suicides each year in the Stockport area. Samaritans mission is to reduce the number of people who die by suicide. Our branch is one of 200 branches across the country who offer emotional support by telephone. We support the whole of Stockport, as well as neighbouring areas.
You can get in touch with the Samaritans about anything that's troubling you, no matter how large or small the issue feels. We're here to listen, no judgement, no pressure, and help you talk through what's on your mind. We'll never tell you what to do.
We're here 24 hours a day, 365 days a year. Anyone can contact Samaritans for free anytime from any phone, even a mobile without credit.
Call us on 116 123 or email This email address is being protected from spambots. You need JavaScript enabled to view it.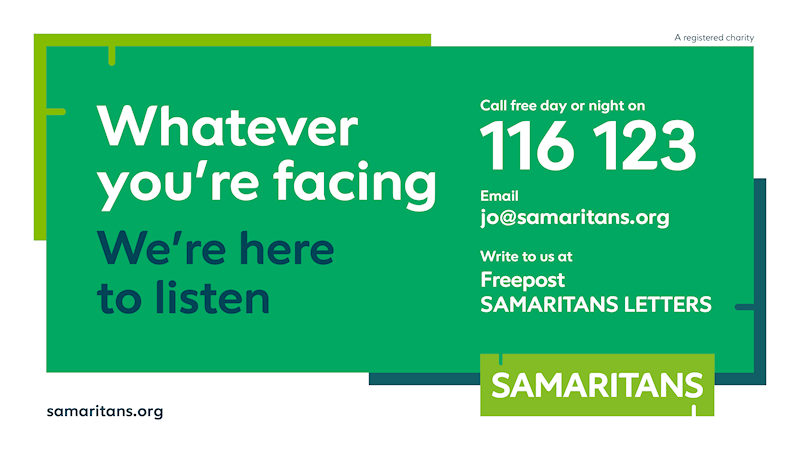 Volunteering at Samaritans of Stockport
Everyone in our branch is a volunteer, and we are always looking for support locally. We have over 100 volunteers from a variety of backgrounds. Being a volunteer can help change lives, and we are always looking for people to help provide this vital listening service.
Not everyone wants to be a listening volunteer however, and there are so many other ways to support Stockport Samaritans, such as administration, fundraising, or publicity. There's something for everyone.
Raising funds for Samaritans of Stockport and District
It costs around £22,000 per year to keep our branch operating and letting us carry out our vital work. We strongly welcome any donations however small or large, one-off or regular.
Could you also raise money for us? If you have the energy or enthusiasm to organise a fundraising event on behalf of our branch, we would love to hear from you. It can be a great thing to do with friends or family.
Text to Donate
Text STOCKPORTSAMS to 70085 to donate.
Texts cost donation plus one standard rate message and you'll be opting in to hear more about our work and fundraising via telephone and SMS. If you'd like to donate but do not wish to receive marketing communications, text STOCKPORTSAMSNOINFO to 70085.
Easyfundraising
We are registered with Easyfundraising, a great site, with over 4,000 shops and sites, where you can raise money for Samaritans of Stockport and District with your everyday online shopping.
We want to raise as much as possible so please sign up for free and help us at Easyfundraising