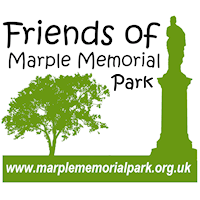 Contact Person: Get in touch via their web site
Address: Memorial Park Drive
Area: Marple
Town: Stockport
Postcode: SK6 6BA
Website: Friends of Marple Memorial Park
Email: This email address is being protected from spambots. You need JavaScript enabled to view it.
Volunteers caring for Marple's Town Centre Park
Friends of Memorial Park are a group of local people whose aim is to provide opportunities for community members to improve and promote the use, awareness and care of facilities within Marple Memorial Park in order to make the park a welcoming, safe and enjoyable environment for all. Please visit our own web site in order to find out more.
We hold task days in the park on the last Saturday of each month and everyone is welcome to join in for however long they like.