2020 should be remembered for Mutual Aid in Marple!
Well done to Marple's Volunteers!
What a strange and difficult year it's been for everyone - and latest news suggests it's going to get worse before it gets better. We're fortunate to have such a strong community spirit in Marple and hopefully that will help us all get through this ongoing crisis. One of the most amazing and uplifting stories of 2020 has been the formation of the Marple Mutual Aid Group and the help and support their volunteers have been able to give to those who have needed it across the wider Marple community.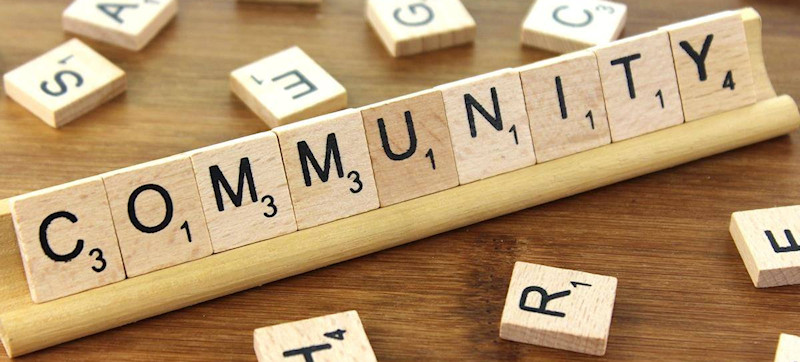 Website Banner Adverts helping the Marple Community
Although times have been tougher at the Marple Website too - web design income has reduced significantly - I was determined to maintain the following headline, perhaps for the final time.
£14,000 donated to local causes over the last 14 years!
This has only been possible thanks to the web site's wonderful avertising sponsors. The majority of these brilliant local businesses have supported the site for many years and I've been a little overwhelmed that almost everyone has continued to do so despite such difficult times. There have even been a couple of new businesses sign-up too, which is incredibly encouraging for the future.
2020 contributions and donations...
This year £120 was spent on materials for the refurbishment of the Albert Schools Plaques, which has been a fantastic little lockdown project for me personally. A donation of £30 to Plan Bee Honey Bee Sanctuary secured sponsorship of the Marple Website's very own hive for a year, and of course the Marple Poppy Appeal 2020 was supported too with a donation of £25.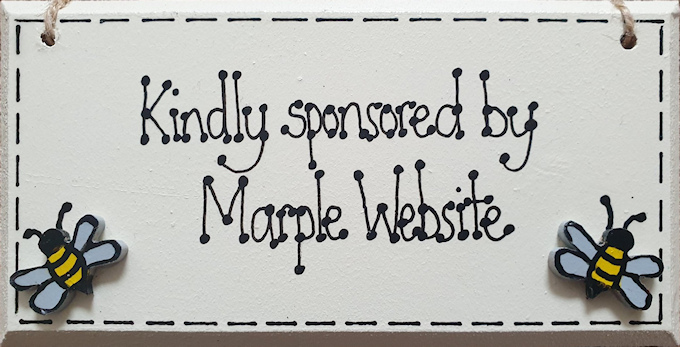 Christmas 2020 donations...
The web site's aim this Christmas was to give support to one or two local groups and organisations who've had a particularly difficult time due to the Coronavirus pandemic.
With this in mind, a donation of £100 has been made to New Horizons, a local charity that despite loosing much of their regular income in 2020 are determined to celebrate their 40th year in 2021.
Another local charity in a difficult position due to the pandemic is Mellor Country House and a donation of £100 has been made to hopefully help them to get through it too.
After a visit to The Pantry (Marple's Food Bank run by All Saints' Church) in December to learn how demand has grown and they are coping during the crisis, a third Christmas donation of £100 has also been made to help them support Marple's most vulnerable into the New Year.
To reach that amazing total of £14,000 in 14 years, a further donation of £35 has been made to Community Active Stockport CIC to help set-up a new Baby Group at Marple Sports Club.
A very big thank you to Marple Website's Sponsors for enabling this to continue!
Please consider becoming a Marple Website Sponsor
This level of community support can only be sustained in the future if local business support for the Marple Website continues. If you would like to help please look at becoming a Marple Website Sponsor and taking out a banner advert on the sites. It's currently great to be able to say:
An average of £1,000 has been donated to local causes each year for the last 14 years!
How many other community web sites or Social Media platforms can say that!
The Marple Website's year - news and projects supported
The Marple Website always does its best to support local community groups and local projects in as many different ways as it can. Here are some of the highlights of 2020:
Albert Schools plaques refurbished and installed in Hibbert Lane Church
After a long and fruitless search for professional help to refurbish the plaques recovered from the Albert Schools building last year, and an unsuccessful bid to enlist the help of The Repair Shop, I decided to refurbish them myself. With the advent of the first lockdown in spring it proved to be a great decision, giving me something positive to do with all the extra time we had on our hands.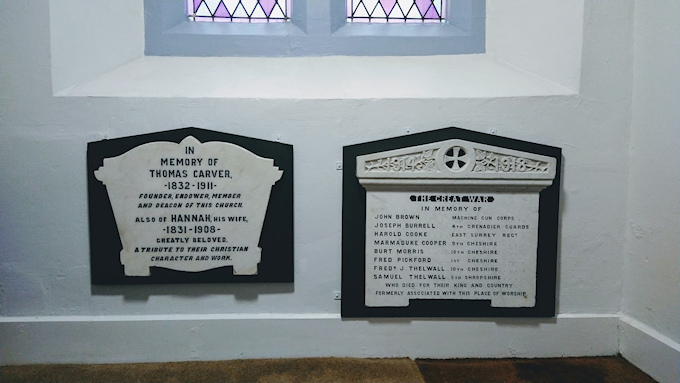 The photo above shows the Carver and War Memorial plaques newly installed in the United Reformed Church on Hibbert Lane. A big thank you to the Church Elders for agreeing to take the plaques rescued from the Albert Schools. It's a fitting new home as this church was built by the Carvers too.
The final step will be to install a small plaque telling the story of how they found their way there.
Great progess on Iron Bridge Viewing Platform
Another project that has dragged on and proved to be quite a challenge is the refurbishment and repair of the Iron Bridge Viewing Platform. However, determination and perseverance have been rewarded, and I was pleased to help Friends of Brabyns Park put together successful grant applications to Marple Area Committee and the Macnair Trust during lockdown this year.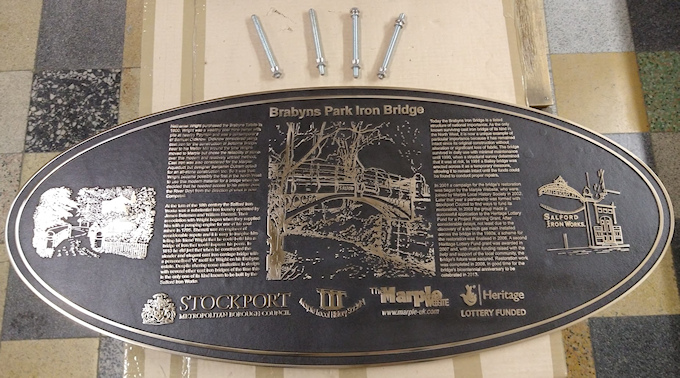 These grants awards, of £1,000 and £1,656 respectively, have enabled us to complete the necessary repairs to the platform stonework, kerbs and decking and to refurbish the bronze plaque. This has just been collected from Leander, the original manufacturer, who has done a fabulous job (see above).
Fabrication of the new infill railings by Wayne Chaisty is expected to start in the New Year.
Flora Buck's Scrapbooks of Brabyns Military Hospital
A fascinating task completed before lockdown was the digitisation of Nurse Flora Buck's scrapbooks before they were returned to her family after more than 20 years on loan to Marple WWI expert Andy Cook. It was great to bring them to a much wider audience at last by sharing them on the web site.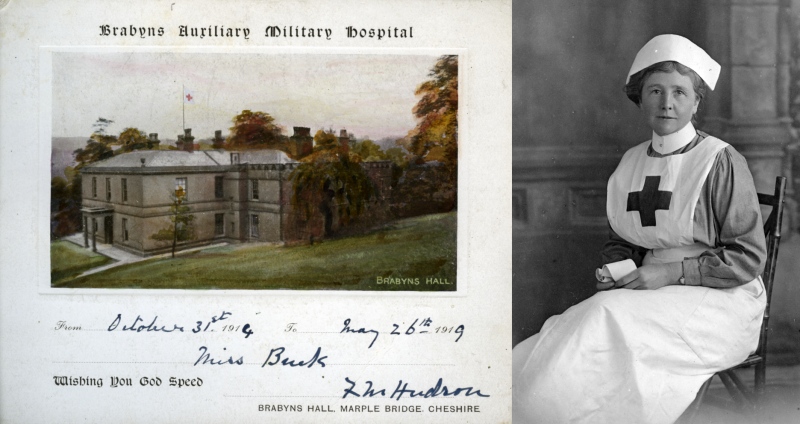 These two wonderful scrapbooks were complied by Flora while she worked as a Red Cross Nurse at the Brabyns Auxiliary Military Hospital from October 1914 until May 1919.
Flora utilised old catalogues of the time as the base for her scrapbooks to conserve paper and you will see adverts for all kinds of domestic products peeking through on some pages. The scrapbooks contain newspaper cuttings, photographs and postcards that tell of the events that Flora and the rest of Marple found themselves caught up in during the Great War.
Marple Schools Roll of Honour
Another fascinating WWI story shared this year was the discovery of a glass slide depicting a Roll of Honour dedicated to "The Old Boys who answered their country's call during the European War 1914 - " and attended Marple Council Schools. The location of this roll of honour, if it still exists, is unknown but the glass slide is of stunning quality and is almost as good as having the real thing.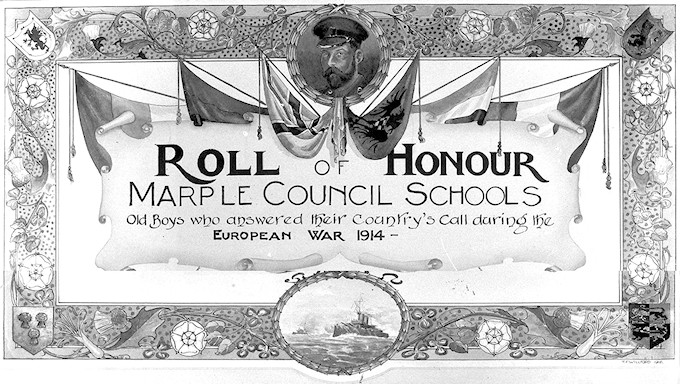 Unusually, the Roll of Honour names Old Boys who survived the war as well as those who were killed. The most exciting thing about putting this on the web site is that we are gradually learning more about the lives of the men who came home as relatives discover it and tell us their story.
The Marple Website's first Film Premier!
The Great Fire that destroyed Mellor Mill
Samuel Oldknow's Mellor Mill was constructed between 1790 and 1793. For over 20 years you've been able to read Oldknow's Story and the history of his Mellor Mill and Estate on the Marple Website. However, it wasn't until April 2020 that sensational CGI film of the fire at the mill came to light from the archives of the Mellor Archaeological Trust and it was shared publicly for the very first time.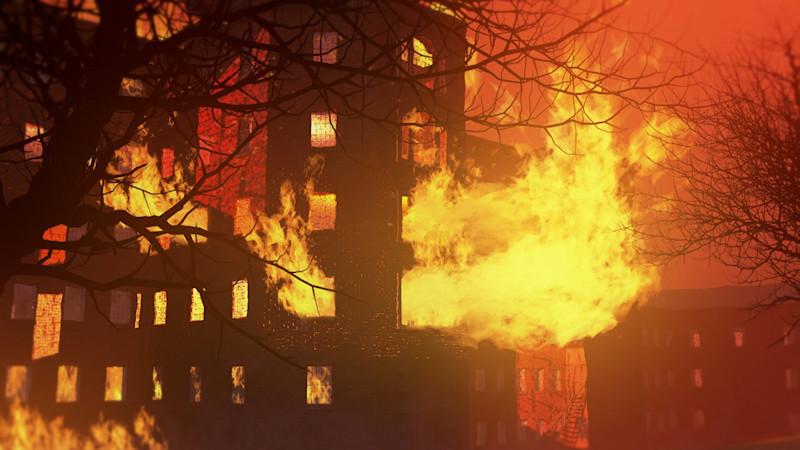 Thank you to producer Chris Mann for suggesting the film be premiered on The Marple Website!
Oldknow 200 Film Premier
A bit like buses, once one comes along! The Marple Website's second film premier of the year was the sharing of this delightful record of the Oldknow 200 celebrations held in Marple 30 years ago.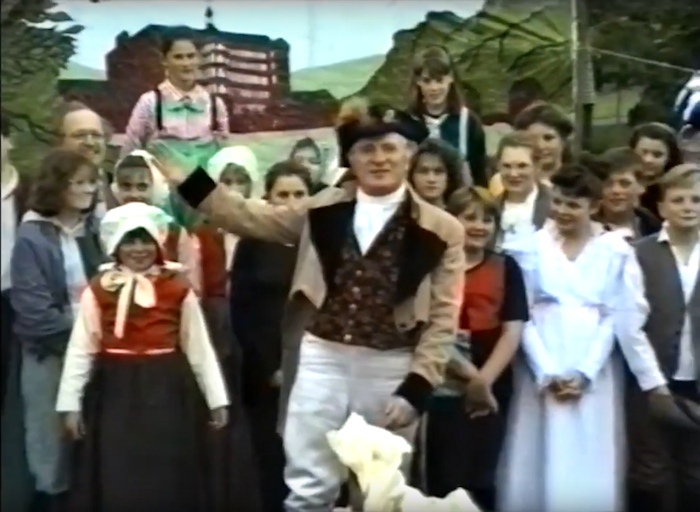 In 1990 the community of Marple celebrated the bicentennial of the building of Samuel Oldknow's Mellor Mill alongside the River Goyt. This record of the fortnight-long event was filmed and produced by local man Tony Sheldon with help from partner and Production Assistant Denise Ambery. At the time only 25 copies of the VHS video were made, with one copy in Marple Library.
Thank you to Tony and Denise for sharing their creation via the web site 30 years on!
"Pop" Mason's Willows School Rambling Club Diaries
These web site diaries were originally launched on the Marple Website on the 1st January 2008 in celebration of the 50th anniversary of the club begun by Frank Mason in December 1957 and in memory of Frank himself. They were created in collaboration with Frank's daughter, Ann Papageorgiou.

Unfortunately the early software used to create the web site became outdated and stopped working properly several years ago. In 2020 the content of the site was migrated to the main Marple Website so that it is once again available for anyone who may have an interest in those bygone times.
The final stage of the story - and the web site's third film premier of 2020 - was the sharing of "Pop" Mason's film reels shot during the Willows Walks and School Holidays in the 1960s and 70s. They were converted to DVD by the North West Film Archive and are now published on the site for all to enjoy.
Marple Poppy Appeal 2020
It's been brilliant to support the reinvigorated Marple Poppy Appeal Team since 2017 and to follow their success in thinking up new ideas to raise funds for the Royal British Legion Poppy Appeal each year since. In 2020, with no poppies to sell and no organised Remembrance Services, the challenge was unprecedented. Despite all the constraints of Covid19 the team rose to the challenge and still managed to raise more than £12,000 for the Royal British Legion. An incredible effort!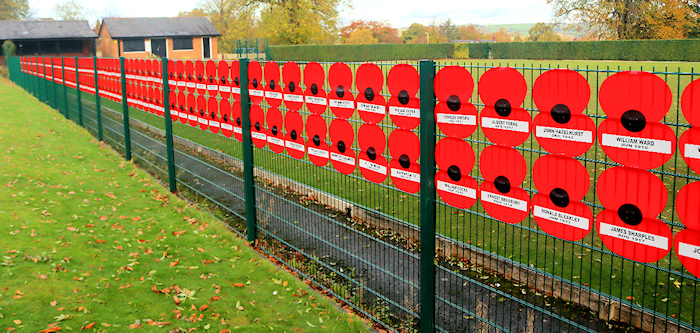 How Marple Memorial Park was kept looking its best!
As most visitors will know, The Marple Website has strong links with Friends of Marple Memorial Park and it's been great to be involved with and promote so many of their great projects in the park.
As for everyone, 2020 has been a very difficult and frustrating year for the group. We began in our usual fashion and expected to continue building on previous successes but that wasn't to be. Our last task day before Lockdown was 14 March and from that time we were not officially allowed to do anything in the park. Thankfully small groups of volunteers and family units continued work in the park of their own volition for exercise during Lockdown and kept on top of the flowerbeds and other key maintenance. This is why the park continued to look so good and it would otherwise have been in a very sorry state. We thank everyone who took it upon themselves to do so.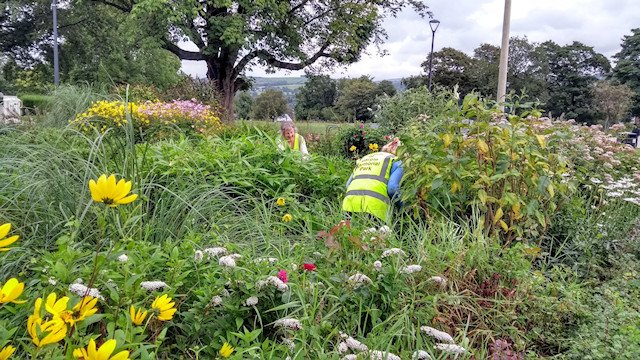 Volunteers were allowed back in the park in July and we operated our task days under new and much stricter guidelines. We managed to get everything looking just as we like it for Remembrance but of course it was downhill again from there and our last task day of the year was on 4th November. Thankfully with the onset of winter the need for maintenance reduces and the park still looks great. Hopefully we can resume our work in the New Year.
Lookout for our Wildflower Meadow in 2021
One project that was severely disrupted by the pandemic is our wildflower meadow planned for the area of the park used for Lock 11 repairs in 2019. We were all set to sow the seed in March but it was stopped in its tracks by Lockdown. We finally managed to get the seed sown in the autumn but in less than ideal conditions. If this takes in the way we hope then there should be a colourful new welcome to the park in the late spring and early summer of 2021.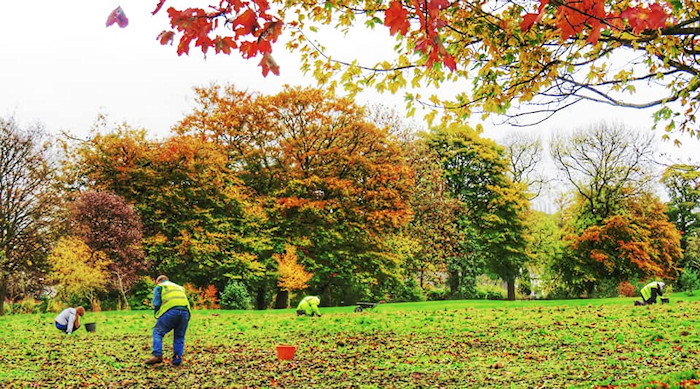 Marple Skatepark Phase II
Just as well I hedged my bets during last year's Christmas message! After many delays and set-backs we were due to start construction of Phase II on 6th April this year but of course that didn't happen. Thankfully we did get the skatepark works completed at long last during the summer but due to fencing material shortages completion of the new MUGA facility was delayed until October.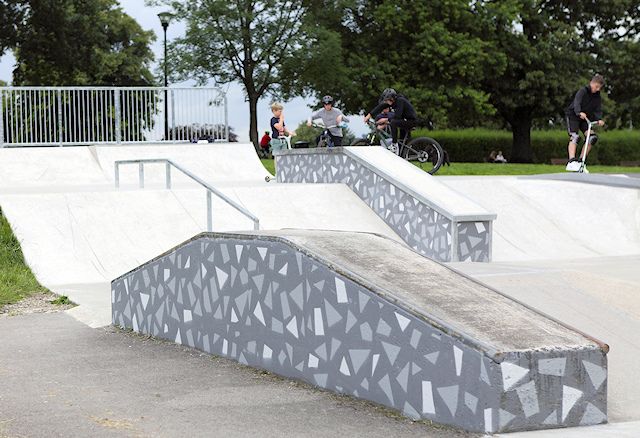 As always it seems, there is still some work to complete and this has been hampered by Covid19. We still have to set-out the court markings on the MUGA surface; there are some repairs to do on the older ramps and some landscaping works outstanding. There is work to do at the MUGA entrance and we would like to tarmac over the green rubber mulched area near to the poppy feature. We hope to have more news on these items soon and complete a review of the rubbish bins with the council too.
Pavilion Art Project progress during lockdown
Almost everything we had planned for 2020 has suffered serious delays or been stopped in its tracks. We thought our Pavilion Art Project would go the same way but, although it has been delayed, thanks to the hard work of Art Stop CIC this project funded by Friends of the Park and the Macnair Trust has seen some fantastic progress since we launched it online in July. The project has lent itself to "Lockdown" and we've been truly delighted by the artwork created so far by local artists and schools.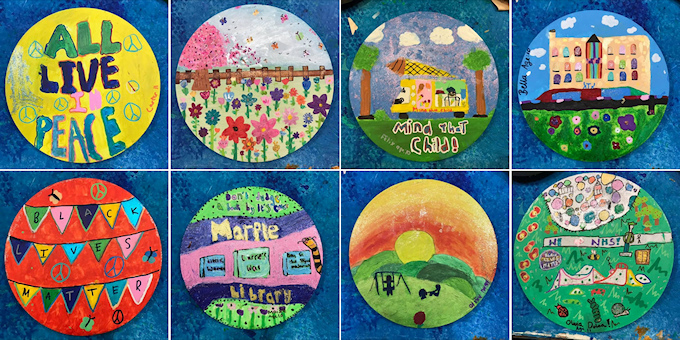 We are really looking forward to adding this wonderful new feature to the park in 2021.
Consultation on a new Community Hub for Marple
Before signing off, a quick reminder to have your say on the plans for a new Community Hub in Marple Memorial Park before the consultation closes on 4 January 2021.
This is an amazing opportunity and we would urge everyone to think BIG and embrace the idea of new Marple Leisure and Community Facilities in the centre of Marple that could potentially replace not only the library and the swimming pool but also most, if not all, of the tired and dilapidated buildings in Memorial Park. This is a once-in-a-lifetime opportunity and we must get it right!

It's become a tradition to look back at the web site stats...
This new version of the Marple Website was launched at Christmas 2017 and is now three years old, but the Marple Website has been around for much longer than that and celebrated 22 years online in October 2020. It's good to see that visitors to the site have continued to grow during 2020.
1.68 Million visitors to the Marple Website
The vintage web counter shows that traffic has risen significantly since the launch of the new site in December 2017. Page views have increased from 73,168 in 2017 to 184,844 so far in 2020. Unique visits have risen from 53,730 to 135,478 in the same period. The counter has been running since October 1998, when the original site was launched, and has now reached an incredible 1,677,392.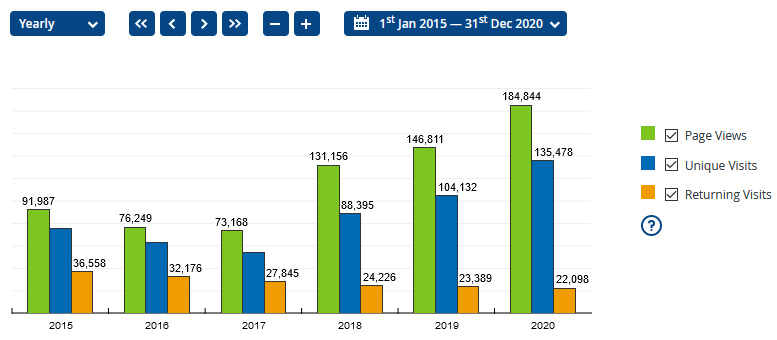 Note: figures shown include up to 22 December 2020 only.
Over 4.8 Million image views on the Marple Website Virtual Tour!
As I write, the counter on the Virtual History Tour of Marple has reached 4,808,127 image views and there are now over 14,352 local photos shared. The images are from numerous sources over the last 19 years but key ones are Marple Local History Society's archives and the wonderful Arthur Procter, who sadly has not had much to record in 2020!

Only 222 photos have been added to the Virtual Tour during the last 12 months, which is quite low compared to previous years, but the total number of image views has still increased an amazing 336,391 times since Christmas 2019 and we are on track to pass the 5,000,000 mark in 2021.
Best wishes for a Merry Christmas and a Happy New Year.
Mark Whittaker - The Marple Website
Rather than a conventional Christmas Card this year, I wanted to finish by sharing this stunning artwork created by Ruth Archer for the Pavilion Art Project in Marple Memorial Park: