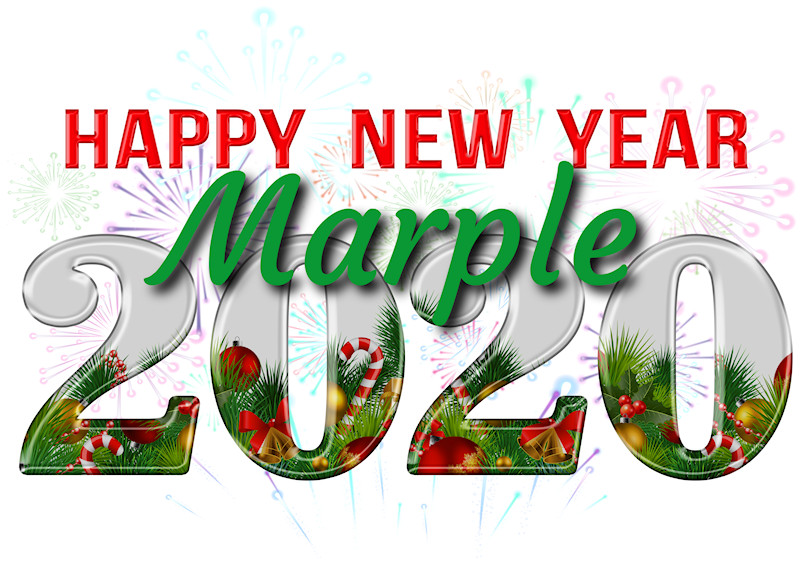 In 2019 the Marple Website came of age, celebrating 21 years online!
This web site was launched at Christmas 2017, and is now two years old, but the Marple Website has been around for much longer than that and celebrated 21 years online in October 2019.
£13,490 donated to local causes over the last 13 years!
From 2006 to 2010 the Marple Website donated £4,700 from sales of its Marple and Mellor Calendar.
Since 2011 donations have been made from banner advertising and web design income.
In 2019 The Marple Website invested £1,000 in shares of the Wharf Marple Project.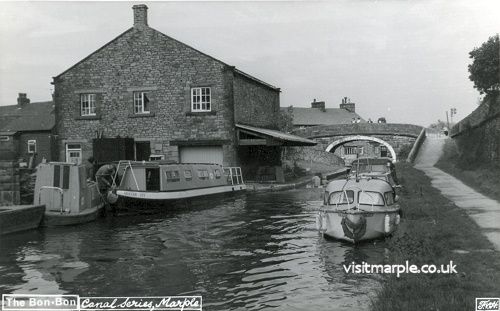 In the same period the Treasure Hunt in Memorial Park was sponsored for £100 and the Marple Poppy Appeal for £20. In December 2019 £100 was donated to Friends of Brabyns Park towards the project to refurbish the Iron Bridge Viewing Platform and £100 to Friends of Marple Memorial Park towards a project to create a new Sculpture Trail in the park. In addition, earlier this year donations made to the web site by local businesses of £100 from Trident Electronics and £32.75 from John Oldham Plastering have also been passed on to Friends of Memorial Park.
Website Sponsor Banner Adverts helping Marple Community Projects
A very big thank you to all the Marple Website's Sponsors who enable this to happen!
This level of community support can only be sustained in the future if local business support for the Marple Website continues. If you would like to help please look at becoming a Marple Website Sponsor and taking out a banner advert on the sites. It's currently great to be able to say:
An average of £1,000 has been donated to local causes each year for the last 13 years!
How many other community web sites or Social Media platforms can say that!
It's great to support local community projects
The Marple Website always does its best to support local community groups and local projects in as many different ways as it can. Here are some of the highlights of 2019:
Memorial plaques rescued from Albert Schools
Thanks to being alerted by local man Nigel Millard and his partner Stephanie Shaw, the Marple Website was able to rescue two marble plaques from under the stairs in the old Albert Schools building just a few weeks before it closed for demolition. The plaques originally came from the Union Rooms (now the Regent Cinema), one plaque being a War Memorial to 8 men who attended the Union Mission Church there and the other a tribute to founders Thomas and Hannah Carver. A new location for the plaques has been agreed with the Marple United Reformed Church on Hibbert Lane, which also has links to the Carvers. Attempts to find a stone mason prepared to quote for refurbishing the plaques has so far failed, so an application has been submitted to the Repair Shop - wouldn't that be exciting! If we don't hear back by the time the weather improves next spring then we'll have to resort to DIY!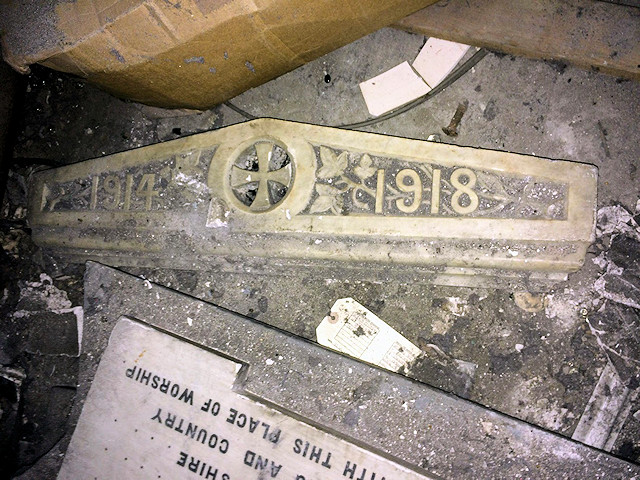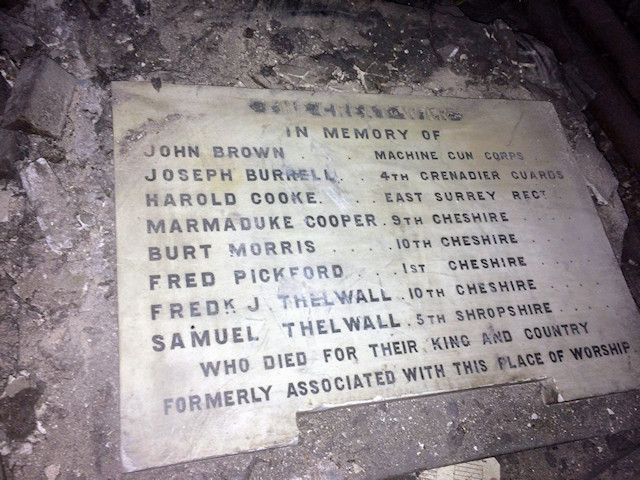 The war memorial plaque under the stairs in the Albert Schools building
Iron Bridge Viewing Platform progress
Great news is that Friends of Brabyns Park have now submitted a grant application to the Manchester Airport Fund towards a project to refurbish the Iron Bridge Viewing Platform.
As well as repairs to the platform and new railings to fill the gap and remount the plaque, the group plans walks and talks to encourage people to see the bridge and the plaque, and also to learn more about the history and wildlife of the whole of Brabyns Park. They even hope to re-issue the Discovery Trail Leaflet that was produced as part of the Iron Bridge Restoration Project several years ago.
There is a commitment from Stockport MBC to provide some of the funding for the major works, and the Friends of Brabyns will also contribute through their existing funds. The Marple Website has made a donation of £100 to this project and if you would like to make a donation too, you can do so via the Friends of Brabyns Park's page in the Community Directory.
The Friends will welcome any groups (e.g. schools, Scouts, Guides etc) who might want to get involved in this wider project, and encourage them to get in touch too.
Stanley Jack's letters and Annie Pott photo album found
Earlier this year the Marple Website picked up the baton from the late Jack Turnbull in his mission to track down missing letters written by WWI soldier Stanley Jack to his love Annie Pott in Marple.
Fantastic news is that some of Stanley's letters found their way into Marple Local History Society's archives. They are just the ones written by Stanley to Annie in 1918, so there is still a large number not discovered as they wrote to each other regularly from 1915 onwards.
Along with the 1918 letters was a wonderful little photo album owned by Annie, which she wrote her address inside in case she lost it. The content of this was so interesting that a video slide-show has been created by The Marple Website to share the story with the Marple Community:
We are still trying to decide how best to preserve and share Annie and Stanley's letters for posterity but we're pretty sure Jack Turnbull would have been delighted with this video!
Happy to Chat Benches created on Derby Way and in Memorial Park
Following discussions on the Marple Community Hub Facebook page in September 2019, the Marple Website teamed up with Friends of Marple Memorial Park to create the first Marple "Happy to Chat Bench" on Derby Way. This bench, refurbished by Friends of the Park, was chosen as the first location in Marple because the idea was supported by Wayne Eric Wood, owner of Mr. Chips on Derby Way, who said he'll be happy to chat to anyone who sits there and would like to talk. Marple's second Happy to Chat Bench was created in Marple Memorial Park in November 2019.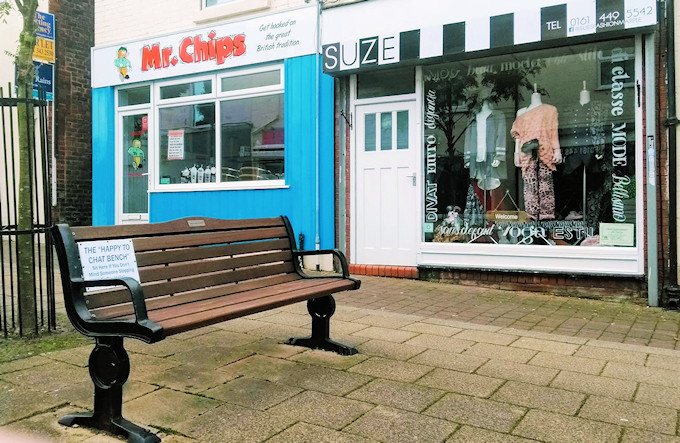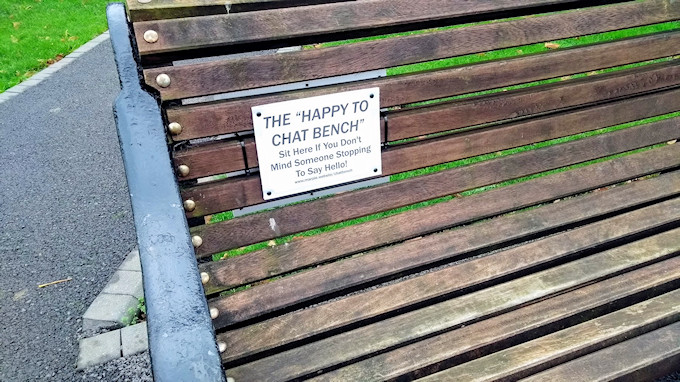 Marple's Happy to Chat Benches
Turning an existing bench into a "Chat Bench" is incredibly easy to do. In its simplest form it's just attaching a laminated sign to a bench but if the community use them in the way intended the outcome could be priceless. Please say hello to anyone you see sitting on these benches, and create more if there's a bench near you that is suitable.
50 year-old vintage Marple slide-show created
It was an interesting challenge to find a way to deal 100s of vintage slides and a pile of reel-to-reel tape recordings following the death of local man Norman Bright earlier this year. It turned out that the slides and tapes were created by Norman's mum Hilda Bright back in the late 1960s, and she even recorded an audio slideshow of Marple and surrounds that survived until the present day.
Slides were scanned and recordings converted to digital by the Marple Website and the material was passed to volunteer videographer Anne Frazer, who kindly compiled and edited this material into a coherent video slide-show, merging Hilda's words and pictures together and getting very close to how she must have originally intended. Thanks are due to Anne, to Daz Clayton for saving Hilda's slides and tapes and to Terry Wood for the loan of his vintage reel-to-reel tape player.
Marple Poppy Appeal 2019
It's been brilliant to support the reinvigorated Marple Poppy Appeal Team since 2017 and to follow their success in thinking up new ideas to raise funds for the Royal British Legion Poppy Appeal each year since. In 2019 they raised a superb £19,000+ for the appeal with great help from the local community, especially the young Scouts, Guides and Air Cadets seen receiving certificates of appreciation below. Also people like local artist Kate Millward, who created the wonderful "Last Post" print that has helped to boost funds raised this year. Well done everyone!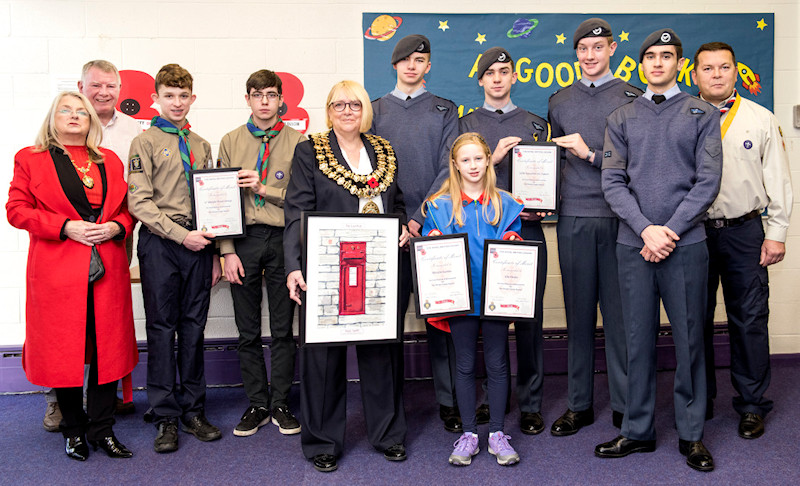 Helping to keep Marple Memorial Park looking its best!
As most visitors will know, The Marple Website has strong links with Friends of Marple Memorial Park and it's been great to be involved with and promote so many of their great projects in the park.
Marple Skatepark Phase II
It's incredibly frustrating how long it is taking to get the construction of Marple Skatepark Phase II underway, especially as the money needed has been in place for some time. This year delays have been caused by further redesign and the need to obtain approval of a planning amendment, which was eventually received in October 2019. Latest news is that construction has been scheduled for April / May 2020 and we hope to firm this up at a pre-start meeting in late February or early March.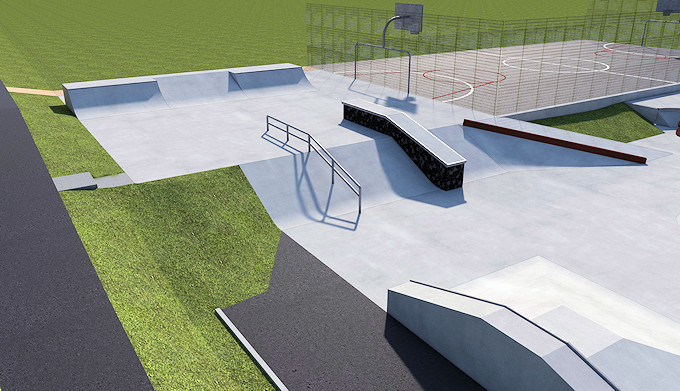 The skatepark works should be followed closely by improvements to the Basketball Court, turning it into a Multi-User Games facility. Hopefully it will be in good time for the summer holidays, however, with every stage of the project being dogged by unexpected delays we can't say for certain just yet.
Projects and fund-raising in Memorial Park
The 5th Annual Family Treasure Hunt was a great success this year and the Friends of the Park had amazing support from local businesses, with over £2,600 raised for projects in the park. One of the projects we want to tackle is a replacement for "Midnight", the tree sculpture created in 2007 with the help of local schools but sadly removed due to decay at the start of 2019.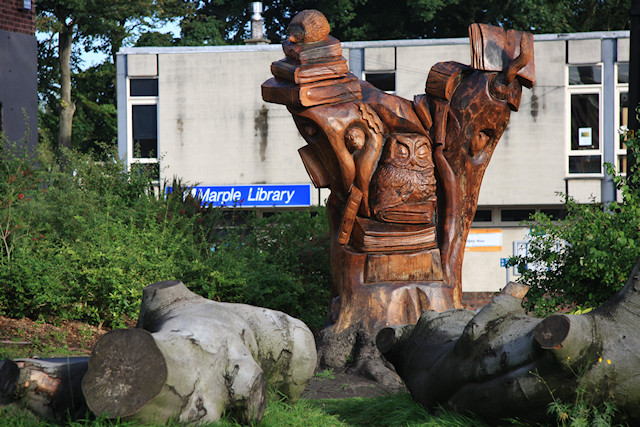 "Midnight" the popular Tree Sculpture removed due to decay in 2019

Thanks to the donation of seven oak logs by Marple Bridge tree surgeon Myers Tree Care we have been inspired to try and work with local primary schools again to create a new Sculpture Trail in the park. We've been working on this with local freelance fund-raiser Anne-Louise Black for the last 3 months and pleased to advise that we submitted a comprehensive grant application to the Arts Council on Saturday 21 December 2019. We should learn the outcome within around 6 weeks.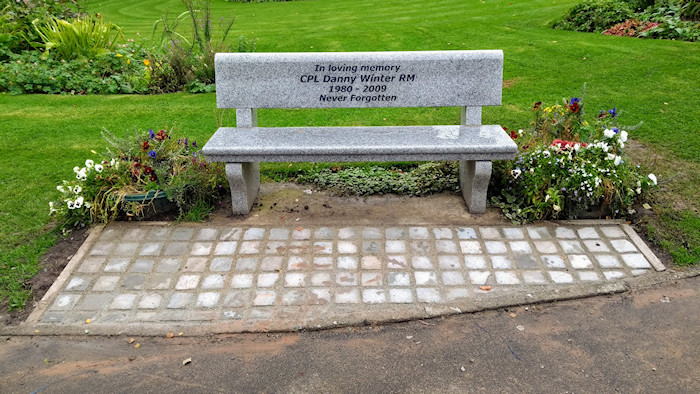 Project successes this year include the laying of granite setts in front of Danny Winter's bench to create a hard-standing and resurfacing of the Reading Circle and access pathway behind the library.
Plus over 1,000 hours of volunteer time worked in the park of course!
Other projects bubbling away behind the scenes include an exciting art project at the WWI Pavilion; creation of a Wild-flower Meadow where the compound for Lock 11 repairs was located, and we're also chasing ideas with the council for improvements to the play areas in the park.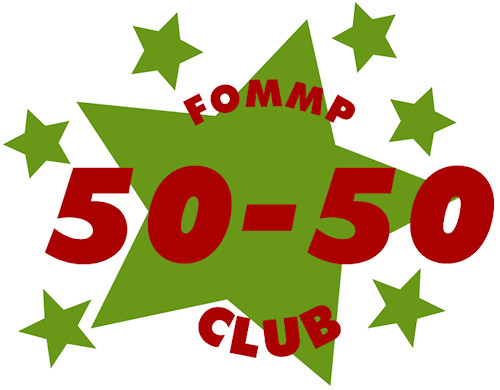 Can you support Friends of Marple Memorial Park via their 50-50 Club?
To generate a regular income to help fund projects in the park, this year we also set-up a new 50-50 Club. This enables Friends of the Park supporters to make a regular monthly donation of £5 or more and be in with a chance of winning a cash prize each month too. So far, after only 3 draws, we've given away £466 in prizes and raised a similar amount for the park. If you'd like to support the park in this way, please sign-up to the Friends of Marple Memorial Park's 50-50 Club!
Thank you No. 48 Kitchen and Bar!
Before moving on from the park we must say a huge thank you to No. 48 Kitchen and Bar, the outstandingly good restaurant in the heart of Marple that has become the Friends of the Park's first ever Annual Donor. Could your business support the community in this way too in 2020?
It's become a tradition to look back at the web site stats...
As mentioned, this site was launched at Christmas 2017 and is now two years old, but the Marple Website has been around for much longer than that and celebrated 21 years online in October 2019.
1.49 Million visitors to the Marple Website
The vintage web counter shows that traffic has risen significantly since the launch of the new site in December 2017. Page views have increased from 73,168 in 2017 to 145,680 so far in 2019. Unique visits have risen from 53,730 to 100,089 in the same period. The counter has been running since October 1998, when the original site was launched, and has now reached an incredible 1,488,446.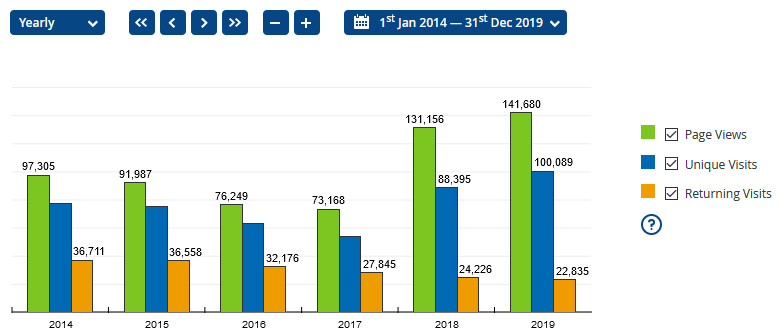 Note: figures shown include up to 20 December 2019 only.
Over 4.47 Million image views on the Marple Website Virtual Tour!
As I write, the counter on the Virtual History Tour of Marple has reached 4,471,736 image views and there are now over 14,130 local photos shared. The images are from numerous sources over the last 18 years but key ones are Marple Local History Society's archives and the wonderful Arthur Procter, who continues to record just about every local event that occurs in Marple!

Over 1,000 photos have been added to the Virtual Tour during the last 12 months and the total number of image views has increased an amazing 403,300 times since Christmas 2018.
Thank you to Arthur Procter for his fantastic support of the site!
Local photographer Arthur Procter continued his wonderful support of the site in 2019 and has shared his photos of local events in and around Marple.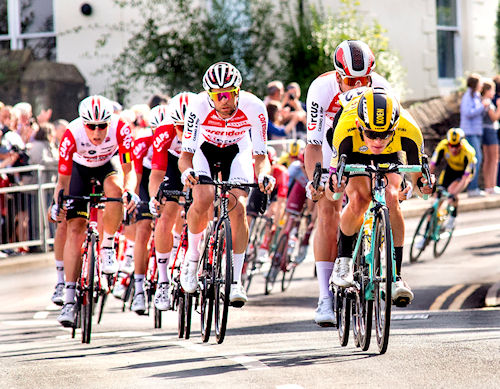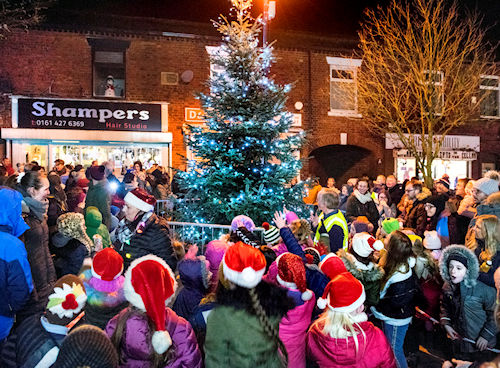 Arthur's great contributions this year include: Rose Hill Station 150, Marple Carnival 2019, Mellor Mill Fact and Fun Day, Tour of Britain Stage 8, Marple Food and Drink Festival, MESS Climate Crisis Event and Marple's 2019 Christmas Events. It was good to have Arthur back for this year's Remembrance Service in Memorial Park after his trip to London for a special service at Westminster Abbey in 2018.
Thanks to David Burridge for sharing photos of Rose Hill Station 150 and the Tour of Britain too.
Best wishes for a Merry Christmas and a Happy New Year.
Mark Whittaker - The Marple Website
A final thank you to Arthur for this fabulous Christmas Card: