The Viaduct was construction in 1865
The Marple Viaduct runs parallel to the Aqueduct and carries the railway one hundred and twenty-four feet above the River Goyt. The Viaduct was constructed in 1865, 65 years after the Aqueduct and only took a year to build. It comprises twelve stone arches and a steel girder bridge that turns to carry the line diagonally over the canal.

In the colour panoramic shot above you can see Watersmeeting Farm framed by the central arch of the Viaduct, while the vintage one below is looking in the other direction from the farm.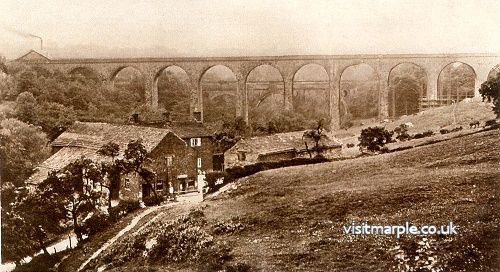 One of the shots below shows the detail of one of the twelve arches and the other from the base of the viaduct shows just what a long way up it is!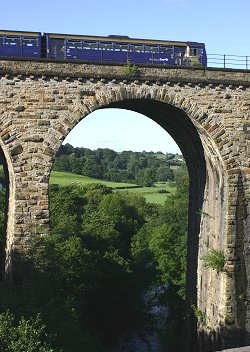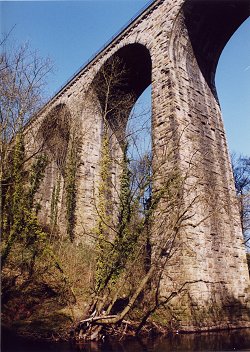 After passing under the steel girder bridge, seen in the photograph below, the canal broadens again into a wider area known as the 'winding hole'. On the towpath side of the canal in this picture can be see the present-day Aqueduct Business Park, on the former site of the Queen's Hotel.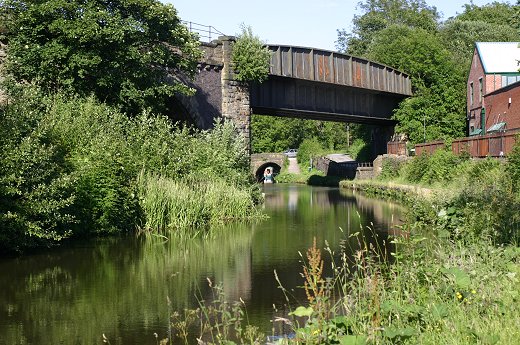 In this well composed vintage postcard dated 1908 you can see Marple Aqueduct and Viaduct together with the Queens Hotel and Aqueduct Mill still visible on the right.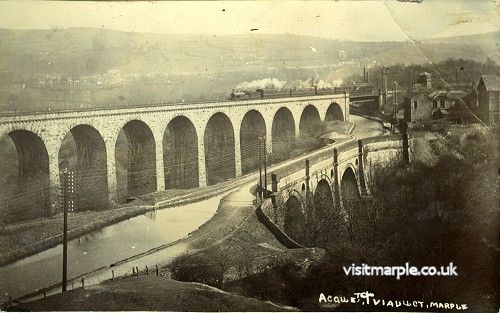 Marple Viaduct, Aqueduct, Queen's Hotel and Aqueduct Mill