Lock No. 15 - Lockside
This modern view of Lock 15, taken from the locktail bridge of Lock 16, wass one of a series of eight postcards of Marple's canals produced in 2001 by The Marple Website.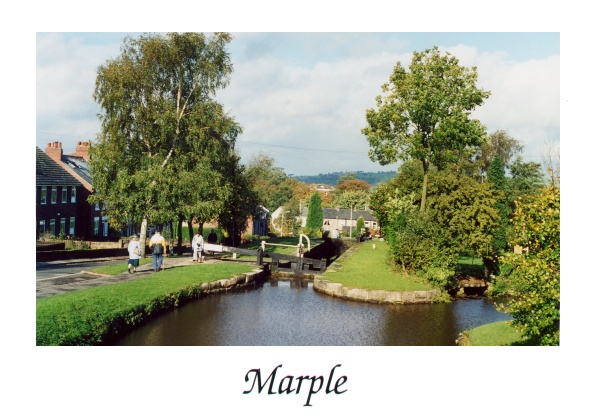 Postcard of Lock 15, Lockside
The road running alongside the canal from Posset Bridge on Stockport Road to Top Lock is called Lockside. On the opposite side of the canal, at Lock 13, Lock 14 and Lock 15 are extra large pounds for water storage to minimise loss during operation of the locks. In days long gone, when the Lime Kilns were operating, these pounds would also have been used for boats to queue whilst waiting for their turn to access the lime loading sheds.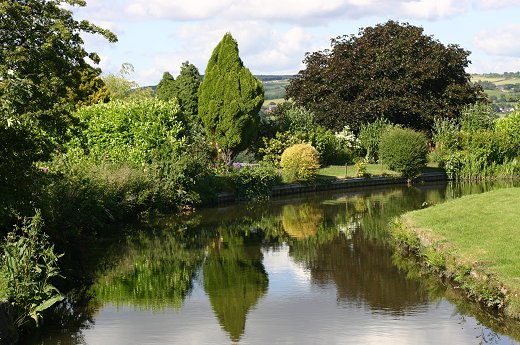 Lock 15 pound stores some of the water needed by the locks
Today these pounds are much more peaceful and have become a marvellous water feature for the private gardens of the properties that surround them, as this picture of Lock 15 pound shows. Of course they're still functional too and store the water that is needed to keep the busy locks operating.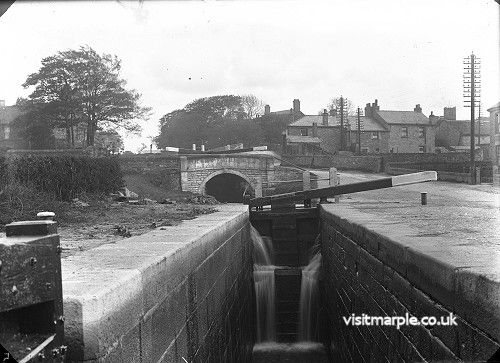 Lock 15 looking up towards Lock 16. The house centre right behind the trees must be "The Hollies"
This glass slide from Marple Local History Society's archives is a nice shot of Lock 15 looking towards Lock 16 but is even more interesting because it gives the only known view of a large property called the Hollies. It's the house in the background - centre right - with two large chimneys and was once located on the triangle of land formed by Sutton's Lane, Church Lane and the Macclesfield Canal.