Download the Brabyns Park Discovery Trail
As many people may remember, the Marple Website played a key role in the project to restore the Iron Bridge in Brabyns Park that ran from 2001 until its successful completion in 2008. As part of the project a brand new "Brabyns Park Discovery Trail" booklet was published in March 2009 and made available free of charge at a variety of outlets across the borough. Unfortunately only 1,000 copies could be printed so, 10 years later in 2019, hardcopies of the booket have become pretty scarce.
At the time of launching the booklet it was also made available to download on-line on the original Marple Website. Having recently been reminded of the scarcity of hardcopies, the downloadable version of the Discovery Trail has now been migrated to the new Marple Website here.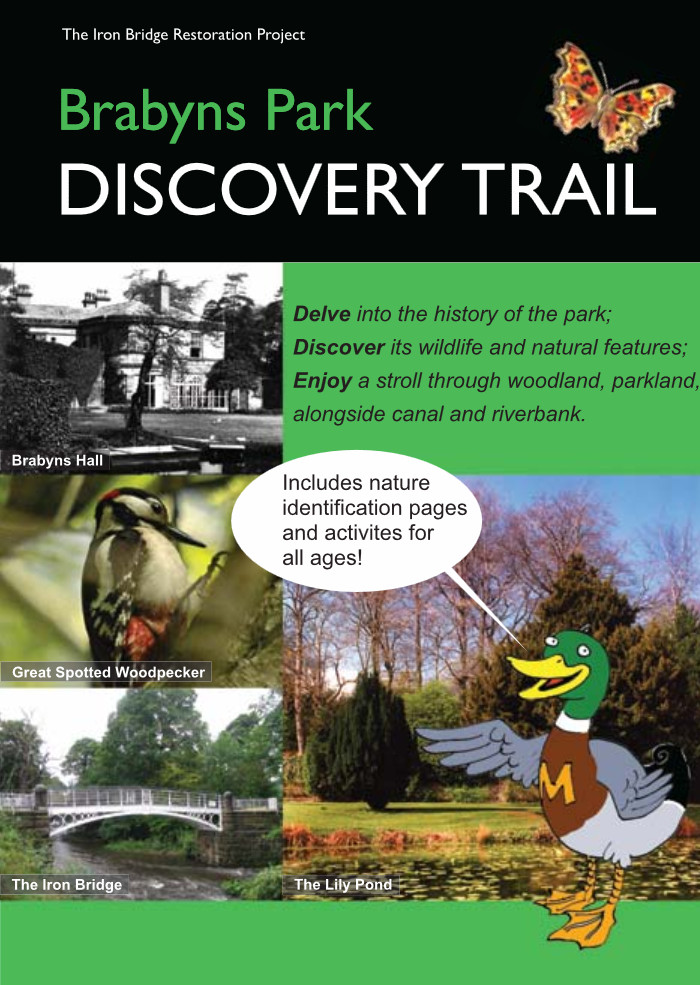 History of the Trail Booklet
The very first Brabyns Park Discovery Trail booklet was written and produced by second year pupils at Marple Ridge College many years earlier. One or two copies of this old version may still be available in the Heritage section of Marple Library. The newer version published in March 2009 was updated and rewritten by Jo Wright of Spot-On Interpretation with the help of local historian Judith Wilshaw and Mark Whittaker of the Marple Website. Its production and printing of 1,000 copies was funded by the Heritage Lottery Fund as part of the Iron Bridge Restoration Project.
Although based on the same trail as the original booklet the new version is not just a copy and has developed into something quite different. The booklet allows you to delve into the history of the park and discover its wildlife and natural features whilst enjoying a stroll through woodland, parkland and alongside the canal and riverbank. It includes three pages of excellent colour illustrations by Jo Wright to help you identify the wildflowers, butterflies, trees and birds of Brabyns Park and features Monty the Mallard, who offers ideas for things to do along the way to keep any younger members of your group amused. Please download and enjoy!
The best way to print the booklet
In order to reproduce a hardcopy successfully we recommend that you print the cover on a single-sided sheet of A4. If you can do it on card or thicker paper, all the better. Then print the rest of the publication odd pages first, also on A4. Leave them to dry for a while and then turn the whole lot over as a set and put them back in your printer to print the even pages on the other side. Make sure that what will be the top edge of the booklet is on the same side of the printer for both print runs. This should allow you to compile a folded A5 booklet virtually identical to the published version.