So what was Marple Promotions all about?
Marple Promotions was formed in January 2002 as a part-time business partnership between Peter Clarke, John Wilkinson and Mark Whittaker, founder of The Marple Website. The three of us felt that despite all Marple had going for it there was little effort made to promote the town, either as a tourist attraction or in any other way, so we decided to try and do something about it. Our objective was to develop ways to raise the profile of Marple and promote the town and its assets to the wider world. We also wanted to gain interest and support for the preservation of what is left of Marple's heritage.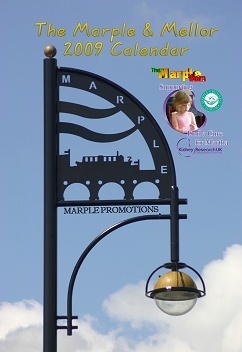 We chose to feature Marple Aqueduct as our logo because, as Marple's most significant remaining historical landmark, it typifies the aspects of Marple's history and heritage we wished to promote and preserve. We were delighted when Stockport Council consulted us over the designs for the new lamppost features at the gateways to Marple and we were able to get our logo built into them for posterity!
Our first contribution towards our objective was the production of a set of eight postcards of local canal scenes showing Marple at its very best. We followed this up with a series of eight open cards depicting more of Marple's great attractions. We built on these foundations towards the end of 2002 with the creation of twelve Christmas cards and our first Marple and Mellor calendar in time for the end of the year. In 2006 we maintained our momentum by extending our ranges of postcards, open cards and Christmas cards, not to mention introducing our Marple Mug.
The experience gained with our first calendar for 2003 was put to good use and we continued to produce one every year until 2010. In 2006, for the first time, we were able to donate the profits from our calendar to local causes and by early 2010 the total amount donated was £4,700. Our calendar for 2010 was the first to have photographs contributed by members of the local community and it enabled us to continue supporting local causes we believed to be worthy with a donation of £500 to New Horizons. Our calendars are all recorded on this site with full details of how the money raised was used.
It is often said that all good things must come to an end and after working together for the benefit of the local community for more than eight years we decided it was time to concentrate on separate projects and the partnership was dissolved in March 2010.
Whilst Marple Promotions ceased trading at this point we were pleased to leave an ongoing legacy of charitable fund-raising opportunities by donating our remaining stock of postcards, open cards, Christmas cards and mugs to New Horizons, the Narrowboat for the disabled that has been based at Marple Wharf since 1981. This means that for the immediate future, while stocks last, all the existing Marple Promotions products displayed on this site will continue to be available from New Horizons and will continue to raise funds for a worthy cause.
In addition to the money given directly to local causes, through its web design and hosting work Marple Promotions was able to give financial support to The Marple Website and its various on-line and off-line activities for the whole eight years. From April 2010 the former web design business of Marple Promotions will be carried on by Mark Whittaker under the banner of The Marple Website Design and Hosting and it will hopefully be able to continue supporting "The First and Best Community Web Site for Marple in Cheshire" for many years to come.