Marple Santa Dash 2017 raised £9,500
Here's an update on Romiley and Marple Lions Christmas activities from Welfare Chairman Terry Harding.
I've waited for details of the sponsorship money raised on behalf of Kidneys for Life so that I could report as accurately as possible on the totals raised by or on behalf of the Club.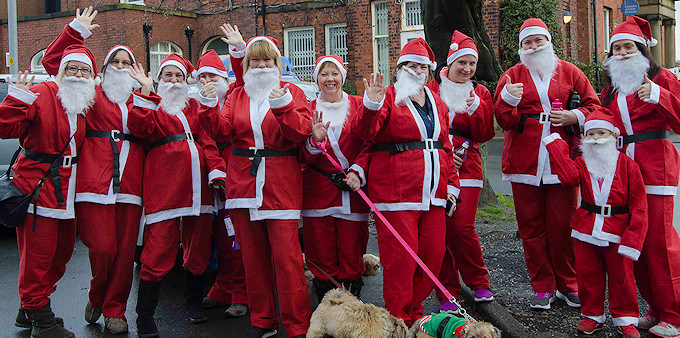 Santa Dashers at the start in Memorial Park
221 people took part in the 2017 Marple Santa Dash, enabling us to pay £2,210 into the Lions Club Charity Account. £2,100 was raised in the Dragon Miniature Railway's Father Christmas Grotto and a further £880 hosting breakfast and teatime sessions with Father Christmas in the Marple Garden Centre (Wyevale) Restaurant.
The Lions' thank you to everyone involved!
As usual, I have to say thank you to so many people and particularly to the Dragon Miniature Railway and all its volunteers and supporters, and to Marple Garden Centre and all its staff and customers. I think it is most important that we should acknowledge the wonderful support we receive every year and also let people know what we do with the hard earned money that they so kindly donate to us.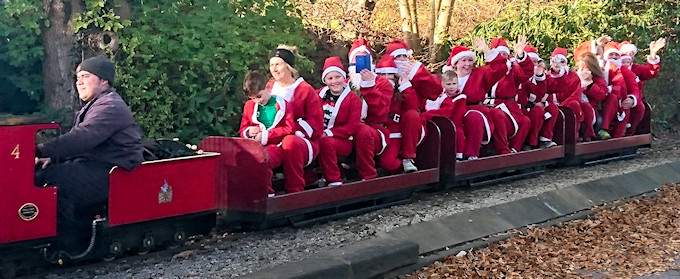 Santa Dashers on the Dragon Railway
The Santa Dash was a wonderful success in 2017 and I must put on record my personal thanks to Carol Bonham and Victoria Thomson, of Kidneys for Life, for all their help in keeping the event alive. As you will see in their report, we are now planning for the 2018 Marple Santa Dash. Over £4,300 has already been received by them in sponsorship money, which indicates that the Lions were involved in raising around £9,500 (I understand there may be more to come).
2017 was by far the best Lions Christmas I can remember. On the day of the Santa Dash, we had our usual "Dream Team" on duty. The local Air Training Corps performed marshalling duties along the route and Sarah Dalby, our expert trainer, made sure that everyone was fully prepared for the Dash. Changing facilities were kindly provided by Marple Scouts in their hut in the Memorial Park and Lawrence Fernehough (Crabtrees of New Mills) had his flat back lorry ready for Sarah to use as her "stage". Marple Band provided the perfect musical welcome at the Garden Centre and Paul (Smiths of Marple) was on hand to transport the weary Dashers back to Marple.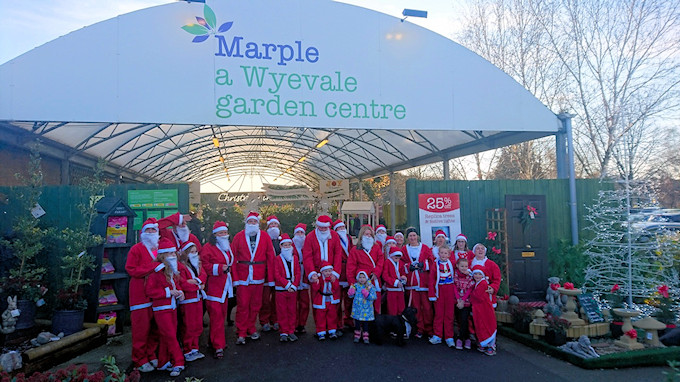 Santa Dashers at Marple Wyvale Garden Centre
My thanks to everyone, including Sainsburys (Romiley) and Tina Bowker (M.C. Catering) who supplied the mince pies. If I have forgotten anyone, please forgive me. All the Dashers were wonderful and I hope they will be joining us again for an even better Santa Dash on Sunday, 2nd December, 2018.
Thank you from Kidneys for Life: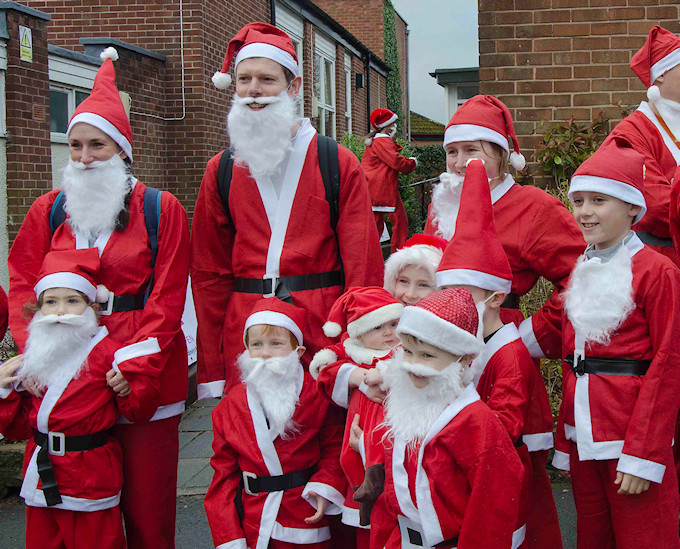 It was a bright, chilly Sunday morning in December when we were delighted to meet the 221 Santa dashers (and numerous dogs in Christmas outfits!) who were taking to the streets of Marple to participate in the 9th annual Romiley and Marple Lions Santa Dash.
It was a fantastically festive event with over £4300 being raised for Kidneys for Life. One of our youngest Santa's is Ethan who is just 5 years old. Ethan took part with his mum and through fundraising at school and via an online page he raised an amazing £255.81. He has since taken his very well deserved fundraising medal and certificate into school to share his success story with his classmates.
Well done to all our Santa Dashers from all of us at Kidneys for Life and a very big thank you to Terry and the team at Romiley and Marple Lions Club for selecting us as your charity and for all the hard work in putting the event together.
Plans are already underway for a special 10th anniversary Santa Dash which will take place on Sunday 2nd December so keep the date free!
Worthy causes supported in 2017:
Thanks to you, the Lions are able to help many worthy causes – locally, nationally and internationally. Here are just a few of them (2017):
National Library for the Blind (RNIB)
Hazel (The Well-Being Boat)
New Horizons (Marple)
Mellor Country House
Chernobyl Children's Project
I Love Manchester Appeal
Stepping Hill Hospital Children's Unit
Agricultural and Rural Centre (Romiley)
Kidneys for Life
Kids Cancer Charity
Henshaws (Society for Blind People)
Get involved with Romiley and Marple Lions
Visit their own web site to learn more about Romiley and Marple Lions Club (link in menu).