Romiley and Marple Lions Christmas at the DMR
Great news shared by Terry Harding of Romiley and Marple Lions:
I think you've now got all the relevant details regarding this year's Marple Santa Dash so I thought I'd better send you our plans for the Christmas period, whilst also paying tribute to Brian Lomas and his DMR (at Dobbies' Marple Garden Centre). They really have given us wonderful support over the years and work side by side with the Club every Christmas during our busiest and most successful fundraising period. As you know, they also give all our Santa Dashers a free train ride.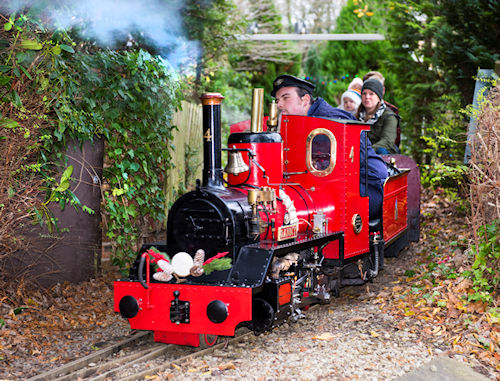 We first teamed up with them in 2009 and I think I can safely say that many local families (and probably some from outside the area) look forward to visiting Father Christmas in his beautifully decorated grotto (usually a tunnel or storage area for the trains) or just having a train ride round the equally beautifully decorated circuit. Brian and his team of volunteers really do transform the whole area into a Christmas Winter Wonderland.
Children and adults alike never cease to be captivated!
Although the Club is usually only "working on the Railway" during the Christmas period, the DMR is obviously active throughout the year - open at week-ends, on Bank Holidays and during school holidays. Always well worth a visit. In addition to the Christmas Grotto, another highlight of the Railway's year is Halloween - when the circuit and the tunnel are again spectacularly decorated.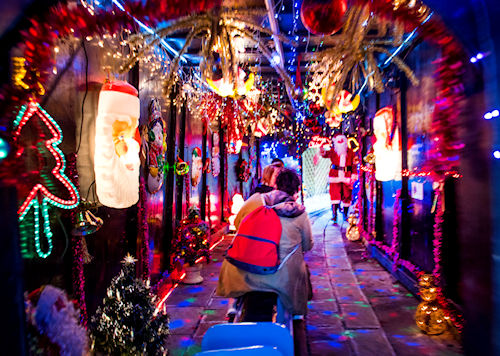 It is always a pleasure to work with Brian and his colleagues, or just visit them for a brew and a chat. Romiley and Marple Lions (and the area we "serve") have much to thank them for. Last year, against all the odds and after much hard work by all concerned, Father Christmas reigned supreme and was able to receive visitors in his Grotto.
Plans coming together for Christmas 2022
This year, all being well, Santa will be back again. Social distancing and all other relevant precautions will be strictly adhered to but we still hope to bring some much needed Christmas cheer into people's lives. We'll do our very best but must accept that the following arrangements are provisional.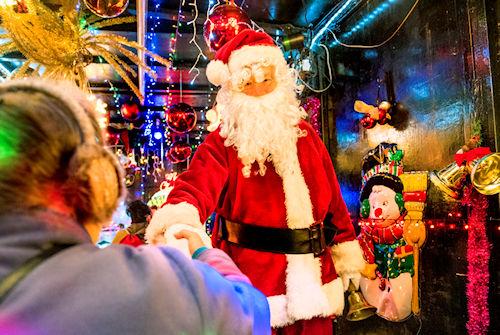 If he is allowed to, Father Christmas will arrive on Saturday 19th November at 11am and the Grotto will then be open every week-end (plus some week days) through to Christmas (Saturday 11am to 5pm / Sunday 11am to 4.30pm).
For full weekend dates check out the Marple Website Community Calendar.
As ever, many thanks for The Marple Website's continued support.
Kindest regards, Terry Harding, Romiley and Marple Lions.
Please note: this article is illustrated with photos from the DMR Christmas Grotto taken by Arthur Procter in 2019. In 2022 some aspects may be restricted by Covid19 precautions.