The Marple Website's Portfolio of Design and Hosting Projects
In addition to the Marple Website and its many facets, Marple Website Design and Hosting has a small portfolio of sites created for a variety of local clients. All new sites include fully responsive template design to ensure that they work properly on desktops, laptops, tablets and smartphones.
If you're interested in having your own web site but are too busy or unable to do it yourself, then take a look at my portfolios and browse the different sites to see what I may be able to do for you. If you get in touch to discuss your needs I'll be delighted to give you a quotation to match them. I can also provide support if you want to do the work yourself but are struggling to get started.
If you've already registered a domain name and arranged hosting, then I can work with these details. If you haven't, I can also provide low cost domain registration and web hosting that will include a full e-mail service or e-mail forwarding using a domain name of your choice (subject to availability).
Testimonials from satisfied customers
Peak Taylorglaze
Scott Tuppen fell in love with the Peak District and relocated his family and double-glazing business from London. He had a web site and was paying lots of money for SEO services that was not having the desired effect. Investigations showed the old site to have numerous duplicate "cookie-cutter" pages, which is a very outdated technique. The only option was to start from scratch and build a brand new site from the ground-up, properly structured for Scott's business and location. www.highpeaktaylorglaze.uk
A man of few words, this is what Scott had to say soon after the new site's launch:
You're a star Mark! Quick glance and it looks fab, will try to look over the weekend but work for me has exploded, so rushed off me feet! Spk soon.

Scott Tuppen - Peak Taylorglaze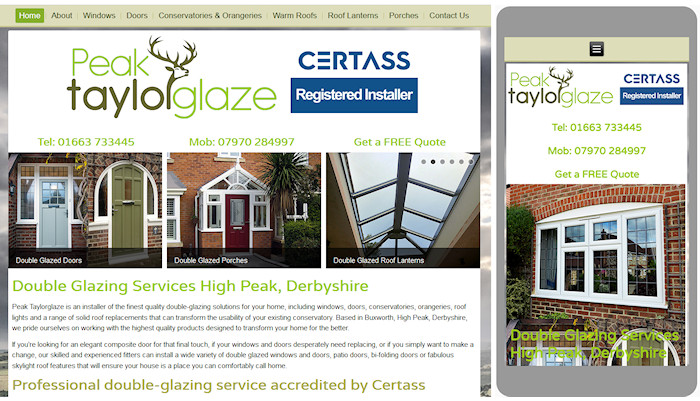 Chocolate Collective
Chocolate Collective host Chocolate Workshops, Children's Chocolate Parties and has many other ways of creating and enjoying all things chocolaty. At the heart of the web site is a booking and tracking system that allows visitors to register and pay to attend the Chocolate Workshops. It also features an easy to use booking and enquiry form for the Children's Chocolate Parties. The site features a fully responsive template that was designed to compliment Chocolate Collectives' logo and corporate look. Since it was first created the site has received a major revamp and now covers chocolate making in Manchester, Leeds and Birmingham. www.chocolatecollective.co.uk
Having been given a recommendation from an existing client of the Marple Website I approached Mark Whittaker to design and build the website for www.chocolatecollective.co.uk I had a clear understanding of what content I needed in the website and how I needed it to interact with another site. However, I was looking for someone who could bring the expertise of design and creativity that I lacked. Upon speaking with Mark and, looking at his other work, I soon realised that he would meet this requirement. I also wanted to work with someone local to enjoy the benefit of being able to sit with them during the design and build. This has been a fundamental part of the process to the benefit of us both in gaining a clear vision for the operational and creative design of the site.

I am absolutely delighted with the website and how Mark has throughout the process interpreted exactly my requirements but also made his own very valuable recommendations for the site. I very much look forward to working with Mark again in the future for enhancements to the site as my business develops and grows in its "chocolaty" offerings.

Louise Attenborough, Chocolate Collective Ltd.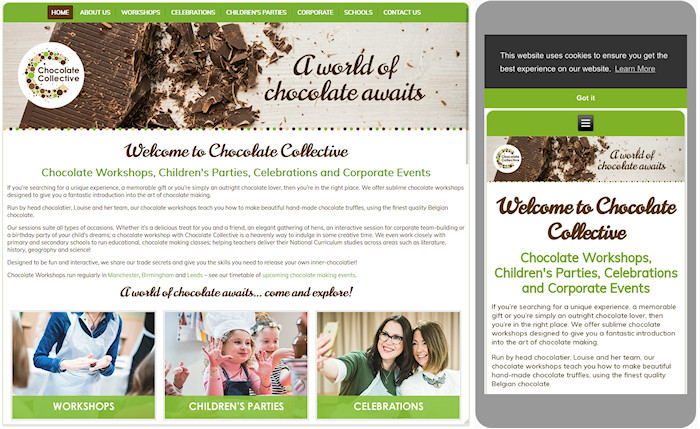 John Oldham Plastering
Following a move to Buxworth in the High Peak, plasterer John Oldham decided he needed a web site to help spread the word about his plastering services to the areas around his new home. The site created for John was based on the look of his van and used the same graphics in a clean and simple responsive design ideal for desktops, laptops, tablets and smart phones.
John has moved back to the area and is now Bredbury based. www.plastererhighpeak.co.uk
Hiya Mark, website looks absolutely fantastic, well chuffed, thanks very much! "Olly the Spread".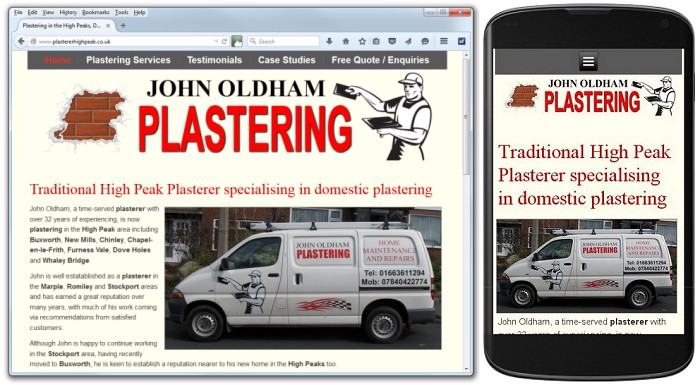 St Martin's Low Marple Heritage Trust
Newly registered charity St Martin's Low Marple Heritage Trust, a group set up to preserve and make known the artistic heritage of St Martin's Church in Marple wanted a web site that would help to promote their objectives. The site created for them is fully responsive, working on all platforms, and allows the group to add their own news and events. www.stmartinsheritagetrust.org.uk
The St Martin's Heritage Trust took the decision to use Mark to design and host the website based on a number of factors - he is local, affordable and we like the work he has done for other organisations similar to our own. Since we commissioned him, he has been extremely supportive, he grasped what we were trying to achieve very quickly, he had lots of ideas to improve the look and functionality, and also extremely efficient in processing changes to text and layout. We have more ideas to further improve our website and will have no hesitation in using Mark again. We can thoroughly recommend him to anyone starting the web design process.

Michael Newton, Treasurer, St Martin's Low Marple Heritage Trust.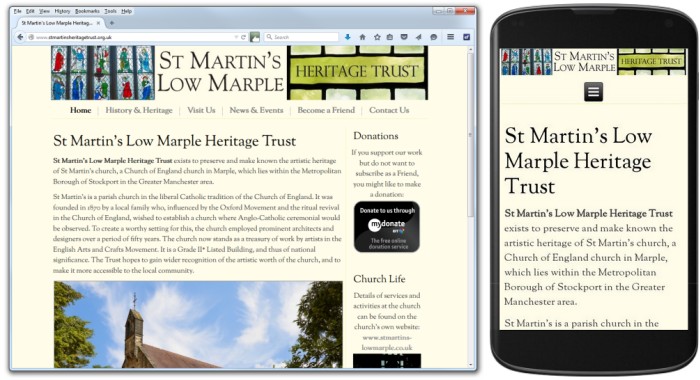 Stockport Canal Boat Trust - New Horizons
Stockport Canal Boat Trust, the charity based at Marple Wharf who provide day trips for people with disabilities on their canal narrow boat New Horizons, wanted to bring their existing web site up to date. They also wanted to add a calendar system to make it easier for their visitors to know when the boat is available for hire. The new site has been redeveloped using a "responsive design" template that allows it to adjust to suit PC/Mac desktops, laptops, tablets and smartphones. It features a simple colour-coded availability calendar that the booking officer can log-in and change easily.
The latest Joomla Content Management System also enables the Trust to edit existing articles and add their own latest news items whenever they wish. MWDH was also pleased to provide the first year's hosting free of charge as a donation to this important local charity! www.newhorizons.org.uk
The Trustees of the Stockport Canal Boat trust decided earlier this year to refresh and renew the then current website. We approached Mark Whittaker and explained our requirements. He very promptly developed a specification with a number of options for us to choose from, and we have been very happy with the spec. that we eventually chose. Mark has been extremely helpful and patient in dealing with our various requirements and we are delighted with the result.

James Dunlop, Chairman, Stockport Canal Boat Trust (New Horizons).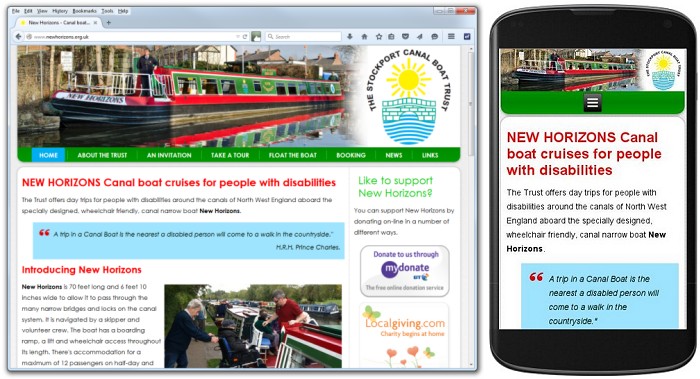 Mellor Archaeological Trust
Mellor Archaeological Trust have a well established web site first created in 2000 but ongoing management of the site had proved technically difficult. The Trust approached Marple Website Design and Hosting after hearing about the success of the site developed with Marple Local History Society. They wanted to manage the site themselves in the longer term so a content management system that allows that was developed with them. The new site was launched at a presentation by the Trust at the end of September 2012. www.matrust.org.uk
To whom it may concern,

Mark contributed not only by establishing the technical details of the website but also by making valuable suggestions about how it could be laid out to provide information in a comprehensive, interesting and attractive form. Working with Mark is a joy. He is always willing to help, but does not add unnecessary work that increases costs. In summary, I do not believe that we could have made a better choice than Mark Whittaker to set up our new web site.

Professor John W S Hearle, Chairman Mellor Archaeological Trust.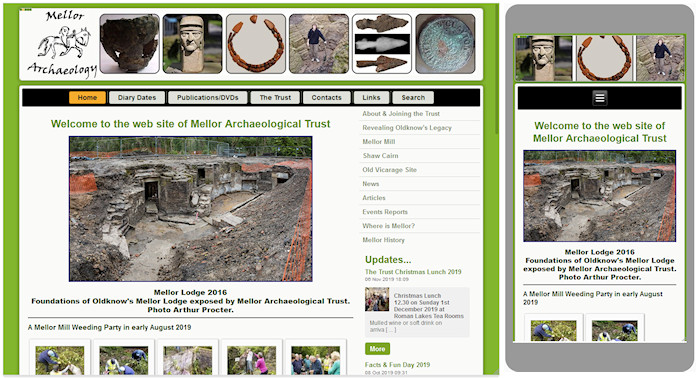 Marple Local History Society
After a long association with Marple Local History Society and our joint efforts to put the Society's photographic archive on-line in the Virtual Tour, I was delighted to be asked to help them set up their own web site. Over several months we have developed a content management system site that allows Society members to update and add pages, menus and links themselves. The site was launched at a presentation by the Society in September 2012. www.marplelocalhistorysociety.org.uk
Dear Mark,

When we first talked about a web site for the Society I realised that it would involve a lot of work. However, what I know now is that without your encouragement, hard work and patience (!) we would not have achieved so much. The MLHS Committee has asked me to thank you on their behalf for all your help, which is very much appreciated.

With best wishes,

Hilary Atkinson, Marple Local History Society Chairman.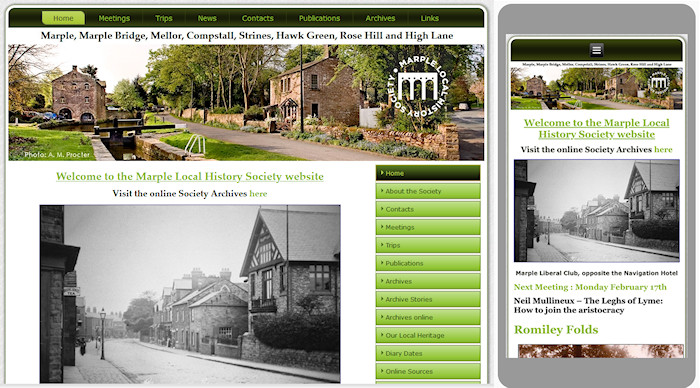 Evergreen Landscaping Ltd
Design and hosting of a what was initially a 6 page content management system based web site for a Marple Bridge Garden Landscaping and Maintenance business. The site has been progressively extended over several years to include testimonials and case studies on a regular basis to build a strong search engine presence in a natural way. The site has also been upgraded recently to the latest Joomla 3 cms with a responsive template to display at its best on all platforms. www.landscape-gardeners-stockport.co.uk
This was my first venture into the Internet and I chose The Marple Website to do the work because it is a small local company like my own. Mark made everything easy to understand and I have been delighted with the results and the ongoing support that he has given me.

David Andrew - Proprietor Evergreen Landscaping Ltd, Marple Bridge.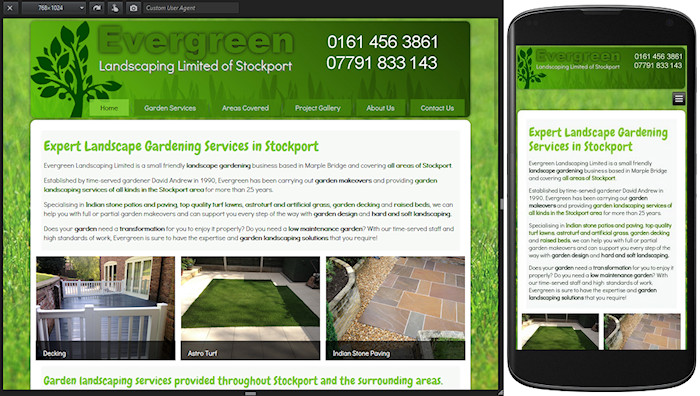 Home Fires and Fuels
A content management system based site for Home Fires and Fuels, a new local business and HETAS approved retailer selling wood and multi-fuel burning stoves from their showroom on Stockport Road. The site has also been extended to include an extensive on-line catalogue of quality stoves. www.homefiresandfuels.co.uk
Mark Whittaker created my web site www.homefiresandfuels.co.uk and I am delighted with the result. Mark really got to understand my business and did a lot of background research which helped with the finished product. Staring a new business is a daunting task but thanks to Mark the web site has not been the headache I thought it would be! It has been a pleasure working with Mark and I would recommend him to anyone looking to develop a web site.

David Qualter - Proprietor Home Fires and Fuels.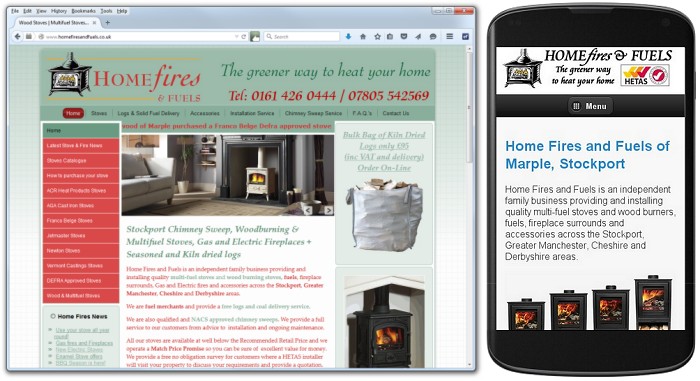 The Boatmaster Centre
Design and hosting of a content management system web site for The Boatmaster Centre, provider of MCA approved training courses for inland waterways Passenger and Small Passenger Vessel skippers. The Boatmaster site has recently been upgraded to a fully responsive design on the latest Joomla 3 platform. www.theboatmastercentre.com
Mark, thanks for producing a great looking website that really works for us. We appear on page one of Google for most searches!.

Malcolm Allcard, The Boatmaster Centre.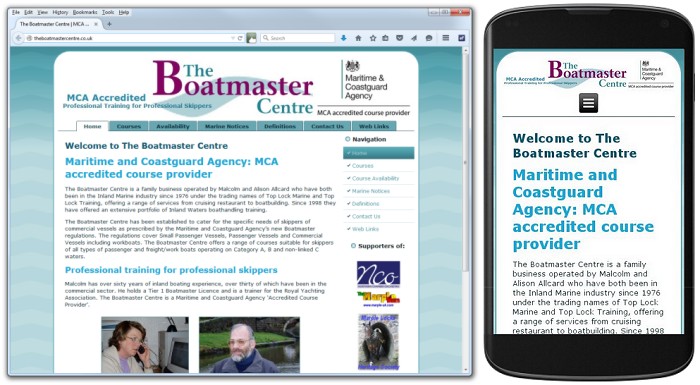 Benring Limited
Design and hosting of a six page content management system web site for Benring Limited, a prestigious company with a Royal Warrant to supply Synthetic Resin Products to Her Majesty the Queen. The Benring site has recently been upgraded to a fully responsive design on the latest Joomla 3 platform. www.benring.co.uk
With regard to the web site supplied and your set-up work in that direction: I was most impressed by the service rendered and your attention to detail!

Tony Grimes, T.D., F.I.Diag.E, Benring Limited.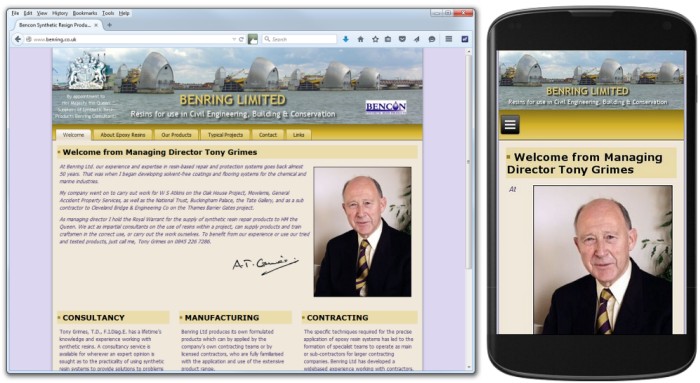 Paul Whittaker PLUMBING | The Marple Plumber
Design and hosting of a content management system web site with photo gallery for Paul Whittaker PLUMBING. www.marpleplumber.co.uk
My new site is on the first page of Google when searching for "Plumber Marple" - brilliant! Thanks dad!

Paul Whittaker - Marple Plumber.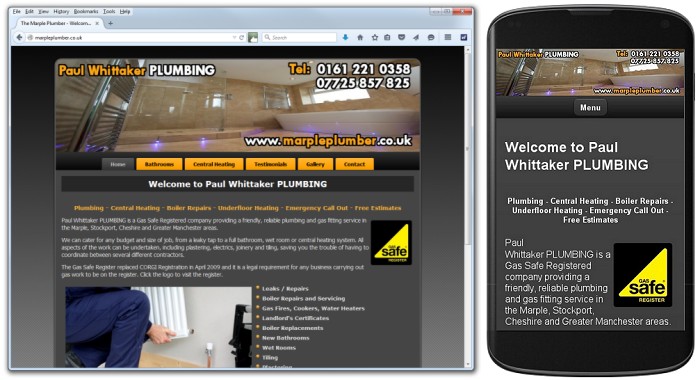 Leisure Designs - Embroidered Logos and Designs
Recovery, re-building and hosting of an existing 20 page web site for a Hazel Grove embroidery business that was having difficulties with lack of support from the original web designer and host. www.embroiderylogos-stockport.co.uk/
I would just like to say a huge thank you for taking over my web site and re-building it for me. After a lot of trouble with the previous web designer I got in touch with Mark explained what I needed, and he did all the rest. It made such a difference having someone who does actually get back to you and who sorted out a lot of problems with my web site not working properly before. The other really important issue was to keep it running while the changes took place - Mark did this all within 2 weeks. The cost was very reasonable, for all the work that I had done. I would recommend Marple Promotions to everyone, they are so efficient and keep your costs affordable. Because it looks so much better now I have had a lot more enquiries.

Thank you so much.

Elaine, Leisure Designs Embroidery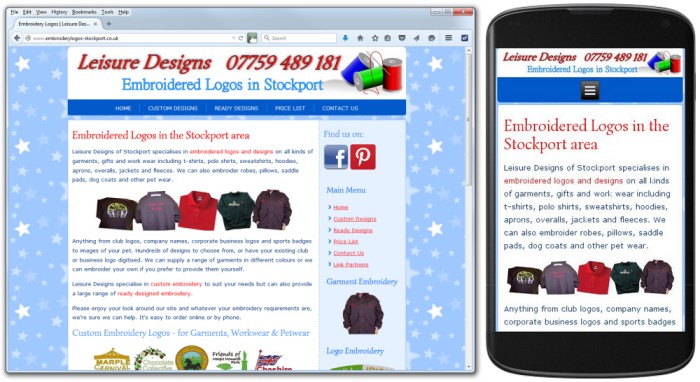 Friends of Romiley Park
A content management system web site for Friends of Romiley Park that enables them to update articles, upload minutes of meetings and add photographs themselves. Now on its second generation following a recent upgrade. www.romileypark.org.uk
Friends of Romiley Park moved to the Marple website after recommendation from one of their existing clients. Mark designed the format and then we went along to tweak it to our personal specification. Now into our third year, we will continue with them as they have provided quick and efficient service when we have needed to make amendments or have any queries.

Tracey Adams, Chair FORP.
Learning from Uganda
Helping Uganda Schools (HUGS) is a Marple Bridge based charity dedicated to improving the lives of children in Ugandan Schools. For several years trustee Denise Ead had been working on her idea to create a resource for UK Primary Schools and Early Learning that would share experiences, learning, knowledge and understanding gained from the charity's schools in Uganda with children in the United Kingdom. I was delighted to help Denise bring to fruition her vision for an educational web site with easy navigation of the wealth of educational material that she had complied. www.learningfromuganda.org.uk
I would like to thank Mark Whittaker for his technical skills and creativity. Mark has produced an excellent website for me called learningfromuganda.org.uk

I told Mark how difficult it was for me to explain the concept of this educational website and Mark said how frustrating it must have been for me. Well, Mark certainly had the skills and understanding to create exactly what I had in my mind. Mark has shown dedication, enthusiasm and professionalism and the website is more than I could have asked for. The feedback I am receiving from people who have seen this website is "Wow!", "Amazing" "Brilliant"!

Mark thank you for bringing life and energy to the pictures, videos and text that I provided. You have produced such an easy to use website. Thank you from the Charity Helping Uganda Schools and from the children in Uganda who I know will benefit from your skills.

Denise Ead Trustee of the charity. Helping Uganda Schools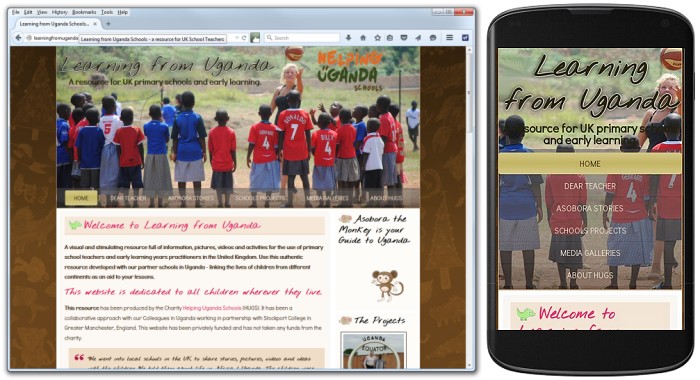 Older testimonials:
Marple Business Forum
The Marple Website is no longer responsible for the Marple Business Forum web site but these two testimonials reflect the work done for the MBF in the past:
A complete revamp and upgrade of the Marple Business Forum web site first created for them in 2005. This featuring a search-able Members Directory with standard or enhanced listings, Google Map entries and linked banner advertising.
Thank you for creating a fantastic site for us. The graphics, functionality and traffic flow of the site have exceeded our expectations and your customer service is second-to-none. We wouldn't hesitate to recommend you to anyone who wants a quality website from a quality company.

Michael Whatmough, Marple Business Forum Marketing Committee Chair.
Design, hosting and maintenance of the orginal searchable traders directory site for Marple Business Forum with a page for each of their 140+ members and a members only area.
Dear Mark,

I would like to thank you for all the support, hard work and expertise in setting up and maintaining the Forum's web site during my time as the Team leader of the Marketing and Publicity Group. You have always provided a very prompt and professional service at a very competitive price and your ability to convert 'web-speak' into simple English has been particularly helpful.

Malcolm Allcard
Marketing Team Leader (2005 to 2009)
Marple Business Forum
Derbyshire and Cheshire Cricket League
When Peak Sports Derbyshire and Cheshire Cricket League (DCCL) approached me about a new web site that would allow them to display fixtures, results and player statistics it was a rather daunting challenge but after investigating the options for such a complex site I was able to help and guide them to create a fully functioning League Republic (LR) site that regularly featured in the top 5 LR sports sites in the world. DCCL has now moved onto a new system but the comments reflect the work done for them over several years.
Mark Whittaker was asked to oversee the design and implementation of our new website. Mark has worked tirelessly in perfecting what we feel is a top notch website. We are delighted with the look of the website and the ease of use. A great part of what we do relies on statistics being easy to input and easy for our Clubs to access and on both counts, a great success.

Mark has always been there to provide support and guidance which has certainly made our task a whole lot simpler. To anybody out there who needs a new web site or requires expert technical support, then Mark Whittaker and his Company are highly recommended.

Mike Brown, Hon Secretary, Peak Sports Derbyshire and Cheshire Cricket League.
World Tire Industry Report
Redevelopment of a large and comprehensive site reporting on all aspects of the World Tire Industry with free and pay-per-download reports. The original site had become old and dated, it was difficult to navigate and the owner was struggling to keep it up-to-date or make changes. The new site presented the extensive content in a structured way using the latest Joomla 3 Content Management System and a responsive template to ensure the site functioned smoothly on all platforms including tablets and smartphones. (Note: following Neil's retirement the World Tyre report site was shut down and the domain is up for sale).
Now the new site is up and running it's time to say thanks for all you've done. The original objective was to redesign the site and to make it more user friendly. In particular I wanted to improve the payment and downloading procedures and the inter-connectivity of the site.
You have certainly succeeded in meeting those objectives but I think that between us we have achieved much more than that. What I particularly appreciate is the way you worked proactively with me. You not only made positive suggestions of your own but you discussed, criticised and modified many of my ideas. Also, your gentle nagging kept me focused on the website construction when I was in danger of getting distracted. Thank you.
Let's see how we can keep up the momentum that you've generated.

Neil Mullineux, World Tire Industry Report.
TexEng Software Ltd
As outlined in the testimonial below, TexEng Software needed someone to take over the maintenance and update of their existing web site when the student who set it up for them could no longer help. Rather than recreate all the information from the old site on the new one we interlinked the existing one with a new fully responsive site for the latest material that the company needed to promote. At the heart of the new site was a system that allowed academics from around the world to submit abstracts for consideration at their conferences. The site was also interlinked with the North Carolina State University website for conference booking and accommodation. (TextEng is now defunct).
Just over a year ago, a former PhD student, who had set up a website for TexEng Software Ltd, a spin-off company from the University of Manchester, wished to give up running the website due to increasing work commitments. Changes in the website were also needed. Having seen Mark Whittaker's work on other websites, I recommended that we should ask him to produce a new website.

The old website was left in existence in a dormant state, so that relevant information could be accessed by links from the new website, which was structured to emphasise current needs. The most important entries have been for a conference organised by TexEng in cooperation with North Carolina State University.

We have found Mark to be extremely efficient, quick and helpful in meeting our needs at a very reasonable cost.

Professor John W S Hearle, Chairman, TexEng Software Ltd
Ardek Ltd
Design and hosting of a 5 page content management system driven web site (now retired) for Ardek Ltd, a Marple based electrical business.
We found Mark at The Marple Website Design and Hosting very helpful in assisting us with the design of our website and would have no hesitation in recommending him to others.

Ardek Limited, Marple.