We held our "Change-over" meeting at the beginning of July and installed our new President Bob Lord.
Our annual Golf Day was held at New Mills Golf Club and was thoroughly enjoyed by 12 teams. The Rose Bowl was won by the team from Bramhall Park Golf Club. This year the charity we supported was Kinder Mountain Rescue Team and our President Bob presented the cheque for £1000.00 to their representative. Our grateful thanks to the Steward and Stewardess and the Golf Pro for all their help in making the day a success. We are grateful to all the teams and club members who support us each year at this event.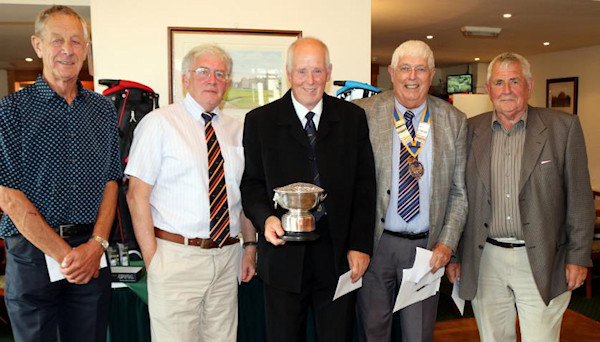 Winning Team - Bramhall Park Golf Club
On 17th August our speaker was Jessica Holland from Ugandan Hope Orphanage. Jessica is a teacher who visits Uganda as often as she is able and has been instrumental in helping to set up a new charity Hope House (Enju Ya'Masiko) which will be a foster home for vulnerable children who have nowhere else to stay.
Dates for the future:
On 21st September the speaker is Tom Dickenson, who will tell us about a Dental Charity which helps dentists to work overseas where dentists are seriously needed.
The Rotary District Conference will be held on the weekend of 27th to 29th October at Scarborough. Hotel bookings having already been made.