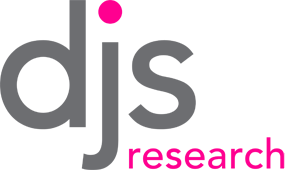 Address: 3 Pavilion Lane
Area: Strines
Town: Stockport
Postcode: SK6 7GH
Phone: +44 (0)1663 767 857
Website: DJS Market Research Ltd
Email: This email address is being protected from spambots. You need JavaScript enabled to view it.
Facebook: DJS Research on Facebook
Twitter: @DJSResearch
LinkedIn: @djs-research-ltd
DJS Research Ltd
DJS Research is an employee-owned, full-service market research agency that carries out projects throughout the UK and overseas. We operate within consumer and business to business markets offering both qualitative and quantitative research services. We work for private sector clients, along with public sector and third sector organisations.
We offer clients 'More for Less' through competitive prices and Research Directors and Senior Researchers delivering projects from start to finish. The market research agency offers a range of services from identifying market research requirements, devising a suitable programme, through to project implementation and reporting findings.
The company has offices in Strines and Leeds and our remote network of partners stretches the length and breadth of the UK and several countries in mainland Europe. We have over 90 permanent partners, along with a team of 100+ telephone interviewers (a lot from the local area). We take our role in the community seriously, and consider ourselves an ethical company, with an understanding of our responsibility to our staff, the local community and to the wider business world. We pride ourselves on living up to our brand values on every project: collaboration, creativity, enjoyment, integrity, quality and respect.
DJS Research Ltd is a Marple Website Sponsor