It's official! Memorial Park is one of the UK's Favourite Parks!
Friends of the Park were delighted to learn that their park was voted by the public as one of 14 favourite parks in the North West in a 2022 poll of the UK's Favourite Parks organised by Fields in Trust. Bramhall Park was the only other Stockport park to make the list, so congratulations to them too. Read more on the Friends of Marple Memorial Park web site.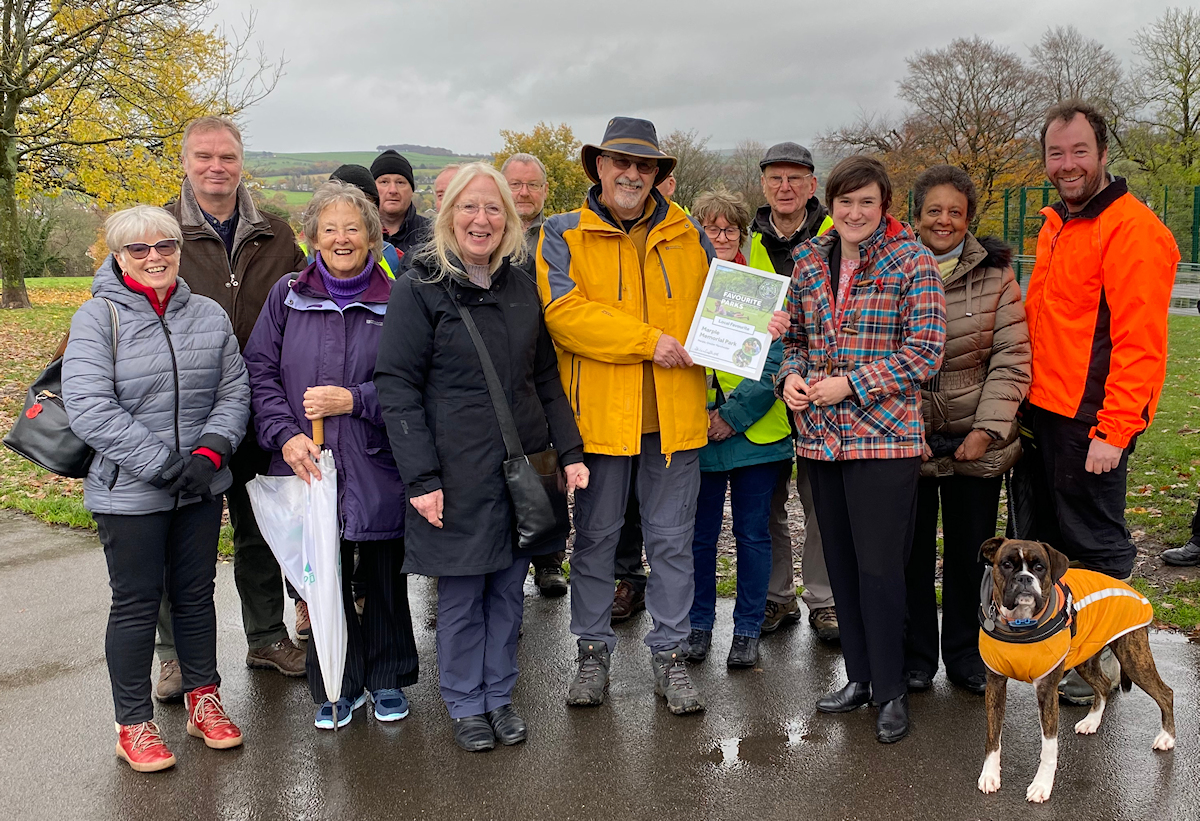 Cllr Grace Baynham presents the award in November 2022
On Wednesday 23 November 2022, Friends of the Park, Local Councillors, the Council's Neighbourhood Team and TLC Operatives were presented with the UK Favourite Parks Award certificate by Councillor Grace Baynham, Cabinet Member for Highways, Parks and Leisure Services. Friends of the Park made a special request that TLC Operatives who work in the park were present, including a handful of die-hards (hiding at the back of the photo) who've worked with us since we were formed in 2003.
Marple Community invited to vote in UK's Favourite Parks 2022
In the summer of 2022 Marple Memorial Park sought the support of the Marple Community as the UK's Favourite Park in a nationwide public vote organised by green space charity, Fields in Trust.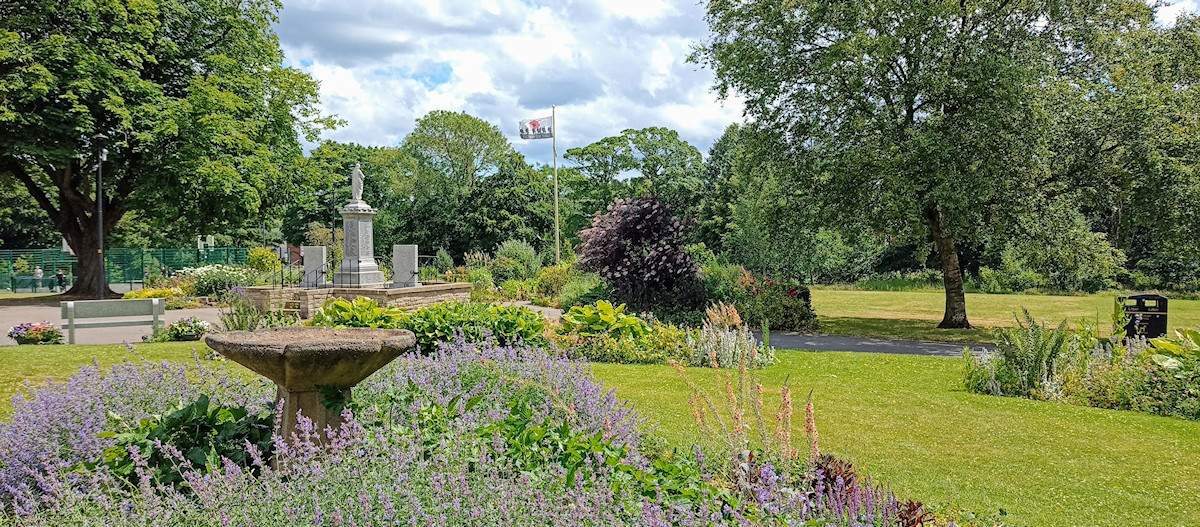 Memorial Park was one of 364 parks and green spaces in the running to scoop the accolade of being a local favourite, national favourite or take the overall crown of UK's Favourite Park 2022. The outcome was that our park was voted by the public as one of 14 favourite parks in the North West.
The park was nominated by local resident Kathy Davies who said ....
It's a real haven in our community, with a playground for little ones and another for older ones. A skate park, boules area, bowling green, basketball and football pitch too, something for everyone. Kindly maintained by the Friends of Memorial Park. A really valued space."
Mark Whittaker from Friends of the Park added ....
It was fantastic to receive this recognition for our park in its centenary year and we are delighted that the local community got behind us and voted in the poll when we appealed online and on social media. It's been a good year for the park with some great centenary celebrations in July. We've even had our skatepark listed as one of the Top 15 in England in "Skate the States" International Skatepark Directory, so we're on a bit of a roll!"
A sanctuary for local people during the pandemic
Our local parks have acted as a sanctuary for so many of us over the past few years and the UK's Favourite Parks award celebrates the contributions these spaces deliver for our neighbourhoods and communities. Yet not everyone has equal access. Research by Fields in Trust finds that around 2.8 million people across Great Britain live more than a ten-minute walk from their nearest park or green space. The situation could get worse with a risk that lack of legal protection could lead to more green spaces being sold-off or developed.
Fields in Trust Chief Executive Helen Griffiths said:
Our nation's parks have been so important during the pandemic, and it is vital that we celebrate them to help ensure they are protected for future generations. Without urgent action, Britain's public green space is set to decrease, putting more pressure on fewer green spaces to support the health and wellbeing of communities, now and in the future. Our children and grandchildren deserve to have the same access to green space that we do, so we need to act before it's too late. As well as voting for the local park you love today check to see if it is legally protected. It is within the powers of our local leaders to protect our green spaces and after the pandemic this is a significant moment to change the way we think about the contribution local green spaces make to our health, our wellbeing, our environment, and ultimately our futures."
Nominations for UK's Favourite Park 2022 represent the many different ways people enjoy green spaces, each valued by its local community. Parks have been nominated by people who love to walk, run, cycle, relax, picnic, walk the dog and play with their children in the UK's parks.
Public voting will determine local favourites as well as the national favourite park in each of England, Wales, Scotland and Northern Ireland. These four will be shortlisted with the overall UK's Favourite Park announced over the August Bank Holiday.