Saturday 22nd January 1966 - Grindslow Knoll
Members present:
| | | |
| --- | --- | --- |
| John Boothroyd | Paul Mallett | Leaders: |
| Mary Boothroyd | Graham Booth | R Booth |
| Julian McIntosh | Chris Gorman | Colin Booth |
| Kevin James | | F R Mason |
Boarded 9.20am train from Marple to Edale, arriving Edale at about 9.55am. Proceeded quietly through the village to the Nag's Head and then along the path towards Lower Booth, but diverted up the track towards Grindslow Knoll.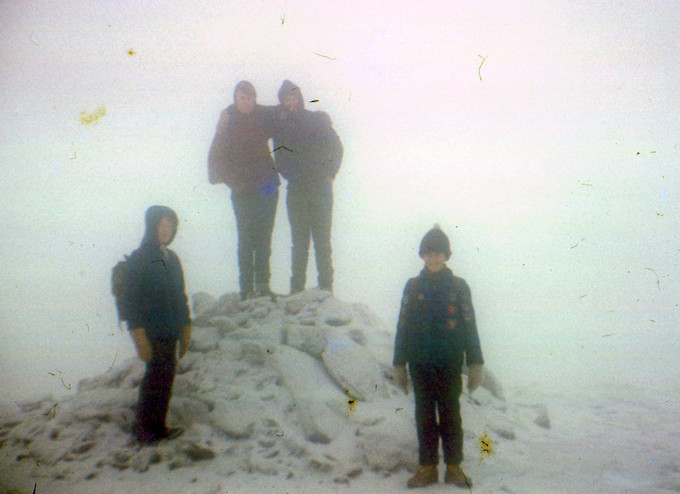 WW1966-001 ? Grindslow Knoll
The weather was cold, but not grim. There was much snow around and the cloud base was about 12 - 15,000 ft. All the Kinder plateau was in cloud. Met one man from Marple who was out for a little practice ski-ing - did not catch his name.
As we ascended towards Grindslow the snow became thicker and the temperature dropped several degrees. We had much fun snowballing.
Nothing much could be seen of the surrounding country as visibility was poor and deteriorating as we gained height. A small stream near the top of the track was filled with snow / ice forming a miniature glacier about 20-25 ft wide and 6ft thick - this caused great interest.
We left the track and headed on a compass course through the mist and over the snow towards Grindslow Knoll; visibility was down to about twenty five yards. Eventually we scrambled up the final rocky slope on to the Knoll, about 30-40 yds off the track.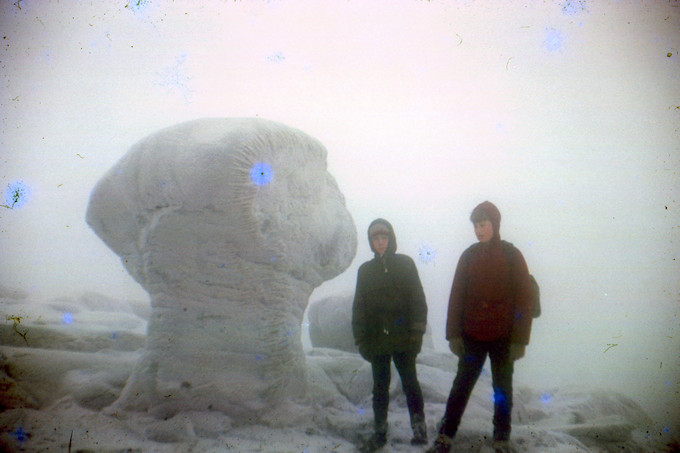 WW1966-002 On Kinder
Here it was discovered that Mr Mason had dropped his exposure meter; he and Mr Booth decided, after some thought, to carry out a cursory search. They returned to the gate and stile at the bottom of the track without success, and were returning to join the group when, just as hope was abandoned, Mr M. found it just where our way had left the track.
After a wait of some ¾ hour on the cold windy summit of Grindslow Knoll, the main group were a trifle chilly when rejoined by the two leaders. However, spirits soon returned to normal level when we got moving along the edge overlooking mist-filled Grindsbrook Clough.
The mist of cloud was of ice particles so that the hair of members without headdress soon became coated with frost - looked very nice.
Visibility became steadily worse and, finally, it was decided to set course 300o N from a rather vague estimated position. This course took us over strange unrecognisable country with many deep groughs, much ice and numerous snow drifts - the going was great fun but very exhausting.
A stop was made at about 1pm for lunch in a spot sheltered from the worst of the cutting wind that had risen - we got cold during the lunch stop and were quite ready to set course again. With visibility so poor, the going so hard, and the land unrecognised, this leg seemed to go on interminably, however it was good fun and everyone kept happy and cheerful.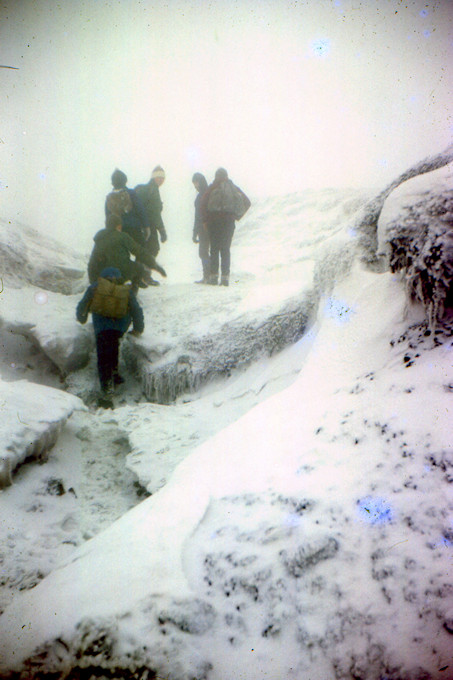 WW1966-003 'visibility so poor, the going so hard'
Finally we reached the Kinder Brook, just as planned, where it is joined by the main tributary - there was a little sigh of relief from the leader at this point.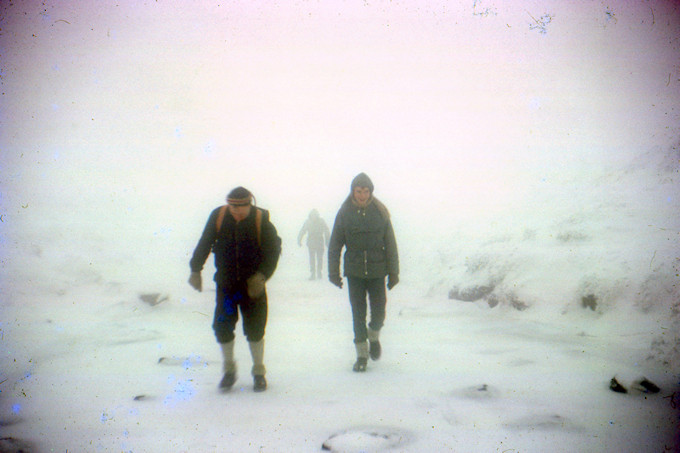 WW1966-004 'we reached Kinder Brook'
Kinder Brook was covered by a thin layer of ice over a film of water flowing over thicker ice below - this was most intriguing. Over the plateau all the bilberry bushes were coated with thick rime, giving them a 'cotton woolly' appearance. In the Kinder valley the rocks were white with rime formed in wonderful fern-like patterns - it was all very beautiful.
Eventually we arrived at Kinder Downfall. Here the wind was strong and biting, but despite this we stayed for some time so great was the fascination of the wonderful ice formations hanging from the rocks. Climbing over the great boulders with their icy coating was good fun, but demanded great care.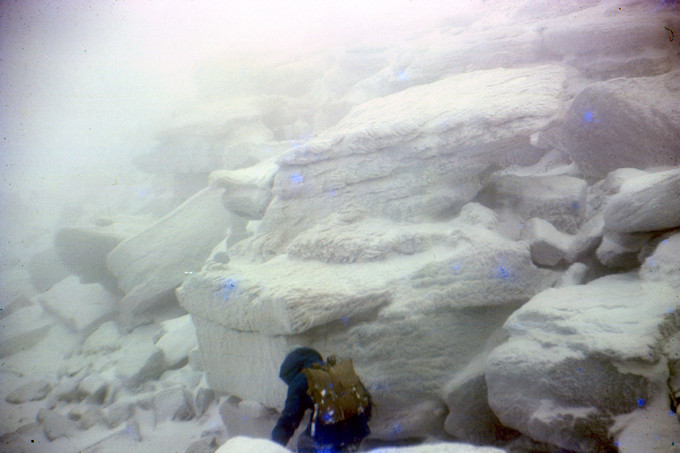 WW1966-005 'we eventually arrived at Kinder Downfall'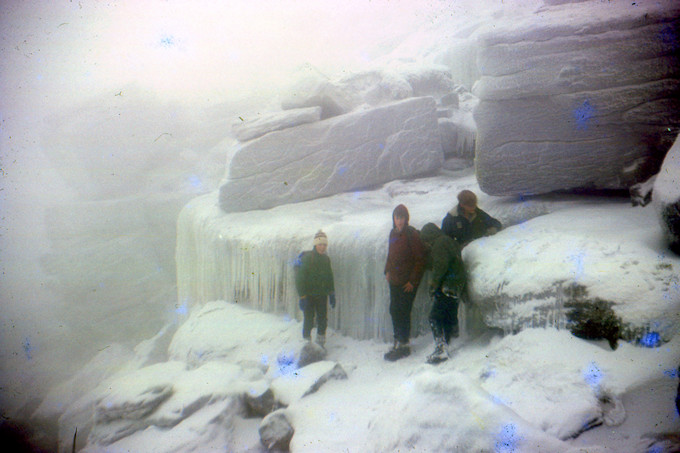 WW1966-006 'wonderful ice formations'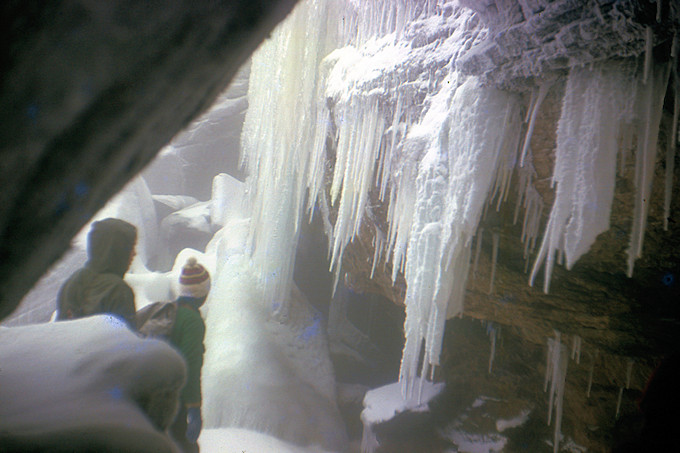 WW1966-007 'so great was the fascination'
On leaving the Downfall and proceeding along the edge toward the reservoir the wind was really grim, as Colin remarked, "It wasn't really a cold wind, it was just lazy - didn't bother to go round you".
We decided to drop to a lower level as soon as practical. However, before doing so, we met another group of young people (in the 20 year age group) heading towards Edale. Described the conditions for them and method of procedure, ascertained that they were equipped with map and compass, and wished 'em luck. After they'd departed it was realised that the time was then 3pm - they'd be pushed to reach Edale by dark. Resolved to 'phone head warden re. this.
In getting to a lower level we entered more strange rocky terrain - it all looks so different and weird in snow and fog. Had more fun snowballing, and also a longish slide on our bottoms down one icy slippery slope.
Finally dropped below cloud on to easier going and so down to the reservoir, up Horrible Hill, so into Hayfield to catch the 5.15pm train. A very successful tough, strenuous, but thoroughly enjoyable and memorable expedition.