25th February 1966 - Alport Bridge, Hamlet & Castles
Party:
| | | | |
| --- | --- | --- | --- |
| Laura Booth | Robert Wiltshire | Mary Boothroyd | Andrew Barwell |
| Jackie Dawson | Jane Hart | Michael Shorrock | Stephen Nightingale |
| Brenda Cauldwell | Neal Flunder | Eric Crossley | Chris Gorman |
| Kevin James | Stephen Wood | Maurice Kime | Janice Hill |
| John Boothroyd | Denis Payne | Julie Flunder | |
| Peter Wilson | Leslie Priestnall | Michael Adlam | Leaders: |
| Andrew Mason | William Smith | Linda Adlam | David Clough |
| Stephen Smith | Michelle Kime | Peter Durant | Ronald Booth |
| Simon James | Gerald Booth | John Durham | F R Mason |
| Bill Grundy | Julie Rabin | David Atherton | Julian McIntosh |
Party travelled by Cooke's bus to Alport Bridge, arriving there at about 10am. The weather was wet and the forecast suggested a generally wet day.
The planned route was Alport Bridge, Alport Hamlet, Alport Castles, and then right up the valley to Grains in the Water, then across the bogs and down the Crooked Clough and Shelf Brook to Glossop where it was intended we should board a 5.15 duplicate bus for Marple. The route was followed as planned, but the timing was out by more than an hour.
From Alport Bridge the path was followed to join the metalled track to Alport Hamlet. Immediately after the hamlet there is a somewhat confusing abundance of signs indicating various paths and the route to open country. The Alport Memorial Footbridge was crossed and the path followed up the steep climb to Alport Castles. Here we rested awhile and then had lots of fun on and around the rocks - a few climbed the Pillar.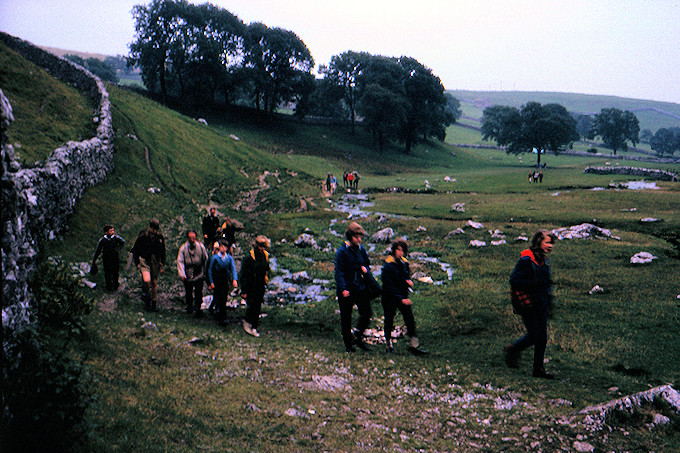 WW1963-011 An image from 1963
The weather at this stage was very wet and very windy; at times it was difficult to stand against the wind and there was some risk of being blown off narrow ledges.
Finally we left Alport Castles and, traversing the slope of the valley side, passed behind the coniferous plantation to the next clough where we scrambled down to the river for a jolly lunch; rain had ceased and the weather improved by this time.
After lunch we walked and scrambled along the river nearly to Grains in the Water. We had lots of fun on this part, particularly in climbing up the waterfalls and in making the numerous crossings of the river; there was plenty of water in the stream. Most of us succeeded in getting wet; at the first marked waterfall Julian slipped into about two feet of water.
Progress was slow but we had much fun, but it was apparent that many of the newcomers were getting tired; "how far have we to go" was a frequent question.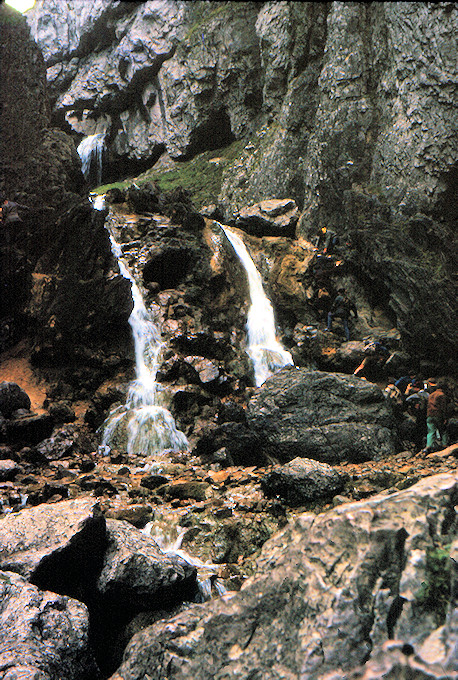 WW1963-012 An image from 1963
About half a mile short of Grains in the Water we walked away from the stream and, after a rest and a drink at the top, set course across the moor towards Crooked Clough. On this leg Jackie Dawson had some trouble with her 'gammy' knee, but stood it bravely - a good lass. Jane Hart was very weary and distressed by the gale force wind, but was comforted by a strong hand to hold. As usual Mr Booth did sterling work with the halt, the lame and the weary.
When the comparative shelter of Crooked Clough was reached the more dispirited folk brightened up again. No doubt the wild windy featureless moors can be a little frightening and depressing on a cloudy, wild day.
We had some fun during the descent of Crooked Clough and Shelf Brook, but naturally owing to fatigue not so much as in the earlier stages. Many of the less experienced and hardened members wanted nothing more than to get to Glossop. This we did about 1 hour 20 minutes behind schedule - it was just getting dark.
The NW Bus folks came up trumps again and had a duplicate bus ready for us within a few minutes of our arrival. We reached Marple at about 7.00pm.
Bill Grundy's pedometer registered around 16 miles - do not think we did quite that distance. It is difficult to imagine one of these instruments being accurate over such rough and mixed terrain. Altogether a thoroughly enjoyable, if exhausting, day. Nothing to report as Warden.