Saturday 21st May 1966 - Edale to Hayfield
Members taking part:
| | | | |
| --- | --- | --- | --- |
| Stephen Priestnall | Stephen Ward | Kevin James | Michael Thornton |
| Mike Robinson | Stephen Morris | Maurice Kime | Chris Robinson |
| Barbie Robinson | Jimmy Martin | Kevin Perkins | |
| Chris Gorman | John Dean | Mary Boothroyd | Leaders: |
| Eric Crossley | Robert Wiltshire | Andrea Mather | R Booth |
| William Smith | John Boothroyd | Graham Booth | F R Mason |
Route: Edale, Crowden Brook, Crowden Towers, Woolpacks, near Kinder Low, North Edge, Kinder Downfall, Kinder Brook, Kinder Reservoir, Hayfield.
Party boarded the 9.20 train at Marple, arriving Edale about 9.55. Passing through the village we stayed at Fieldhead for roll call, then dallied at the shop, before turning left to cross the fields and landslide to Crowden Brook. As usual there was litter in the stream in the gulley alongside the camp site.
We had a good scramble up to the Letterbox, where we stopped for lunch. Here we observed a large party (presumably a school party) heading approximately ESE (east-sough-east). Did not speak to this group, but did contact three young boys (about 14 yrs) making a circuit from Edale, Grindsbrook, Crowden Towers, Jacob's Ladder. Properly dressed and equipped.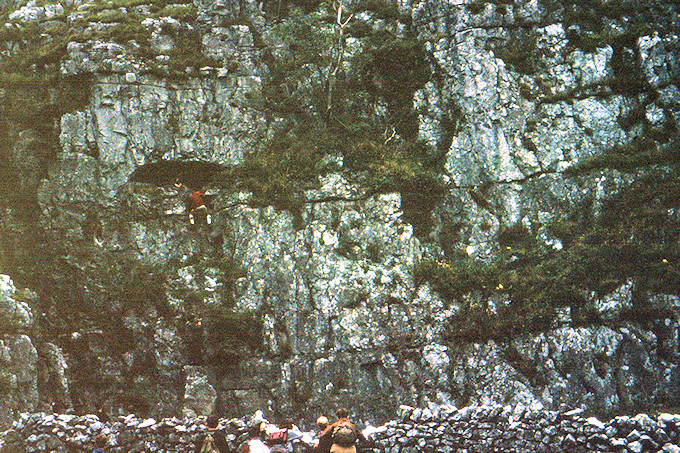 WW1963-017 An image from 1963
After lunch some time was spent scrambling around the Letterbox - everyone liked this - and a shorter time on Crowden Towers. Stopped again to play around the Woolpacks for about twenty minutes; here we met several people in a small group heading towards Edale.
Also met one gentleman proceeding from Edale to Crowden YH but, when contacted, was heading south. He had been directed by a warden to head for Sealstones on reaching Grindsbrook Head - quite correctly. How the gentleman had arrived at the Woolpack I did not find out. However, directed him on a heading across Kinder and towards Crowden.
Also at the Woolpack met a group of junior school children (32 children, 2 staff). This group from Nuneaton were staying at Edale YH for the weekend. The two friendly teachers had their well clothed and well shod charges under perfect control without any apparent enforcement. These children were all less than 11-12 years old - junior children are generally obedient to teachers.
The older secondary school children begin to feel their independence and strain against authority; they are aware that teachers have no legal authority to dictate their (the children's) movements and actions when on a voluntary activity in their own time.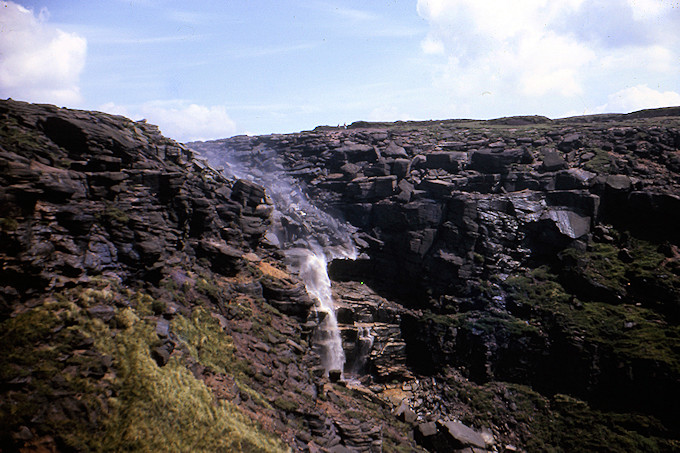 WW1965-030 Kinder Downfall 'blowing back'
To continue; at Noe Stool we continued on a westerly heading across the peat bogs' western edge and then headed approximately north-wards along the edge across Red Brook and so to Kinder Downfall. There was a strong, near gale force, wind blowing from the west and lifting the water high above Kinder Downfall in a great column of spray. About a minute of film was expended on this fine sight.
On account of the heavy spray we gave up the idea of making our way down to the stream by our usual route, and retraced our steps a hundred yards or so and scrambled down an easier route to the Kinder Brook below the Downfall. From here we followed the course of the Kinder Brook nearly as far as the reservoir, and then over the fields to Horrible Hill and so into Hayfield.
On this leg had a little bother with members tending to push ahead too fast. Dean, Martin and Morris gave no real trouble. The menaces were Stephen Priestnall and William Smith, but am fairly certain that they were ignorant of our ways rather than intentionally disobedient.
Report for wardening:
3 boys met at head of Crowden.
Rambler on reciprocal heading at Woolpacks.
Junior school group.
No serious litter, except in gulley alongside camp site at Edale.