Saturday 7th May 1966 - Woodhead to Glossop
Members taking part:
| | | | |
| --- | --- | --- | --- |
| Mike Robinson | Stephen Walker | Peter Wilson | Jean Callow |
| Chris Ridgeway | Andrew Barwell | Julie Flunder | Kevin James |
| Julie Rabin | Linda Adlem | Stephen Priestnall | Jimmy Martin |
| Elizabeth Ketley | Michael Adlem | David Payne | Stephen Morris |
| Michelle Kime | Maurice Kime | Valerie Maxey | Frank Frost |
| Mary Boothroyd | Bill Grundy | Julian McIntosh | Eric Crossley |
| Paul Mallett | Robert Wiltshire | Derek Horton | Leaders: |
| Chris Gorman | Andrew Mason | John Boothroyd | F R Mason |
| | | | Jean Horton |
Route: Woodhead, Far Black Clough, Barrow Stones, Bleaklow Stones, across Alport Head, Shelf Stones, down Little Clough to Shelf Brook, and so into Glossop.
The group left Marple at 0920 hrs and arrived at Woodhead at about 10.00. Early weather had been bright and cloudless, but by 10am the sky was largely covered by cumulus and, bearing in mind the forecast for the day, showers were expected - this proved wrong as the weather tended to improve as the day wore on.
After leaving the bus we dropped into the valley and walked to the junction of the three Black Cloughs - selected Far Black Clough for our route. Had an enjoyable scramble up the clough until the valley opened out a bit; here we stayed about half an hour for a play around.

WW1963-015 An image from 1963
From this position we set course for Bleaklow Stones, but about half or ¾ mile short of this objective we changed our plan and decided to explore Barrow Stones; this was quite a trudge over many groughs. Eventually reached Barrow Stones, where we ate lunch and clambered around on the rocks for some time before setting course for Bleaklow Stones.
Just before setting course we observed two other ramblers on the moors, but did not make contact - they were about half a mile from us. On the leg to Bleaklow Stones we observed the two ramblers again and also a patrol warden, who contacted us, and had a longish chat re. school groups, clothing, footwear and places - strangely enough we failed to swap names. When we met the warden our group was strung out over about 300 yds; to me quite legitimate although many self-styled experts do not approve of this.
On this leg we had many groughs to cross, but we did finally join the path and made quicker progress.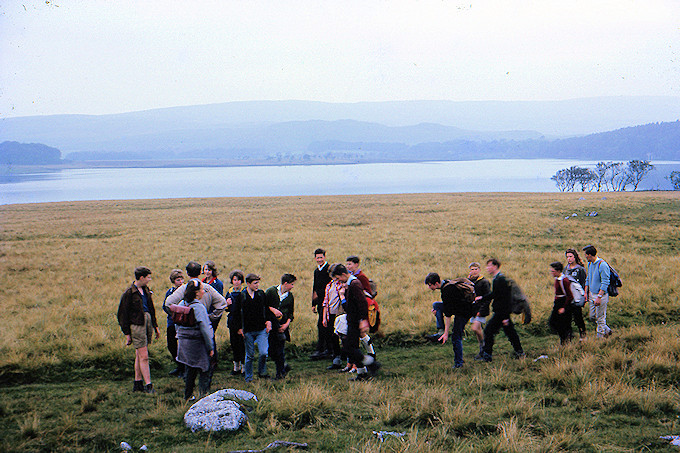 WW1963-016 An image from 1963
From Bleaklow Stones we headed approximately SW (south west) but, at the crossing of Alport Head grough, headed 'up stream' for a few hundred yards and then turned on to course again - we had hoped to find easier terrain, but were unlucky. The peat was soft, humpy and uncovered. It was tiring going, but eventually we got onto easier ground as we approached Shelf Stones and rested awhile to gaze around.
Then we set off again towards Glossop, traversing the slope of the hills, but gradually losing height - again we saw our two ramblers but did not make contact, just a friendly wave over about 200 yds. After about a mile we dropped down to Little Clough, then to Shelf Brook and so along the main path and into Glossop.
At about MR (map reference) 067942 contacted a small group of walkers, not fitted out for hard walking. However, found them to comprise one experienced rambler just showing a few friends from London what the Peak District has to offer. They were not on a serious walk, just a little look around along Doctor's Gate and Shelf Brook.
Arrived in Glossop about 5.15, and managed to arrange a duplicate bus. A successful day's rambling - except that about eight members, having given their names as joining the expedition, failed to turn up.
Little to report - meeting warden - two other ramblers - small group on Shelf Brook.