20th February 1965 - Hope to Hayfield
Party:
| | | |
| --- | --- | --- |
| F R Mason | Beryl Jean Goodale | Laura Booth |
| T F Mason | Derek Horton | Graham Renshaw |
| Neal Robinson | Mr R Booth | Bill Grundy |
| Michael Robinson | Roy Fisher | Julian McIntosh |
A cold windy day with threat of snow showers. Planned route was Hope, Lose Hill, Mam Ridge, Mam Tor, etc, but owing to snow we decided that Kinder Edge would be more exciting, and changed the route.
The main group crossed the fields towards Lose Hill; a small group proceeded via Hope village to purchase film, and rejoined the others just out of Hope. Then across muddy fields to the Roman Road, which was followed to a suitable point where Win Hill path joins - from here we headed across the moor towards Kinder.
On the way we met with lads at the D of E Hostel, leased for them by their employers, and reconditioned by the boys themselves. Some firms have the right idea.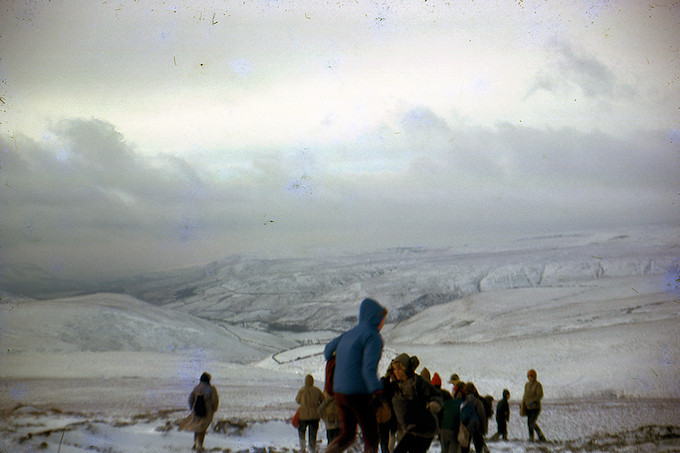 WW1965-025 Longdendale (from another walk)
We stopped for lunch in the shelter of a wall, a few hundred feet below the Edge - the wind was cold and biting. Had a little sulking trouble with one lad who'd intercepted a snowball.
Out of the shelter it was truly bitter - Tony and myself donned full weather protection, but found we were too warm even in this grim wind. Some of the less well protected youngsters felt the cold a lot. The peat was frozen stiff, which made walking very difficult on the hard irregular surface.
The weather was generally clear and we had some fine views - the snowy country looked fine.
Progress along Kinder Edge and The Edge to the head of William Clough was slow owing to the nature of the ground. There was very little time for playing around, even if the weather had been suitable. We were all pleased enough to drop off the high exposed Edge into William Clough and so down to the Reservoir and Hayfield. The hills looked fine from our usual resting place by the reservoir. We arrived in Hayfield in time to catch the 6.15pm train after about 15 strenuous miles. Tony and Roy walked back to Mellor via Carr Meadow and Rowarth.
A stiff day, but enjoyed by all.