Saturday 16th January 1965 - Edale Circular
Party:
| | | |
| --- | --- | --- |
| Philip Davies | Michael Robinson | Ian Pollock (ex) |
| Frank Frost | Ann Eastman | Stephen Morris |
| Kevin James | Eliz' Gunn | Michael Lee |
| Ian Weston | John Clarke (MH) | F R Mason |
Planned route: Edale circular, ie Hayfield, Mount Famine, South Head, near Edale Cross, Kinder Downfall, Kinder Brook, Res'r, Hayfield.
Members were warned on Friday not to turn up at the station if the weather forecast was bad. It was bad; gales, rain and sleet were promised. At arranged assembly time (9.15am) the members listed were at the station. They were very reluctant to accept cancellation and so it was decided to 'have a go'.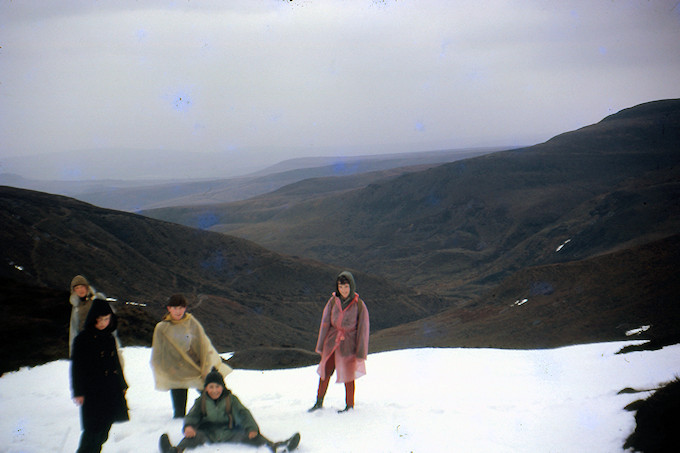 WW1965-015 Near Doctor's Gate, Glossop (from another walk)
The weather was moderate at Hayfield, and so we pushed on towards Mt Famine. On the steep ascent toward the summit of Mt Famine we scrambled on to a light covering of snow, and into cloud. On top it was windy and icy rain was falling; we pressed on.
At South Head the youngsters were given the choice of turning back - but chose to go on. For the first half of the long stretch of moor towards Brown Knoll we were largely sheltered from the wind and sleet by the wall. As we gained height and gradually altered course from East to NE and North, the shelter failed and we battled with the full fury of the gale and the bitterly cold sleet.
The children (most of 'em) were not dressed to face this weather; despite warnings, a number of them were wearing cotton jeans, shoes (instead of boots) and only one pair of socks. The little ones were utterly miserable, and it was obvious that if we continued some of them would crack up - not a pleasant prospect on top of Kinder in such weather. At Edale Cross it was decided to cut the route and descend to Hayfield by the path across the flank of Kinder.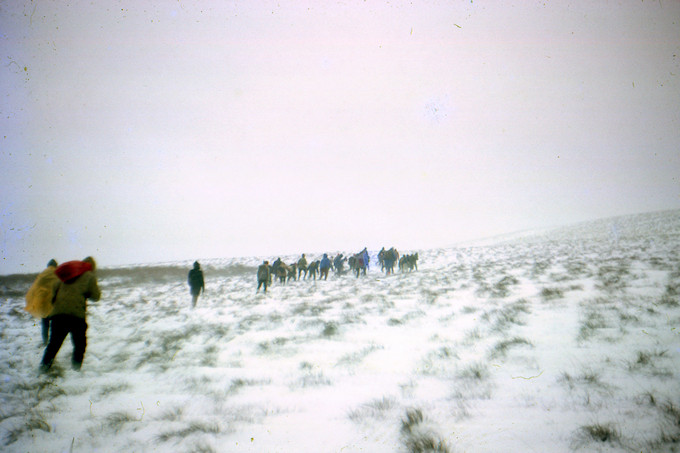 WW1965-024 'it was grim' (from another walk)
As we descended the wind abated and spirits rose again, particularly as we reached that always strange, slightly eerie, stage of coming out of the cloud and seeing the countryside spread below us.
Arrived back at Hayfield, wet but happy again, at about 1.30pm; had lunch in the waiting room and caught the 2.12pm train for Marple.