Sunday 15th November 1964 - Miller's Dale Circular
Party:
| | | |
| --- | --- | --- |
| Leslie Dawson | Graham Renshaw | Bill Grundy |
| Anne Lockwood | Jimmy Martin | Michael Robinson |
| Heather Stevens | Phil Davies | Christine Robinson |
| Anne Jones | Julian McIntosh | Elizabeth Gunn |
| Colin Booth | Laura Booth | Valerie Maxey |
| Neal Robinson | Hatton* | Tony Mason |
| Vincent Price | Freeborough* | Mr Booth |
| Robert Hammond* | Adshead* | F R Mason |
| Ian Sidebotham* | Errold | Mr McIntosh |
| Simon Andrews | D Booth | Mrs Renshaw |
| Mike Campion | Anthony Mason | Total: 32 * D of E |
Group assembled at Marple Station to meet the 9.15am train. This was late. Arrived Chinley before 10am, but had a wait of nearly an hour for the Millers Dale train. Eventually reached Millers Dale at about 11.30am.
Followed usual route along Millers Dale, keeping to the valley (ie not on the hill path). The path was partially flooded owing to the raising of the dam - this has improved the valley generally. Crossed over the bridge near the head of Monsal Dale to avoid unnecessary road walking and stopped at Monsal Dale Weir for lunch.
Continued along Monsal Dale to cross the A6 road to enter Deep Dale then, at the end of the grim rocky bit, turned sharp right over the rock wall and along the path towards Taddington. At the head of this dale, by the farm, joined the metalled lane that leads down to Taddington village.
After passing through Taddington, stopped for stragglers to catch up and held conference to decide if we should attempt the complete circuit along Priest's Way and Cheedale. Considered splitting the party, but eventually decided that we should all take the short route to join Cheedale by Tony's Ledge between the two bridges.
This we did, but it entailed crossing the 'muddy field'. Mr Mason, gallantly carrying Anne Lockwood over the worst of the mud, got bogged down and could not move until relieved of his burden by Tony. This would have made a good photograph, but no one was quick enough to capture it.
The descent into Cheedale was quite good fun, and also the route through the dale, even though the water level was a bit low. The water was scarcely around the stepping stones. The dale was muddy and leafy, and not looking at its best in winter dusk. Spring is the time for Cheedale.
We arrived at Millers Dale station at about 5pm and caught the 5.42pm train for Chinley and Marple. The weather had been intermittently wet, windy and damp cold. A few younger members showed signs of fatigue, but the 'out of practice adults' coped very well.
A successful, if not very exciting, ramble.
The following photos were taken during 1964 but are not necessarily linked to this walk: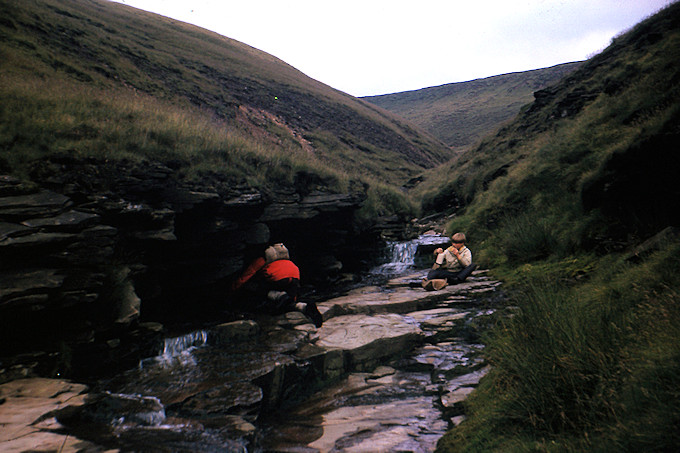 WW1964-011 Caption required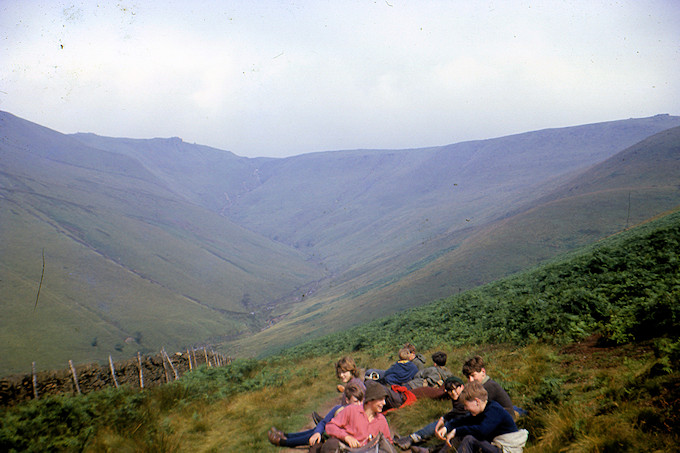 WW1964-012 Caption required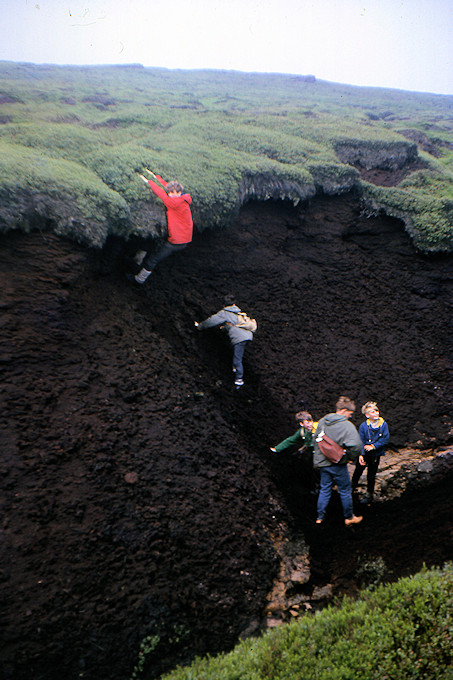 WW1964-013 Climbing up a grough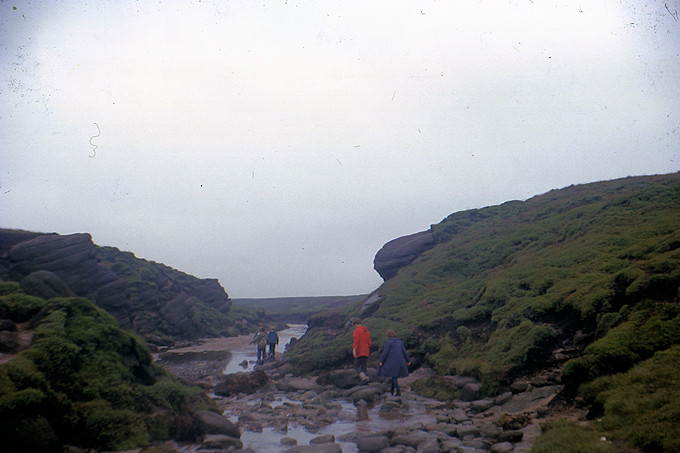 WW1964-014 On Kinder

WW1964-015 On Kinder