Saturday 10th October 1958 - Mount Famine to Kinder Downfall
The weather forecast for the day was not favourable but, despite this, a party of twenty-six gathered at Marple and New Mills stations and caught the train for the start of the ramble from Hayfield. The leaders of the group were Mr and Mrs Mason and Miss Macquillan.
The route was from Hayfield, over Mount Famine to skirt the north side of South Head, then round the wide sweep of moor to pass Brown Knoll on the 1,750 ft contour, to pass a little to the north of Jacob's Ladder, where a lunch stop was made. After lunch the route continued over Kinder Low along the rocky escarpment to Kinder Downfall. We stayed here for a while. A strong wind from the west was blowing a plume of spray back from the fall in the most picturesque manner.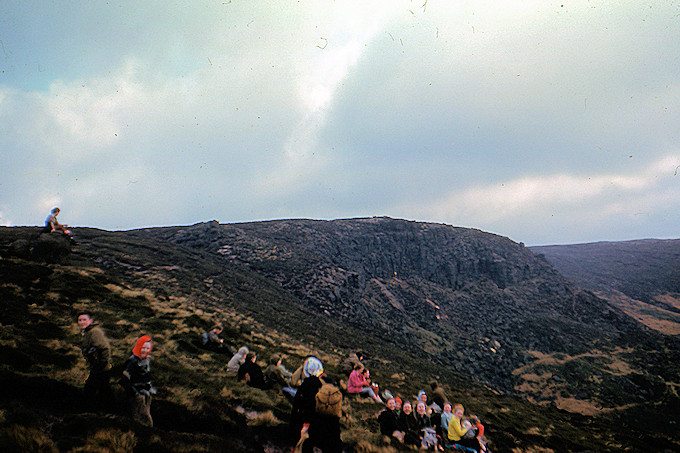 WW1960-002 Kinder (from another walk)
From the Downfall the party temporarily split into sub-groups for the scramble along the edge and down the steep slopes to join William Clough at various points, and to meet again near the reservoir. The normal path was then followed to Hayfield and thence by train to Marple.
This was a highly successful ramble in glorious weather which permitted the many fine views to be enjoyed to the full. There were no untoward incidents other than a rather nasty shin graze suffered by Miss Macquillan.