13th September 1958 - Edale & the 'Four Dales'
For the first ramble after the arrival of the new entry at school a fairly easy route was chosen, from Edale over Mam Tor, across the hills to Peak Forest and then, via the 'Four Dales' to Millers Dale.
A short briefing was given to all prospective ramblers on Wednesday afternoon - stress was given to wearing apparel and shoes (or boots); also a brief description of the route, train times, etc. It was later discovered that insufficient guidance was given to the new entry regarding general behaviour and the country code.
The following arrived at Marple Station to board the 08.58 train for Edale on Saturday morning:
Margaret Crammer
Leslie Doyle #
Vivien Brooks √
Elaine Sherratt #
Maureen Pridham #
Tony Mason √
Rosa Mullineaux #
John Gregory √
Kevin Robinson & dog #
Kenneth Johnson #
Gerald Boardman √
Lynne Sheldon #
Trevor Sharples #
Robin Lambert
Peter Russell #
Michael Healey #
"Old Girls" Monica Wild √ & Ann Eden √

Wendy Sharples √
David Yarwood #
Susan Archbold #
Pauline Wilkinson √
David Wright #
Chris Cooke √
Elizabeth Leathers √
Ann Close √
Tony Wilson #
Ann Mason √
Valerie Ashworth #
Michael Taylor
Celia Ward #
Pie Griffiths #
Jacqueline Newey
Rosa Leman #
All those marked with # were newcomers; those with √ are old campaigners who have taken part in many expeditions. Mr Mason and Miss Wood were in charge of the group - greatly assisted by Monica Wild, and to a lesser extent by John Gregory and Ann Eden.
A fortunate incident occurred during the journey to Edale. Elizabeth Leather and Pauline Wilkinson were lucky enough to enter a compartment occupied by Mr Daley of the Peak Park Planning Board, and Elizabeth very nicely effected an introduction of Mr Mason to Mr Daley, thus leading to a very interesting conversation about National Parks and countryside preservation generally. Mr Daley seemed very favourably impressed by our rambling activities.

WW1960-010 Lathkill (from another walk)
On arrival at Edale a count was made and course set on the path to the summit of Mam Tor - before the summit was reached quite a lot of the beginners were asking how far we had still to go.
Shortly after lunch, at a point about mid-way between the top of Winnats Pass and Peak Forest, it was necessary to make a sudden change of direction involving the re-call of many children up to 100 yds ahead. Instead of returning to the main party the children ahead made a dash for the dry stone wall and clambered over (quite neglecting the rules of behaviour). In this foolish action one boy pulled the wall down and sustained an injury to his knee - on examination this was found not to be very serious, although some pain was suffered for a considerable time. Shortly after this mishap, hearing screams from behind us, a smart return was made to rescue a girl who, having climbed over a dry stone wall had caused part of it to collapse and managed to get herself very awkwardly caught on barbed wire.
Obviously these children are in need of training - one actually walked absent mindedly over a low cliff; only a few feet and, fortunately, soft ground below.
A stop was made at Peak Forest for drinks and ices - it seems if children have money they must spend it. Shortly after entering Damdale, Chris Cooke tumbled and gave himself a severe knock with the lemonade bottle he was carrying.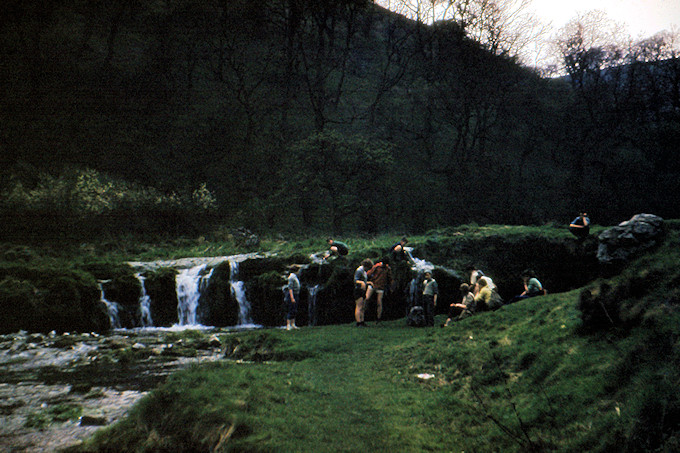 WW1960-013 Lathkill (from another walk)
As progress was made through the dales it became apparent that many of the children were not prepared for this type of rambling - neither the children nor, presumably, their parents understood the meaning of 'rambling'. Along the slippery path of wooded Monks Dale a girl sprained on ankle slightly and was assisted by Monica Wild and Ann Eden, who performed sterling work.
One girl, who dragged about a hundred yards behind the group she was with, suddenly burst into screams while the rest of the group were sitting on the finishing wall at Millers Dale. It seemed that the child suddenly could not see any of the others and became scared, although within a hundred yards of the finish and in full view of many. Robin Lambert and Elizabeth Leather performed good work in shepherding the stragglers. On arrival at Millers Dale station it was found that many children had overspent and had to be helped with the return fare.
As the train for Marple drew into the station the children made a mad rush for the train, and for a short time were dashing up and down the platform screaming and shouting like mad things - both Mr Mason and Miss Wood were thoroughly ashamed of them and it was resolved that better behaviour must be learnt before the next ramble. The behaviour in the train left much to be desired.
The behaviour of Ann Close, Liz Leather, Wendy Sharples, Pie Griffiths and a few others was excellent, although the bad behaviour was not entirely confined to the new first year.