Walks in 1969 - 1970
As these walks from the "Name Book" include very few other notes or details they have been grouped together for convenience and page size.
Photos are from these years but often cannot be matched to specific walks.
29th March 1969, Edale – Hayfield (bus)
(the bus fare recorded against each name is 3/- for children and 5/- for adults (that is, 15p and 25p). The listed names are:
| | | | |
| --- | --- | --- | --- |
| Dan McGookin | Graham Davenport | Peter Booth | Tony Mason |
| Chris Gorman | Trevor Wild | Mary Boothroyd | Mr Mason |
| Dave Stafford | Geoffrey Durham | Hilary Andrew | Mr Booth |
| Andrew Howie | Kevin Suffell | Julie Flunder | |
| John Woodward | Noel Flunder | | |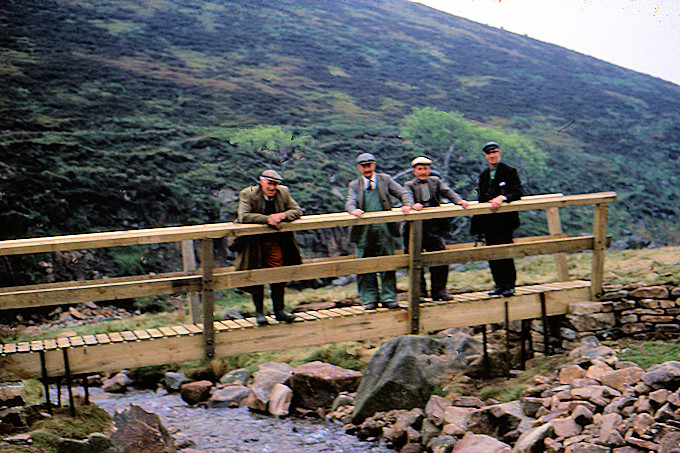 W1969-003 Amblerbridge working party 22/5/1969
Working Party – Easter 1969, Shelf Brook Bridge
Update provided by Ann Papageorgiou 31 January 2021:
On Easter weekend 1969 (Saturday 5th and Sunday 6th April) some 17 pupils from The Willows Seconday Modern School on Hibbert Lane, Marple, helped with the construction of Shelf Brook Bridge, on Doctor's Gate above Glossop. Members of the Ramblers Association and the Peak & Northern Footpaths Society (PNFS) were also involved.
Pupils from The Willows who helped were:
Phil McFall
Graham Booth
David Taylor
Beverley Stubbs
Ian Ellison
Phil Woodhouse
Steven Hurley
Ian Exley
Terry Linton
Ben Wayling
Andrew Howie
Dan McGookin
Jeremy Clifford
Mary Boothroyd
John Woodward
Stephen Ward
Hilary Andrew
A fascinating piece of cine film taken of this event by Frank ('Pop') Mason is now available too:
Recently David Morton from the PNFS viewed the cine film and would be very interested to learn more about that weekend. He asked if any of those named above could contact him so that he could add a first hand account of the construction of that original 1969 bridge to the history of the Shelf Brook Bridge (also known as Ambler Memorial Bridge).
A recent picture of the bridge and its history can be seen on the PNFS webs site.
David can be contacted via the 'Contact us' link or by email on This email address is being protected from spambots. You need JavaScript enabled to view it..
If you are one of those who helped that 1969 Easter weekend, your grandchildren might just be amazed at the risks that were allowed!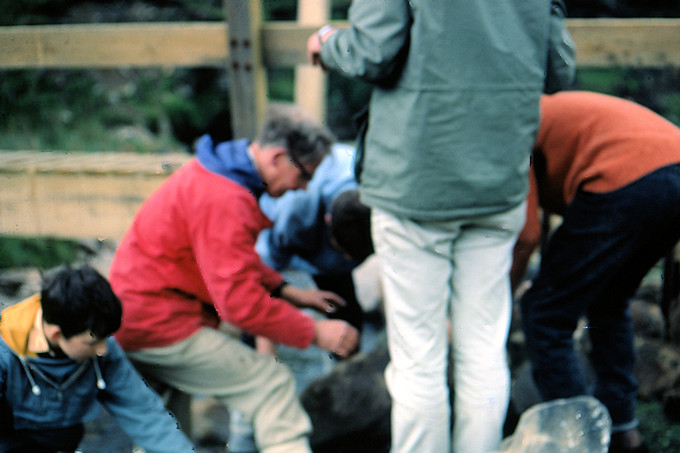 WW1969-001 Amblerbridge working party 28/6/1969
Saturday 20th September 1969 – Edale Cross Job
| | | | |
| --- | --- | --- | --- |
| Andrew Howie | Paul Ellison | Phil Stafford | Mr R Booth |
| Leslie Fader | Trevor Wild | Ian Finlay | FR Mason |
| Ian Exley | Peter Jones | Noel Flunder | |
| Eric O'Neil | Nicholas Gorman | Paul Andrew | |
| John Woodward | Chris Gorman | | |
(There are nine additional surnames in a different writing)
Higginbotham, Proctor, Hughes, Alexander, Sanders, Jackson, Ward, Walker, Burgess.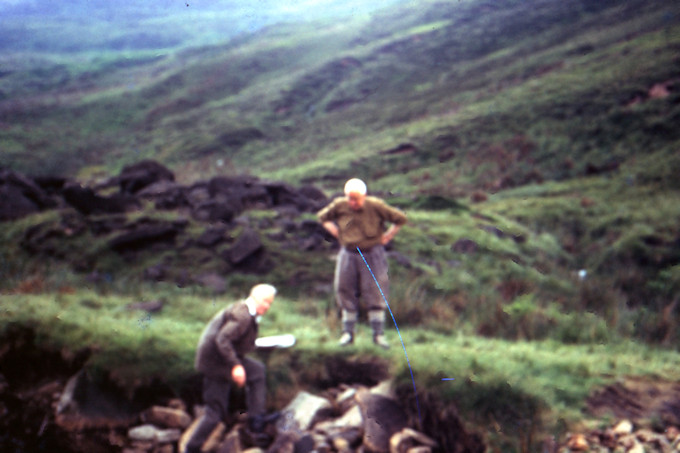 WW1969-004 Doctors Gate path 28/06/1969
Sunday 27th September 1969; RA Rally
(Rambler's Association)
31 names are listed, and the fare was 7/6 - but there is not indication where this rally took place.
Saturday 11th April 1970: Glossop Circular
| | | | |
| --- | --- | --- | --- |
| Miss Gillian Wright | Alistair McIvor | Catherine Beard | David Parker |
| Mr F R Mason | Trevor Wild | Alison Wilson | Paul Beetham |
| Mr R Booth | John Woodward | Jonathan Thorpe | Christine Barlow |
| Graham Booth | Nigel Mills | David Thorpe | Kevin Suffell |
| Peter Booth | Judith Wright | Stephen Granger | Angela Coffey |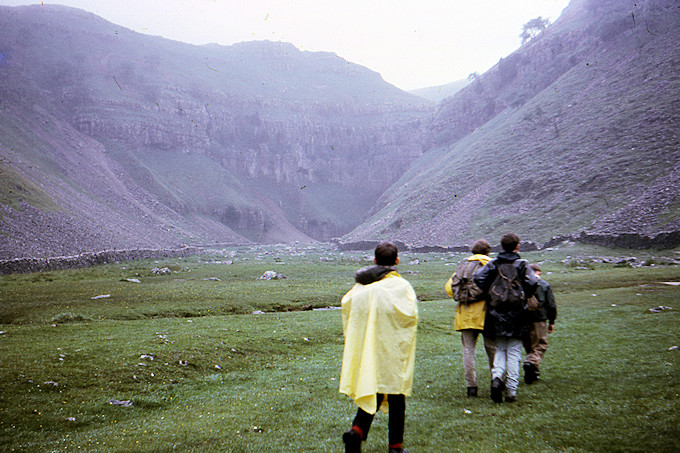 WW1970-001 Gordale - July 1970
Sunday 26th April 1970: Edale – Fairbrook Naze – Hayfield
| | | | |
| --- | --- | --- | --- |
| F R Mason | Laura Booth | Andrew Howie | Stephen Grainger |
| Ron Booth | Graham Booth | Tim Grundy | Kevin Suffell |
| Mick Warwick | Dave Stafford | Noel Flunder | |
| Gillian Wright | Dan McGookin | Gary Townley | |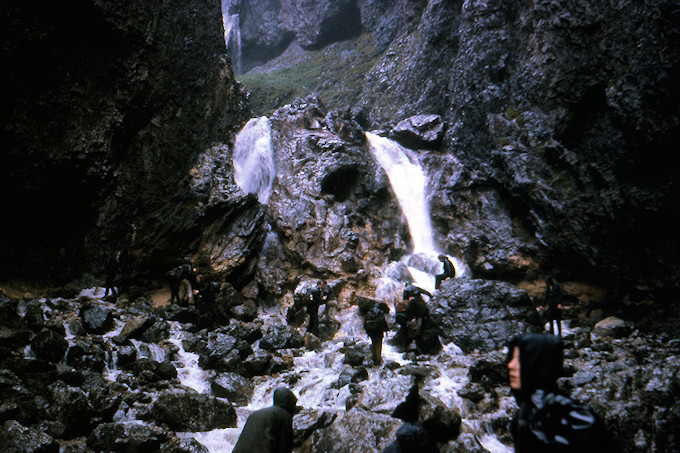 WW1970-002 Gordale - July 1970
Monday 21st December 1970 - Hayfield Circular
Hayfield Reservoir, Kinder Low End (Cavern), Kinder Low - edge - drop to path out of icy wind, 3 knolls, Redbrook, Downfall - down Downfall, traverse to Mermaids Pool, Kinder Reservoir - Hayfield (alongside reservoir)
| | | | |
| --- | --- | --- | --- |
| FR Mason | Bill Grundy | Tim Grundy | Stephen Grainger |
| Trev' Wild | Dan McGookin | Andrew Mason | David Sanders |
Excellent weather. WV NNE Force 3. No cloud most of the day, vis 5-7 mls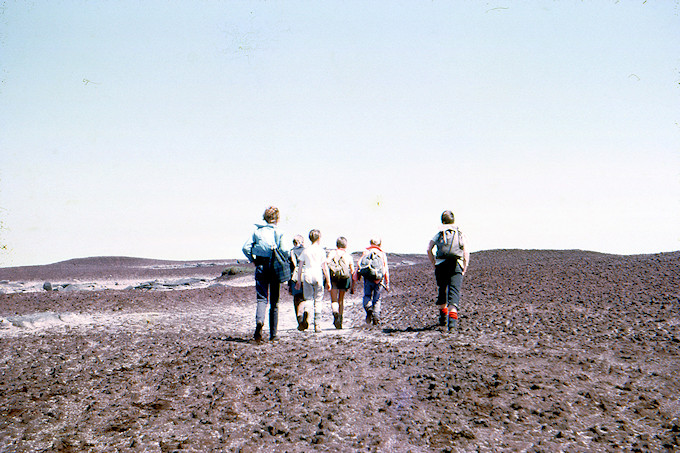 WW1970-003 ? on Kinder - processed July 1970