Saturday 7th January 1967 - Crookstone Knob & Seal Edge
The following members assembled at Marple Station to board the 10.00am train for Hope.
| | | | |
| --- | --- | --- | --- |
| Graham Booth | Marilyn Buxton | Michael Fox | Mary Boothroyd |
| Eric Crossley | Gillian Henderson | Andrew Hill | Leaders |
| Julie Flunder | John Truman | Andrew Howie | Julian McIntosh |
| Chris Gorman | Paul Andrew | Graham Davenport | Mr Ron Booth |
| | | | Mr F R Mason |
At low level the weather was dull and cloudy; cold, with a sprinkling of snow on the ground. Leaving Hope Station we set course across the fields, an approach was made to the Roman Road, and a stop was made at the Cross for food.
From here, in very poor visibility, the way was made to Crookstone Barn and so up to somewhere around Crookstone Knob. The snow was thicker at high levels - in fact in places quite deep - and after leaving the Roman Road visibility became rapidly worse and we found ourselves in a world of whiteness; white snow on the ground and white freezing fog all around us.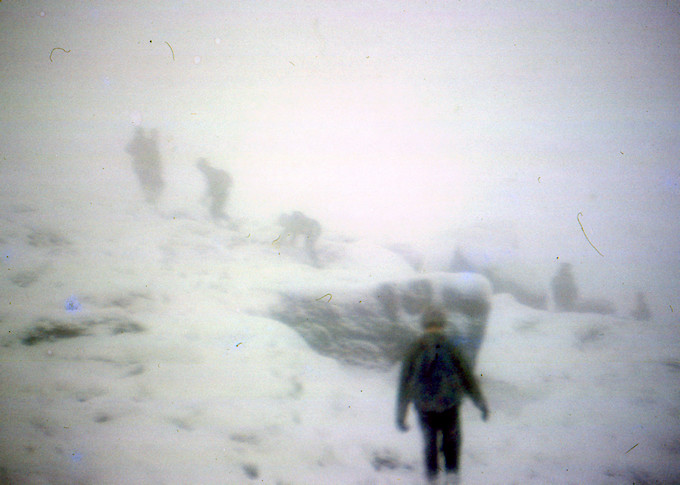 WW1967-001 Blackden Edge
On the high ground it was just a wilderness of whiteness, with few identifiable landmarks and a need for constant use of the compass. For a considerable time we had only a vague idea of our position, but pushed on, on a constant heading, making allowances for this uncertainty.
Progress was very slow and it was apparent that we could not make the planned route to Hayfield before dark; it was not weather in which to be caught on Kinder at night - that would be disaster. It was grim enough by day.
Apart from three walkers seen on the Roman Road just before our lunch stop, no other humans were seen, although there was evidence of other walkers as footprints in the snow.
After a long time we came directly on the Trig Point at MR 129878 - a masterpiece of navigation, or sheer luck. From here we continued on course more or less due west, but later a/c to NW (altered course to north west) to come on to Seal Edge. On coming to the edge, descent was started on a course of 315o, but it was soon seen that we were descending into Blackden Clough - this would take us far off our required track, or necessitate another stiff climb. The head of Blackden Brook was skirted and a descent made from the Seal Stones on a northerly heading, the road (Snake) being met just short of the Snake Inn.
As we dropped out of the cloud a fine view was obtained of the Snake Pass. This was a short but exciting and testing ramble. The freezing mist coated us all with glistening ice, even our hair became a mass of ice curls - several pictures were taken of individuals in this state; hope they come out.
No one seemed keen on the 6 mile road walk into Glossop and so several Mums and Dads were 'phoned from the Snake Inn and asked to come and fetch us - only the second time we've done this in ten years. Mr Gorman did good work with his shooting brake, and Mrs McIntosh did a good share with her smaller car.