28th September 1968 (Saturday) - Kinder Scout
The first outing of the new school year; a large attendance was expected as is usual first time. In fact the party numbered only about twenty due, probably, to a rather unfavourable weather forecast. The name book is still missing so no list of members can be given - at least, no complete list. However it did include:
| | | |
| --- | --- | --- |
| F R Mason | Andrew Howie | John Woodward |
| R Booth | Dan McGookin | |
| Chris Gorman | Ann Wilson | |
Owing to the shooting restrictions we had to plan our route to avoid the restricted areas. Leaving Hayfield Station at about 10.00 hrs, we headed along Kinder Road to the bridge and then ascended Kinder Scout along the path through Tunstead Farm, turning left on reaching open country, and then along the traverse path to reach the edge just before Red Brook. This is a pleasant route; exciting with extensive views and fine rocky foreground.
As we ascended the wind increased and, at the top of the 'steep' bit while we rested, slight rain started. Climbing higher we battled with heavier rain and gale force winds. Crossing the head of Red Brook brought memories of our scramble up the brook in icy conditions earlier this year.
From Red Brook to the Downfall was a continual struggle against heavy rain driven by a beam wind. The rain stopped before we reached the Downfall, but the wind persisted. During the ascent we'd had several views of the Downfall; there appeared to be plenty of water and much wind-blown spray.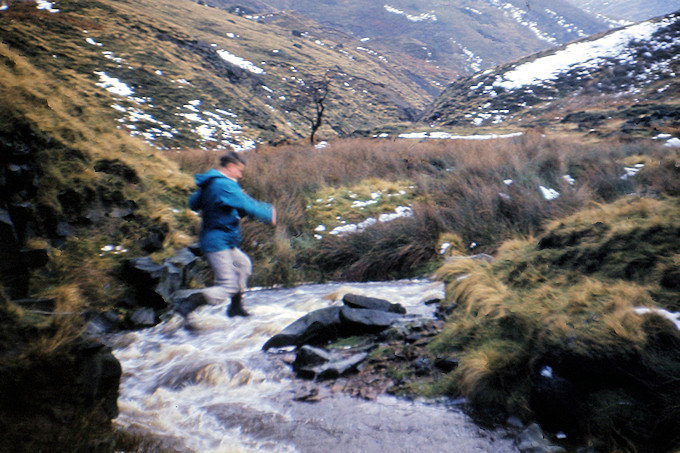 WW1962-028 an image from 1962
Finally we reached the Downfall over those great slabs of rock; the 'fall itself was a wonderful sight. With ample water flowing and a gale force wind tearing up the gorge, great towers of spray were rising 80-100ft in the air. A fair twenty secs of film were exposed on this dramatic spectacle.
We ate our lunch in the shelter of rocks near the Downfall, but after this we did not tarry long on account of the wind, but set off across the peat bogs for Edale Rocks. Arriving at Edale Rocks we stayed for some while, scrambling around and practising a bit of climbing. The weather had improved and we enjoyed bright sunshine and, being on the lee of the mountain, we were no longer troubled by wind. We met Margaret Bailey and a friend doing a voluntary duty between the Downfall and Edale Rocks.
The next short stop was over Swineback, where we had a bit more climbing and a few photographs. This was fun - but we did not stay long as time was pressing. Dropping down to the main Edale track, we crossed this and made the long trek to South Head and Mt Famine. This stretch usually drags, but the lads were in high spirits and lots of fun was enjoyed on the way. In sunny early autumn weather the countryside looked wonderful, and a number of excellent pictures were obtained.
On the track round Mt Famine (we did not go over Mt Famine due to shortage of time) we met Ken ? with some other wardens on patrol. Arrived in Hayfield just in time for most members to board the train; a few bad 'uns who stopped to shop caused leaders, who'd arrived in time, to lose the train. This was very annoying. Also lost the cine' camera in Hayfield, but retrieved it a few days later.
A successful expedition thoroughly enjoyed by all participants.