Saturday 11th March 1967 - Torside Clough & Crooked Clough
Members taking part:
| | | | |
| --- | --- | --- | --- |
| Elaine Mulligan | Rex Woolley | Michael Ash | Nick Hassell |
| Linda Bentley | Paul Andrew | George Nuttall | David Stafford |
| Michael Fox | Bobby Linton | Donald Hallam | Brian Stafford |
| Paul Tatton | Julie Flunder | Stephen Morris | Philip McFall |
| Chris Gorman | Mary Boothroyd | Craig McCormack | Paul Somerset |
| Keith Travers | Andrew Howie | Andrew Barwell | F R Mason (Mr) |
| Stephen Priestnall | Denis Fitzpatrick | Phil Woodhouse | L M Mason (Mrs) |
| Mike Warburton | Graham Davenport | Marilyn Buxton | Miss M E Roper |
| David Payne | Hilary Andrew | Julia Henderson | Miss L M Dunn |
| John Truman | Maurice Kime | Terry Linton | Miss P Meagher |
Travelled by Kirkpatrick bus from school, at about 9.20am, to the starting point at Torside Clough (fare of 2/- per pupil was paid)
The weather was chilly and a strong wind was blowing; we were largely sheltered from this as we scrambled up Torside Clough - this was fun. Torside Clough is steep-sided and rocky; the gorge gets deep, narrow and makes exciting and strenuous scrambling towards the upper part, until the steepness eases off towards the summit.
As the upper reaches of the stream petered out in the peat bogs we s/c (set course) across bare peat toward Higher Shelf Stones. This was difficult wearing going, aggravated by a bitter cold wind from the NW. The younger new members were a menace - some rushed on too fast; others struggled. A Pacamac caught by the gale was blown away - several boys endeavoured to recover it, an impossible task in that grough covered country. This caused some delay, which was unwelcome in the bitter wind.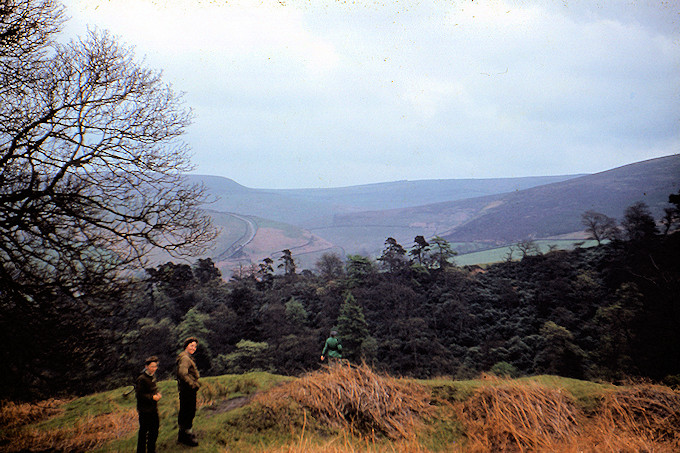 WW1962-001 an image from 1962
Approaching Higher Shelf Stones we altered course and dropped down to cross Crooked Clough and follow the path on its south side for a bit before striking across the peat to cross the Roman Road to the Snake Road, roughly on the Pennine Way; as usual this part was very wet and boggy.
As we were skirting Crooked Clough the members were asked if they wished to press on to Hayfield, or to slip down the escape route to Glossop - it was voted by a large majority to press on to Hayfield.
From the Snake Road we made our way across the many deep groughs, encountered during that first difficult half-mile or so, before striking the path; the leader waited here to ensure that all were present. Then followed the long muddy miles to Mill Hill - as we expected, not difficult but very boggy and waterlogged in parts.
On this barren bleak stretch we were exposed to the full force of the north-westerly gale on the starboard side. The blue patches of sky became completely obscured by heavy black clouds, and we endured several vicious storms of snow or soft hail driving almost horizontally at some fifty or sixty mph - it was grim; in a few minutes everyone was ice coated down one side.
After one of these storms the leader, at this time endeavouring to shepherd the tail end and yet keep an eye on the front, was informed that two girls were far behind. Shortly before this we met two folk (man and women) heading NE - the only other folk we saw during that bitter day. However, the leader turned back with a few senior boys, leaving the main group to Mrs Mason and Misses Dunn and Meagher.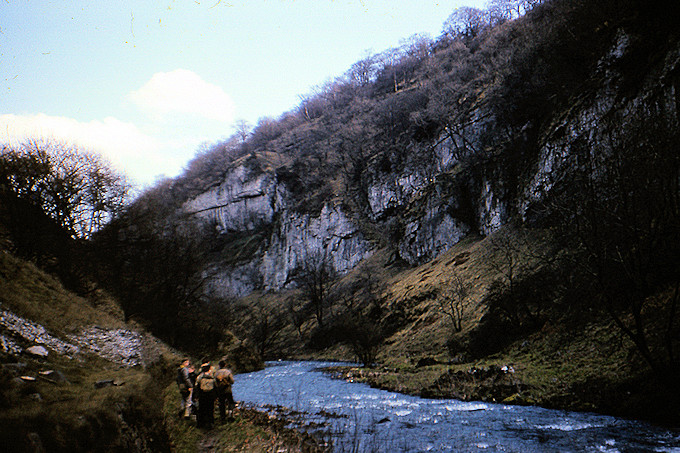 WW1962-002 an image from 1962
After about a quarter mile the two little figures came in sight - one of them was in a pretty bad way, in the early stages of exposure. Leader gave her a knee length oil skin to protect her from the wind; this probably saved the situation. It seemed they'd got stuck in a grough and so got far behind the party - poor little souls, they'd been not only cold but very frightened, alone in that desolate stretch of moorland. Several senior boys supported the weakened lass to near the top of Mill Hill - she needed help. The leader took over as far as the shelter of William Clough then, in the less rigorous conditions, the lassie picked up OK.
This unfortunate incident occurred because newcomers, not yet properly self disciplined, would not refrain from rushing ahead, thus causing the group to become excessively stretched. They were severely lectured about this on the next day at school.
The ladies, left with the main party, had their troubles - waiting on Mill Hill was very very cold, so Mrs M, wisely, moved on down William Clough to wait at the Reservoir. Miss Dunn returned to assist with the stragglers. On arrival at the Reservoir it was discovered that Philip McFall was missing. Mrs Mason suspected that he had deliberately slipped the party, thinking it would be amusing to arrive in Hayfield ahead of the party. However, we had to take normal action of scouring that part of the route covered since he was last seen - this, of course, took a considerable time. Having given up the search we covered the last two miles into Hayfield; here Mrs M met the missing boy and sent him to meet Mr Mason to apologise for the trouble he had caused. Somehow he failed to meet the leader.
It had been planned to catch the 16.13 train out of Hayfield, but missed this, and the 17.13, due to our several delays. Having nearly an hour to wait for the 18.13 train we were disappointed that the station staff refused to open the waiting room for us. However we eventually reached Marple at about 18.40 - tired but happy.
A few boys returned to Marple by bus - it was understood that McFall was one of these. It was a surprise when Mr McFall telephoned Mr M at about 8.0pm to say that Philip had, at last, arrived home. It seems that, not having met the tail end of the group with the leader, Philip had walked all the way back to the reservoir. He had told his Dad a garbled version of the truth, but when put to it on Monday, did not deny that he had deliberately left the party. Philip now realises the trouble this kind of prank can cause, and it is expected that he will become a sensible and properly behaved member.
The day's expedition was a mixture of good and bad; some bad discipline, due mainly to inexperience by new members, much good effort in helping with the two exhausted girls and in searching for McFall. The snags were largely accentuated by the grim weather conditions.
An expedition that will live in our memories for a long time.