Saturday 18th May 1968 - Greenfield to Tintwistle
The following members boarded the bus at school or at Marple Bridge to carry out a route from Greenfield to Tintwistle (not the conventional route):
| | | | |
| --- | --- | --- | --- |
| Philip Stafford | David Taylor | Phil Towell | Alan Burrell |
| Gillian Bradley | Graham Davenport | Rex Woolley | Sean Jenner |
| Noel Flunder | Hugh Weeldon | Philip Woodhouse | Paul Mallett |
| Julie Flunder | Paul Buxton | Andrew Barwell | Mr Ron Booth |
| Trevor Wild | Graham Booth | Brenda Sutcliffe | F R Mason |
| Terry Linton | Hilary Andrew | Barbara Cable | |
| Paul Tatton | Beverley Stubbs | Ann Whitecross | |
| Chris Gorman | Ben Wayling | Andrew Howie | |
(The money collected was, again, 2/6d per pupil).
The party arrived at Greenfield in good time and, with little loitering, set off on the path alongside the river and then onto the road leading to Dovestones reservoir; here we slowed for a bit to admire the work of the new dam and reservoir.
Then, pressing on, we skirted the reservoir by the new yacht club HQ and then, instead of following the conventional route up to Chew Reservoir, we made our way very approximately up the access path towards Dovestones to Bramley's Cot. This is a steep climb and several members felt the strain, but this effort will no doubt toughen them up for what is to come in Arran.
The view from around Dovestones is extensive but, of course, marred by masses of unsightly development in the valley and on the lower hills.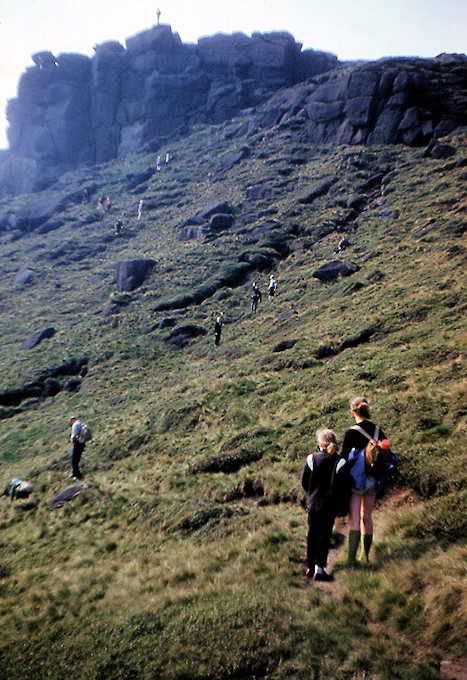 WW1962-020 an image from 1962
Turning away from the edge, we headed roughly eastwards across the peat bogs for Crowden Brook. Came unstuck on this part through lack of faith; it seemed such a long way we decided that we must have 'boobed', and altered course. Finally came out on the Laddow / Chew reservoir track only a short distance up the Laddow side of the reservoir - a bit of poor navigation that we'll say little about.
A long stop was made on this track for lunch, before continuing on our way to Laddow. After a short stop at Laddow to look over the rocks, a south-westerly course was set for Arnfield Brook. This is a strenuous couple of miles of peat bog, much cut up by many deep groughs. Although the going was hard, the lads thoroughly enjoyed themselves and put up some side-splitting performances in their dives, slithers, rolls, cartwheels and somersaults into the deeper groughs.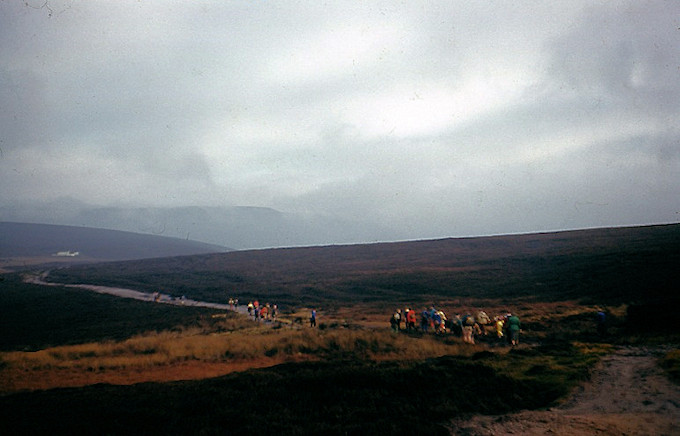 WW1962-021 an image from 1962
Finally, after much fun and effort, we reached the beginnings of Arnfield Brook. This was our first exploration of this stream and we found it very satisfying; typical of these lovely streams draining off the moors, but each having a character and charm of its own. This one has many exciting rapids and a number of very pretty waterfalls, and provided us with lots of exciting scrambling and boulder hopping.
The course of the steam was followed practically to Tintwistle, except for about ¾ mile at the lower part, where we followed a more recognisable path somewhat away from the stream. Arrived in Tintwistle in good time to catch a bus to Glossop, and from Glossop to Marple - just missed a bus for Marple and had to wait nearly an hour for the next; this broke down, and we had to wait for a relief.
Despite all this, the outing was voted one of the most successful.
Repeated in reverse direction the next day with a RA Public Ramble - this group also enjoyed this short but strenuous route.