Saturday 16th March 1968 - Red Brook
At last the foot and mouth epidemic is over and those long tedious Saturday patrols are behind us. For the first time since October '67 we are able to recommence our rambling and scrambling activities. On Saturday last the following members assembled at Marple Station to join our first expedition for 1968:
Leaders: F R Mason, R Booth, Julian McIntosh
| | | | |
| --- | --- | --- | --- |
| Sean Jenner | Jack Henderson | Steve Shaw | Andy Barwell |
| Phil Mycock | Paul Buxton | Jean Crossley | David Atherton |
| John Mycock | Mary Boothroyd | Gillian Bradley | Trevor Wilde |
| Phil Towell | Hilary Andrew | Alan Burnett | Leslie Rees |
| Dan McGookin | Dave Payne | Chris Rhodes | Barbie Robinson |
| Benny Wayling | Rex Woolley | Eric Crossley | Mike Robinson |
| Andy Howie | Helen Davenport | Hugh Wheeldon | Ian Weston |
| Barbie Cable | Mike Warburton | Nigel Dawns | Graham Davenport |
| Julie Flunder | Keith Travers | Steve Priestnall | Yvonne Andrew |
| Carol Conway | Alison Wilson | Paul Andrew | |
The route planned was from Hayfield to Nab Brow, down Horrible Hill, over the few fields and up Kinder River to the junction of Red Brook, which was to be followed to the 'edge'. From here it was proposed to steer to the 2,088 ft spot height, then alter course to join Kinder Brook and follow this to the Downfall. The intention was to descend the Downfall and then follow the river to the Reservoir, and so back to Hayfield.
There had been a good intention to check on footwear and clothing at Marple, and Tosh did, in fact, report several cases of unsuitable footwear, in particular one lass wearing completely treadless light-weight 'Russian' boots. In the rush of getting tickets for the large party, the inspection was not carried out at Marple.
The early part of the day was fine and clear, but cold and windy; this was in accordance with the forecast, which promised cloud, rain and strong winds by the afternoon. Setting off from Hayfield we made good progress in the fine sunny weather to Kinder Reservoir, and dropped down Horrible Hill (Nab Brow), and over the fields to Kinder Brook which we followed to a little below its confluence with Red Brook.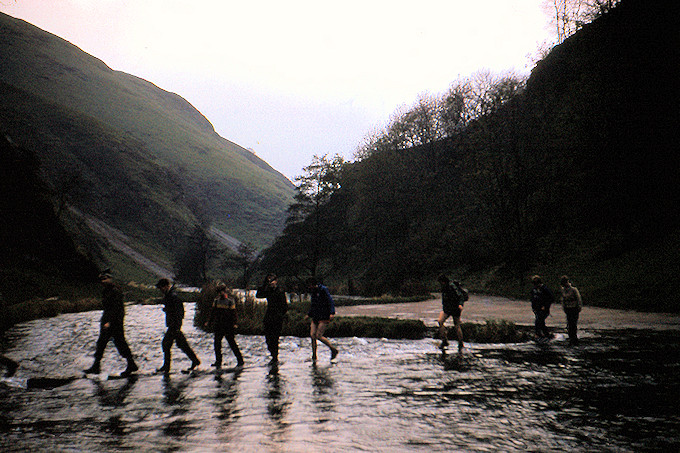 WW1962-014 an image from 1962
Climbing over the low hills we joined Red Brook some way above its junction with Kinder River, and then started the exciting scramble to the top; there was considerable ice on the rocks and it was necessary to pick our way carefully. Shortly after starting this scramble Tosh and Ron reported that the little lass with the smooth soled 'Russian Boots' could scarcely stand on any slope steeper than about 10o from horizontal. After a short inspection and conference it was arranged that Tosh should escort her to Hayfield, and then meet us later somewhere around Sandy Heys.
The scramble then continued with young Andrew Howie in the lead and a few less adventurous members clambering up the easier slope alongside the clough. Several cases of incompetent climbing were noted - particularly Andrew Barwell who fell flat on his back off one easy climb that should have caused no bother. He just put his feet in the wrong places.
As height was gained, ice became heavier, but no real difficulty was encountered and the top was reached after much fun, but no untoward incidents. From the head of Red Brook, course was set across the peat to the spot height at 2,088 ft, which was reached without bother after much laughter-provoking bog and snow wallowing.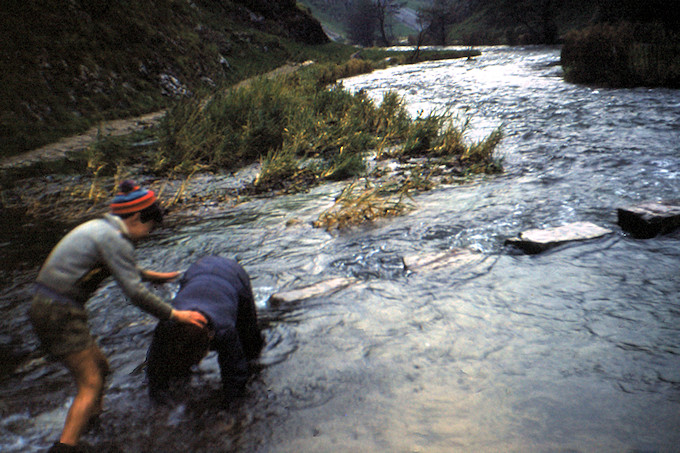 WW1962-015 an image from 1962
By this time the sky was about 5/10 clouded and a cold wind was blowing and, after a short break, we set course to join the Kinder Brook - this involved more bog-wallowing fun and games.
The Kinder Brook was followed to the Downfall - this length was fun as there was a fair amount of water in the Brook; roll was called shortly before reaching the Downfall. At the Downfall itself a howling cold wind was blowing but, despite this, we ate our lunch and had a chat with a bunch of PT (part-time?) paid wardens who were loafing around. Learnt later that one of these gentlemen reported me for having an oversized party, in spite of having three leaders with my group of forty.
It had been planned to descend from the Downfall by the rocky path, but the weather was too bad so we moved along the edge towards Sandy Heys, but dropped off sooner on to the rocks. Before this we clambered around the mass of rocks about halfway along the edge; this was an error, as there was no way down for the large party this way. However, at a suitable point we descended - quite an exciting scramble to lower levels and out of the wind. Shortly after this we contacted Tosh again; he was endeavouring to make a pot of tea.
We pressed on easily to the reservoir, then up Horrible Hill to Nab Brow, where the roll was checked again before continuing on our way to Hayfield to catch the 5.13 train to Marple.
A success ramble - party discipline was not all that could be desired; still too many people anxious to show their physical superiority.