Saturday 8th October 1966 - Snake Inn to Fairbrook
The following members met at the school gates to board a Kirkpatrick bus for our starting point - the Snake Inn.
F R Mason, leader
| | | | |
| --- | --- | --- | --- |
| Julian McIntosh}Junior | Stephen Tomlinson | Keith Travers | Andrew Howie |
| Kevin James }leaders | Elaine Mulligan | Raymond Moffatt | Ian Exley |
| Chris Gorman | Steve Taylor | Eric O'Neill | Michael Settle |
| Andrew Hill | David Payne | Frances Nolan | Nicky Hassall |
| Loraine Vjerkanovick | Susan Bowers | Noel Flunder | Helen Critchlow |
| Linda Bentley | Marilyn Buxton | James McWilliam | |
| Ruth McHale | Stephen Priestnall | Graham Davenport | |
| Jean Crossley | William Smith | Dennis Kidd | |
| Julie Flunder | Richard Payne | E Courtley | |
From the Snake Inn we headed a short distance along the main road towards Glossop before turning off left on to the Ashop Clough path. This was followed for only about half a mile when a sharp turn left was made up the steep hillside towards Fairbrook Naze.
The weather was warm but somewhat foggy, but this showed signs of clearing. On footwear inspection, three pairs of hardly suitable shoes were found, but as the weather seemed fairly mild and the wearers very keen, it was decided to let them have a crack at the route.
As we climbed towards Fairbrook Naze the fog was left behind and below us, and excellent views were had in bright sunshine over the banks of fog. Unfortunately the shutter of the camera jammed and so we were not able to capture any of these beautiful scenes on slides.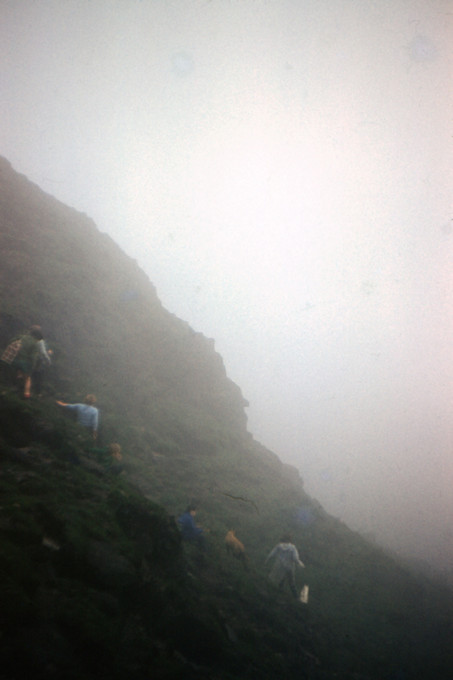 WW1961-010 an image from 1961
The long climb did not seem unduly difficult, although some of our newcomers flagged somewhat. They were carefully shepherded along by Julian and Kevin, who performed this task without complaint throughout the trek - they were a great help.
We did not actually climb to Fairbrook Naze but, skirting the foot of the rocks, made our way to the head of Fairbrook where a stop was made for lunch. During the lunch stop behaviour was not all that could be desired; there was considerable peat slinging and the litter inspection this time was very necessary.
Having carried out after-lunch tidying up, the upper part of the Fairbrook was followed for some distance before setting course on a southerly heading across the peat bogs for Crowden Head. The children enjoyed this part very much, but used up a great amount of energy wallowing in the bogs. We stayed a short time at Crowden Head before pushing on past Crowden Towers and the Woolpacks.
At Pym's Chair we met a large party of youth hostellers who'd left Edale Hostel, walked up Edale and Jacob's Ladder, and were heading along the edge to return to the hostel from the rear. It seemed they had made the road walking part along Edale quite comfortably but, as a proportion were wearing light shoes and some in pumps, they were finding the rough country pretty hard going.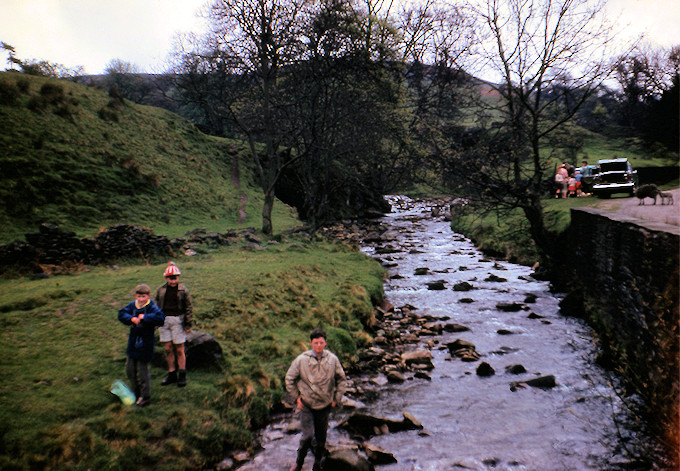 WW1962-005 an image from 1962
At Pym's Chair a firework was exploded in a bottle; after questioning this was found to be the work of two long-haired youths, not members of our group. I did not contact them.
The group moved on toward Edale Cross; we went right to the Cross to settle an 'argument' (friendly) between Mr M and Julie regarding the actual site of Edale Cross. Julie was so certain of her facts that Mr M almost doubted himself. It was some relief to find that the mistake was on Julie's part.
A short way along the main track, and then off to the right and along the path to Tunsteads Farm and so to Hayfield. As usual with parties compromising a large proportion of beginners, there were several anxious to show their prowess and press ahead of the main group - Steve Taylor was one of these. Most of the youngsters were weary as we approached Hayfield - we had to hurry to catch the 5.15pm train. Two foolish boys (Dennis Kidd and Eric O'Neill) chose to visit a sweet shop and so missed the train - Mr Mason had to wait for them and was somewhat cross. Necessary disciplinary action was taken - it is thought that only good will came of this as it had brought the leader and the two boys closer together - they are now properly acquainted.
A successful day, but many of the members need training, and they seem a difficult bunch to train.