Saturday 29th October 1966 - Edale Night Ramble
The following members assembled at Marple Station to board the 10.15pm train for Edale to take part in what has become our traditional annual night ramble:
| | | | |
| --- | --- | --- | --- |
| Nick Grundy (MH) | John Dean (MH) | Noel Flunder | Junior leaders: |
| Bill Grundy | Nicky Hassell | Elaine Mulligan | Colin Booth (Ex) |
| Andrew Mason | Geoffery Priestley | Linda Bentley | Sandra Mills (Ex) |
| Robert Wiltshire | Ian Ellison | Andrew Barwell | Julian McIntosh (MH) |
| Peter Wilson | J Burkes | Tony Leach | Neal Robinson |
| Andrew Howie | Stephen Morris | Susan Bowers | |
| Graham Davenport | Kevin James | Tim Burgess | Leaders: |
| Maurice Kime | Barbara Hamson | Chris Gorman | Mr F R Mason |
| Olwyn Mills | Carole Robinson | Michael Burke | Mr R Booth |
| Erica Kurge | Mary Boothroyd | Steve Taylor | Mr T Mulligan |
| Helen Critchlow | Julie Flunder | David Payne | Mr Barton |
| Simon Andrew (Ex) | Graham Booth | Richard Payne | Mr I Howie |
| | | Keith Travers | |
From Edale Station we passed quietly thru' the village, over the log bridge and into the meadows. Instead of following the route up Grindsbrook to the gorge, we clambered up the steep slope and rocks to Ringing Roger. Way was then made along the edge of Grindsbrook Clough to Grindsbrook Head, where we stopped for food.
After food the usual litter inspection was overlooked - we just hope that no excessive litter was left about. Knowing that there were several beginners with us, it seems unlikely that all those present collected their litter.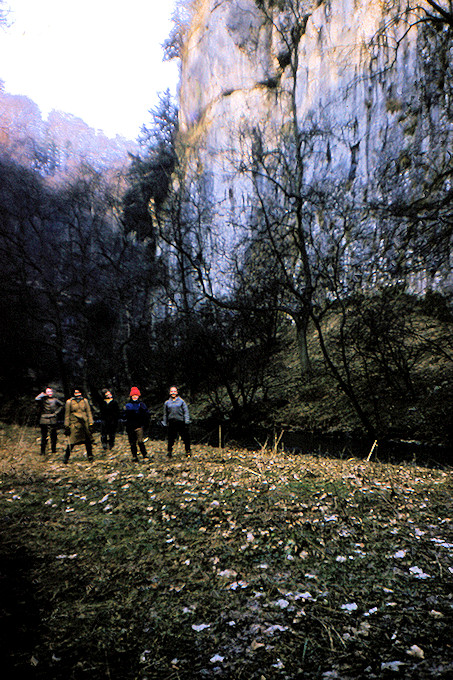 WW1961-010 an image from 1961
From Grindsbrook Head we followed the stream as far as we reasonably could before 'steering' on a heading to meet the Kinder stream, which was followed to the Downfall - a stay of about half an hour was made here.
After a little conferring it was decided not to assay the scramble down the Downfall, and instead we rambled right along to the corner and descended by the shortest route to the Kinder Reservoir. After another short break we pressed on to Carr Meadow, flank of Lantern Pike, Rowarth, and so to Mellor and Marple. By the end of the journey some of the children were very tired - a few were ferried from Mellor to their homes in Marple.
The weather behaved beautifully. The moon was bright all night altho' once or twice patches of low cloud scudded past only a few feet above us. The rocks at Kinder Downfall looked even more dramatic than usual by moonlight, and the hills seem to have grown in stature to become full sized mountains.
It was truly a splendid night and well worth the loss of a night's sleep.