24th April 1965 - Pennine Way Celebration Meeting at Malham Tarn
Had hoped to arrange a school bus for this event, but left it too late and could not get sufficient support in the last two days of term. During the holiday contacted Eddie Stubbs and arranged a small party to join the RA bus in Manchester.
Our section included F R Mason, L M Mason, T F Mason, Mrs Renshaw, Graham Renshaw, 'Glossop Gloworm' Mike Campion, Ian Sidebotham, Mr R Booth, Mr D Hindle, Laura Booth, Colin Booth.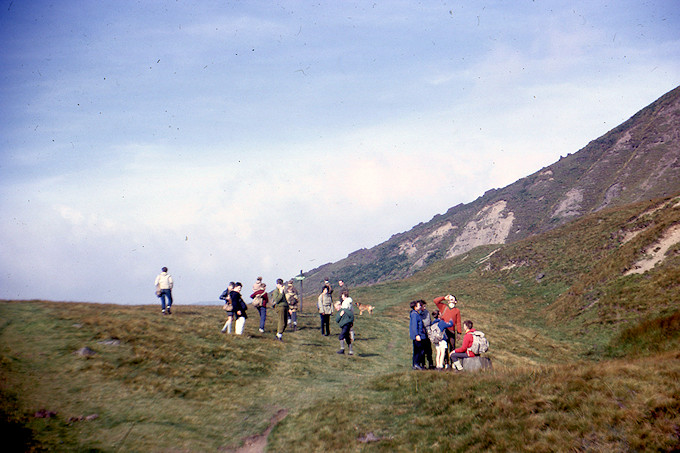 WW1963-001 An image from 1963
On arrival at Malham the bus party broke into small groups. Our contingent headed for Gordale Scar, climbed the fall without much trouble, except for Mrs Renshaw, who was not shod for this and wisely joined another group and went by an easier route.
The rest of us forged ahead up the valley and arrived at the meeting point in good time, and ate our sandwiches while waiting for things to happen. Mrs Renshaw rejoined us for lunch.
The address by Lord Strang was very good, but Mr Willy's was not so good - too much flannel, not enough meat! The press gave him a good write-up - s'pose a minister of the crown must be careful not to commit himself.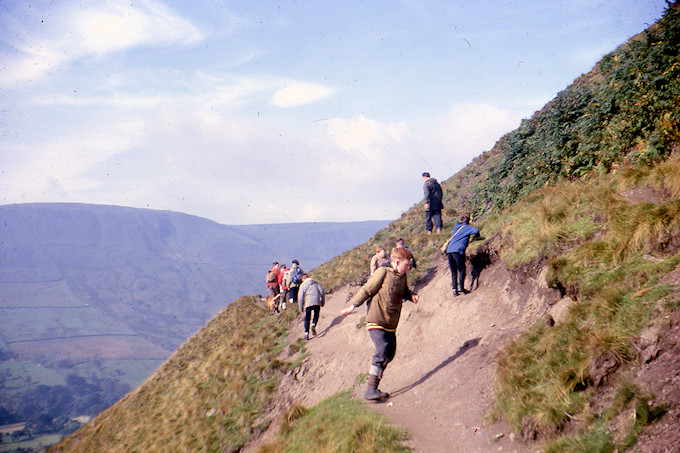 WW1963-002 An image from 1963
Of course Tom's speech was excellent - it was his day, and he rose to it in fine style. (This refers to Tom Stephenson)
After the ceremony we visited Malham Tarn House to see the exhibits there, but it was too crowded; there were over 2,000 people at this ceremony. At Malham Tarn House we divided and returned to Malham village in two small groups. Some went the shorter route over the fields, believing time to be short, the second group proceeded via the sink holes and dry valley, with its bits of exciting scramble, to Malham Cove and along the river to Malham village where we were in good time for the bus.
A very successful day, to be remembered.