17th September 1965 - Ringing Roger
Route: Edale, Ringing Roger. Grindsbrook Head, Kinder Downfall, Kinder Brook, Kinder Reservoir, Hayfield.
Those taking part were:
| | | | |
| --- | --- | --- | --- |
| Gillian Booth | S Hurley | Mike Wright | S Knowles |
| Laura Booth | Bill Grundy | Paul Mallett | Mike Eccles |
| Ian Henderson | Robert Wiltshire | Phil Jackson | Stephen Morris |
| Linda Adlem | Neil Crawford | Howard Hughes | Phil Parker |
| Anne Eastman | Andrew Hill | Maurice Kime | |
| Marilyn Buxton | Kenneth Parkinson | Terry Critchlow | Leader: |
| Susan Nolan | K Rawson | Colin Booth (JL) | F R Mason |
| Valerie Maxey | Neil Hassel | Julian McIntosh | R Booth |
| Michael Ash | John Durham | Graham Renshaw | |
| K Harrop | Mike Robinson | Peter Whalley | |
The weather was bad, with much cloud on Kinder, when we arrived at Edale. Looked in at the information hut and had a chat with Tom Tomlinson, who asked that an eye be kept on several youngsters taking part in the D of E Award scheme.
Set course through Edale, over the log bridge and straight up to Ringing Roger. This was a hard scramble and several youngsters found it very hard going. Before reaching the top we encountered rain and, on breasting the ridge, gale force winds ripped at us and the rain became very heavy. We battled along the rocky edge towards Grindsbrook Head in thick cloud with visibility down to a few yards.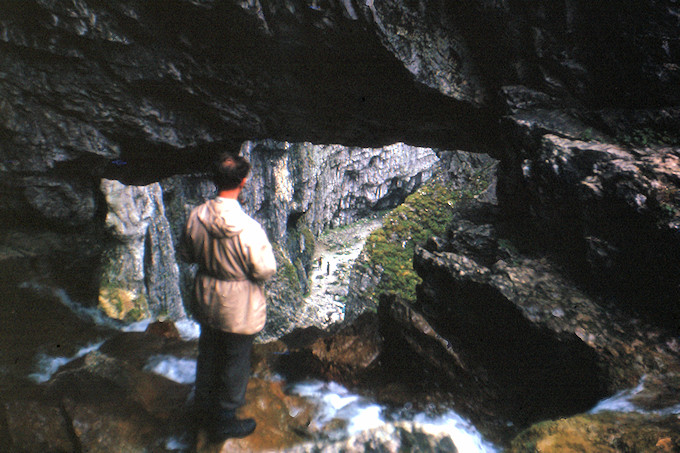 WW1963-008 An image from 1963
Shortly before Grindsbrook Head the cloud started to break up and some fine views were obtained of the valley though holes in the cloud - it was most dramatic. Viewed from above, with masses of cloud scudding by, the gorge at Grindsbrook Head looked grim, forbidding, but magnificent.
A halt was made for lunch at the Head of Grindsbrook. After lunch there was some trouble with litter and new members - this is one of our most difficult tasks; to impress on members an anti-litter outlook.
The weather had improved greatly and we roamed on towards Kinder Downfall in good spirits. Sticky bog was extensive and much fun was enjoyed in finding our way across.
Eventually reached Kinder Brook well above the 'Gates' and wended our way downstream towards the Downfall - the stream was quite well filled. Contemplated a scramble down to Kinder Brook below the Downfall, but examination of some of the footwear vetoed this idea.