Saturday 10th October 1964 - Expedition to Teesdale
A bus was arranged to take the party to Low Force - a few miles above Middleton in Teesdale. The party finally comprised:
| | | |
| --- | --- | --- |
| Kevin James | Terry Burke | - and from Astley Grammar: |
| Neal Robinson | Laura Booth | S Clayton |
| Simon James | Simon Andrew | J Gledhill |
| John Durham | Polly Pollock | K Smith |
| Howard Hughes | Robert Hammond | C Spear |
| Peter Wilson | Vincent Price | J Cooper |
| John Boothroyd | Ian Sidebotham | A Smith |
| Mike Campion | Beryl Goodale | Jackie Brown |
| Julian McIntosh | Vivien Dunn | J Cheal and 3 others - total 11 |
| Colin Booth | Sandra Mills | |
| Leslie Cooper | Andrea Mather | |
| Geoff Eccles | Tony Mason | |
| Mike Leigh | F R Mason | |
| W Mellor | Mr Booth | |
| Graham Renshaw | | |
Started from Marple just after 8am, picking up the Astley contingent at points in Hyde. After a long journey (it was not a very fast bus) we arrived at the dropping point at about 1.30pm.
We found a route over the river Tees via a neat suspension bridge, then proceeded along the pleasant south bank to High Force. Unfortunately there was little water in the river so the falls lacked their usual impressiveness. However the wildness of the gorge from the south side is always worth a visit.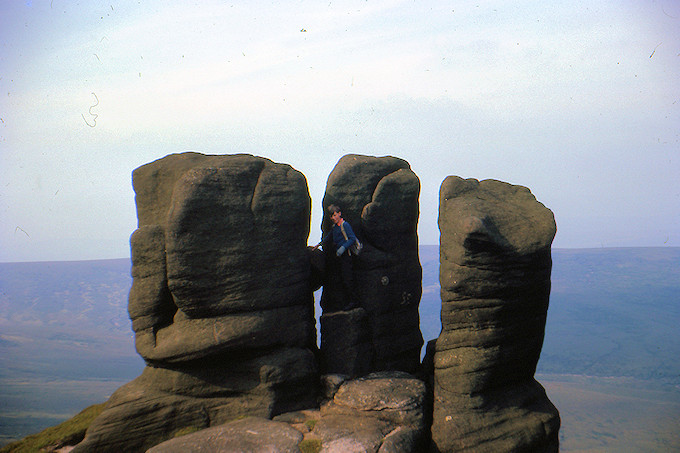 WW1964-025 Caption required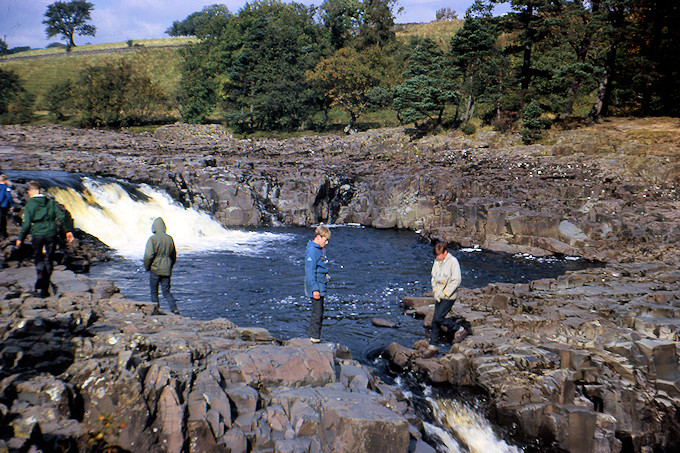 WW1964-026 Caption required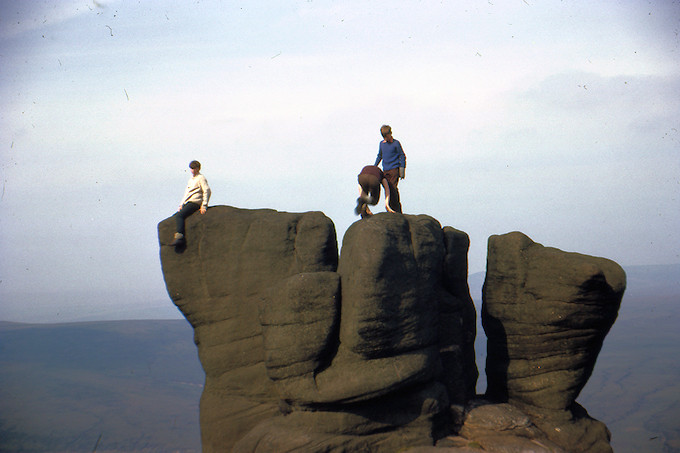 WW1964-027 Caption required

WW1964-028 ? Teesdale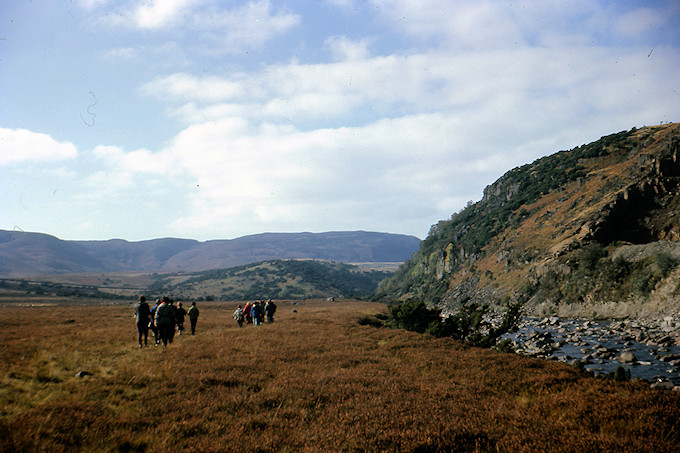 WW1964-029 ? Teesdale
Proceeded by an easy route over Cronkley Fell and dropped down to the river bank again. The weather was beautiful and the country looked at its best.
Along the mile or so of river we crossed and re-crossed several times. Most people got wet feet; one boy (Kevin Robinson) fell right in, and one Astley lass sprained an ankle.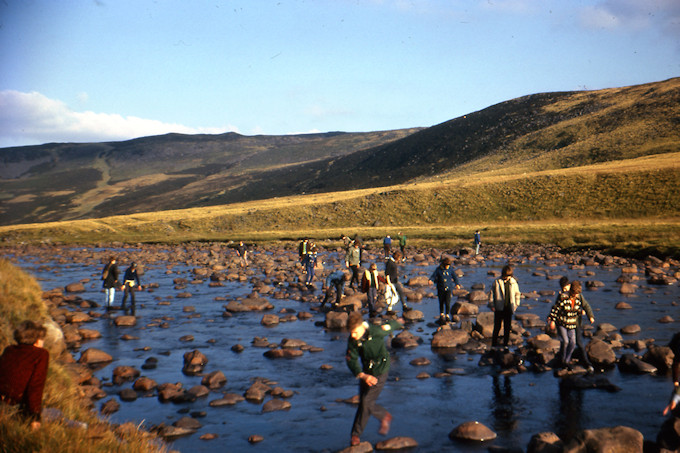 WW1964-031 'We crossed and recrossed several times' Teesdale
Reached Cauldron Snout and climbed up by various routes - noticed several boys taking undue risk and choked them off appropriately. Then the long stretch to the road, and down the road to Langdon Beck. The lass with the sprain, together with her escort, got a lift and told the bus-skipper where we were; he wisely drove up the narrow road to meet us.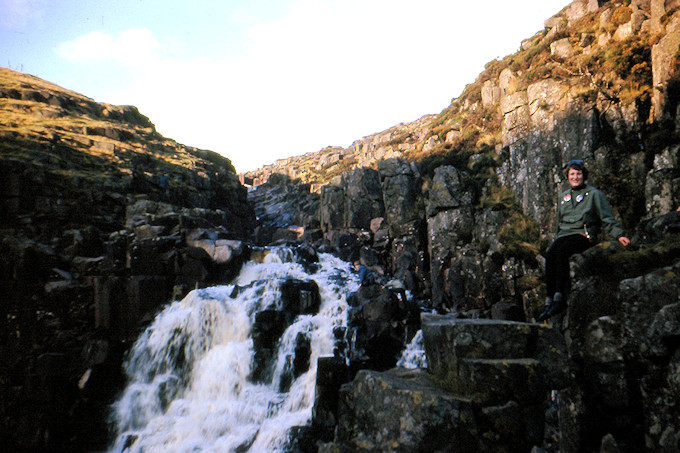 WW1964-032 ? High Force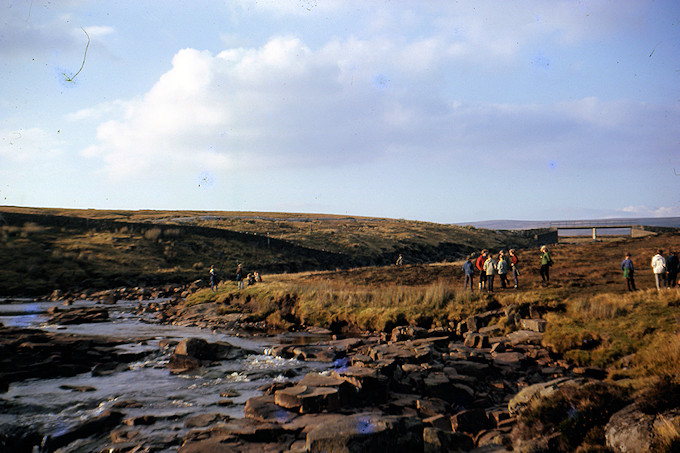 WW1964-033 Teesdale
We returned by the route suggested by Tony and myself, and so made much better time. It was 6.30 when we left Langdon Beck and 11 o'clock when we reached Marple. Viv Dunn missed the last bus to Disley, but did not inform the leaders, but went home with Graham Renshaw. Stayed the night there but did not let her mother know. Panic, police visit during the night, visit to BJ - then a hunt for Graham's address. Visit to the police station, met Mr and Mrs Dunn, then to Mrs Renshaw, and matter was settled in a friendly manner.
Vivien is usually so sensible. Mrs Dunn came to see us at school on the Monday morning.
This was a very pleasant, but not exciting, expedition.