19th November 1961 - "Haywire!"
(date uncertain - written 27/12/61) (probably Sat 18th Nov)
This expedition was somewhat 'haywire' from the start. The original plan was to travel by bus from Marple to Glossop and then walk the route: Glossop - Doctor's Gate - Featherbed Moss - up the cliff from Head of Ashop Clough - around the Edge of Kinder to the Downfall - near Edale Cross, along the moorland track to South Head and Mount Famine and so into Hayfield.
Having published this route at school and also the bus times, it was discovered that the bus was a 'not on Saturday'. It was then necessary to send round a message to inform members that the route was reversed and to give the train times from Marple Station to Hayfield.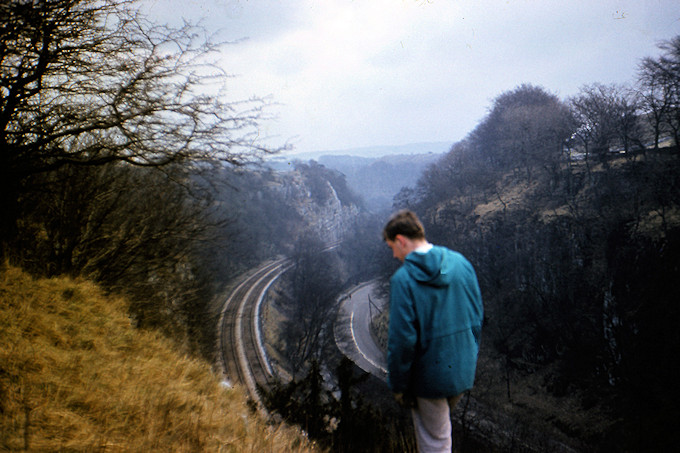 WW1961-006 Towards Cheedale, from Buxton
About twenty folk arrived at the Station - including Mr and Mrs Fletcher and such regulars as Ann Moorcroft and Erica. While waiting for the train a Glossop bus passed by! There are buses to Glossop at a suitable time on Saturday mornings.
The weather was bad - raining when we assembled at Marple, worse when we arrived at Hayfield. It was decided to push on despite the rain, but in the hope that conditions would improve. In view of the rain and low cloud it was decided to miss the first part of the route and set course for the Head of William Clough, via Kinder Reservoir.
As we proceeded along the track from Hayfield the rain grew steadily more heavy until it was teaming down and a strong cold wind was driving it almost horizontally. Before the junction with the Carr Meadow track we were all saturated and cold so that, despite the wild grandeur of the scenery below the wild racing clouds, it was decided to curtail our journey and make our way back to Mellor via Carr Meadow and Rowarth.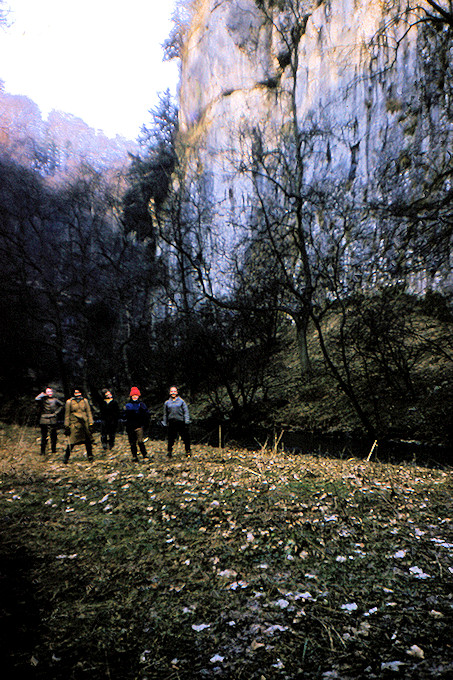 WW1961-010 Cheedale
Between Carr Meadow and Rowarth the rain ceased and the cloud started to break up, but many of the party were so wet and ill clad for the expedition that it was decided not to turn about again, especially as much heavy cloud could be seen over Kinder. Mellor was reached by about midday and the party dispersed.