10th December 1961 - Doctor's Gate & Ashop Clough
For this expedition it was decided to attempt the route originally planned for the previous walk. About a dozen of us boarded the bus at either the Navigation or at Marple Bridge, and arrived in Glossop at 10am.
From Glossop we crossed the park and set out along the lengthy valley to Doctor's Gate. Snow had fallen a few days earlier and, although it had thawed at Marple, there was still plenty about at Glossop and beyond. On the long haul up to Doctor's Gate there was much fun snowballing - speed of advance was slow.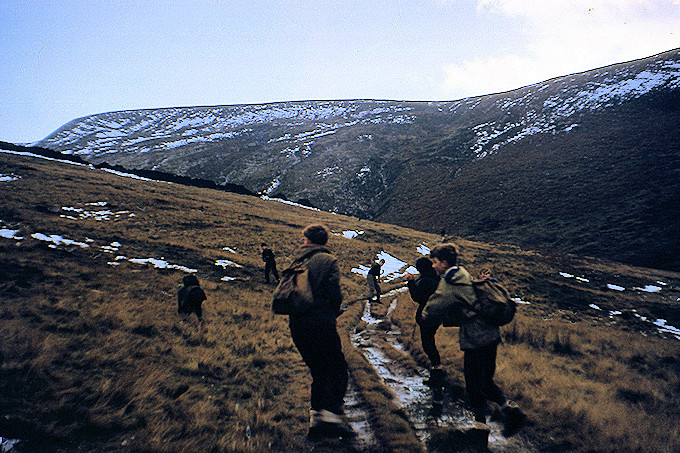 WW1961-002 Head of Doctor's Gate
The valley looked very beautiful and I, personally, felt that it was nicer on the climb than on the descent. Owing to the melting snow the stream was in spate and a few of the less agile members of the party had good fun on finding a suitable crossing place.
Shortly before making Doctor's Gate we left the path and followed a course through snow, ice and water over the moors to the Snake road - crossed the road and set course over Featherbed Moss. The weather, which had been bright and sunny at the start, had by this time deteriorated. We were in low cloud and there was a cold wet wind blowing.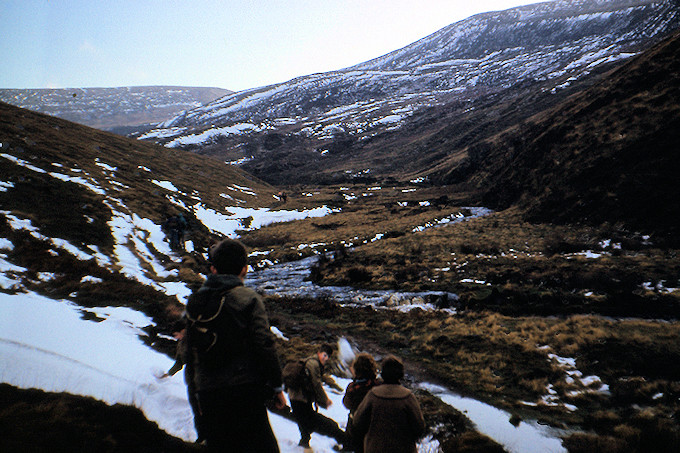 WW1961-003 Higher up Doctor's Gate
Good fun was had during this leg as there were many snow-filled cloughs to cross, with numerous big jumps and scrambles. On several occasions members of the party jumped into drifts of snow that seemed of only moderate thickness, but sunk to waist height and needed help to get out.
There are said to be excellent views from Featherbed Moss - we've not yet seen them.
The head of Ashop Clough was reached after much fun, but no trouble, and the very slippery, muddy trudge to the top of William Clough - this was completed without bother but much getting muddy. The rocky descent of William Clough to Kinder Reservoir was as pleasant as usual, with a fine view of a distant wintry sky over the hills to the northwest. From the reservoir the usual pleasant but easy two mile walk was made into Hayfield in good time for the train to Marple.
A pleasant, but not over exciting, expedition.