Saturday 20th March 1959 - Whaley Bridge & Goyt Valley
After some discussion it was planned on this occasion to re-visit the Goyt Valley. The intention was to have a ridge walk from Whaley Bridge, returning to the same place via the Goyt Valley.
Difficulties arose in arranging travel from Marple to Whaley Bridge. It was finally decided to assemble at school, walk to Disley, and there board a train to Whaley Bridge. Unfortunately we accepted, without checking, two casual assurances that the walk to Disley would only take half an hour or so, and that trains ran to Whaley Bridge at 20 minute intervals. Both assurances were false; the distance (since measured) of 3¼ miles to Disley took an hour, and we reached the station to find we had 50 minutes to wait for the next train, with the result that arrival at Whaley Bridge was a little after 11 o'clock.
On arrival at Whaley Bridge the party of 22 was increased by a few more regulars from High Lane and Disley, who had awaited our arrival for an hour. The route followed was by the small reservoir and approved school, and through the woods and fields in the valley to the Fernilee dam. The east bank of the reservoir was walked almost to the suspension bridge, where a lunch stop was made for about 40 minutes.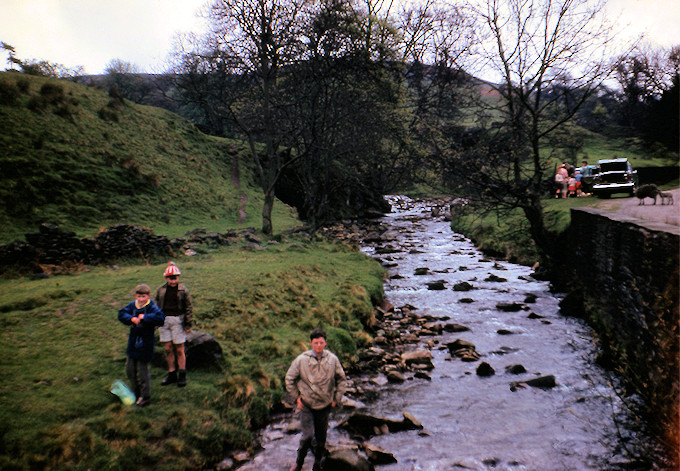 WH1962-005 image from another walk
From this point the Reservoir bank was forsaken and the old railway track was followed for several miles, except where it makes a wide loop just before the tunnel - here we cut across the valley, rejoining the railway track a couple of hundred yards before the tunnel. Four boys of the senior year scrambled through the tunnel, the remainder clambered over the hill to be met by the tunnellers at the far end. The railway track was followed for a further mile to its nearest point to Buxton - here Mr and Mrs Baker left us with a few children to return to Marple by train. Some of the children were tired and Mrs Baker was feeling unwell. From this point the track was followed to the head of the Goyt Valley, and from here the road down the valley to Goyt Bridge, and then to the suspension bridge and thence to Whaley Bridge by the route by which we'd come, arriving there at about 6 o'clock.
Although this route was only about 12-13 miles, and easy going compared with what we are used to, everyone felt it was a long walk. This may be because it included no hazards or difficult bits to break it up - also the day had been drawn out by the broken travelling in the morning. The total distance walked, including the Marple-Disley leg, was about sixteen miles.