Saturday 14th February 1959 - Kinder Scout from Edale
The twenty seven youngsters listed below gathered at Marple Station or joined the train at New Mills for a scramble around Kinder Scout from Edale. Adults with the party were Mr and Mrs Mason and Mr Baker.
| | | |
| --- | --- | --- |
| Tony Mason | Robin Lambert | Gerald Boardman |
| Chris Cooke | Richard Garner | John Gregory |
| Raymond Banks | Kenneth Mercer | Tony North |
| Keith Mercer | Francesca Griffiths | John Harrison |
| Maureen Pridham | Lesley Doyle | Kevin Robinson |
| Wendy Sharples | Tony Wilson | Peter Russell |
| Janet Bostock | David Taylor | Brian Bower |
| Eliz' Leather | Ann Mason | } |
| Hilary Turner | Liz Schofield | } Astley Grammar |
| Ann Birtwistle | Avril Mycock | } |
The weather was rather dull and cloudy when we set out, but the forecast promised brighter weather later in the day.
The route followed was from Edale, a short distance along Grindsbrook before leaving the main path to climb up a small stream to Nether Tor and across to Blackden Edge, and to follow the rocky outcrops round Blackden Rind, Seal Stones and Seal Edge to The Edge before dropping down to Hayfield Reservoir, and then follow the track to Hayfield by 4.13.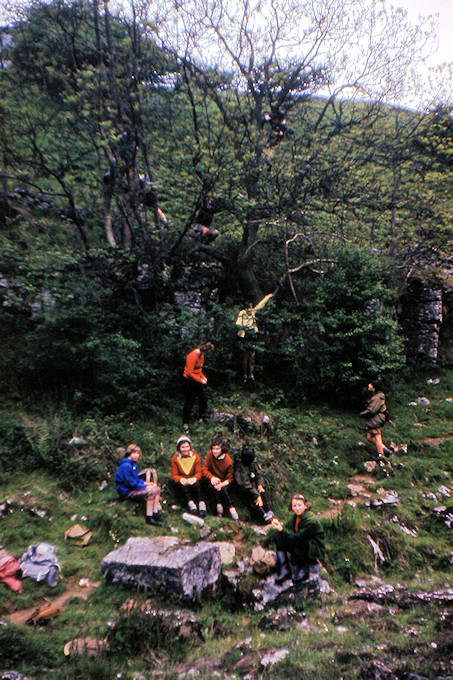 WW1960-016 In Dry Dales
The route was not unduly difficult and nothing untoward occurred. A few children were very slow, particularly Robin Lambert, Francesca Griffiths and Ann Birtwistle. Liz Leather was with this group, but it is not thought that she was in any way responsible for the slowness.
Later on Chris Cooke, Tony Wilson and Richard Garner followed the road from the reservoir to Hayfield, thus causing delay to those who looked for them. Raymond Banks twisted his ankle on the descent to the reservoir.
Mr and Mrs Mason shared the duties in shepherding the party and bringing up the rear. It was suggested to Mrs Mason that many children would like a change from the Kinder area. We will try the route around Lyme Park next time.