11th January 1958 - Kettleshume, Taxal & Whaley Bridge
The route for this walk was planned by Mrs L M Mason, who acted as leader for most of the walk. Those taking part were:
Mr & Mrs F R Mason
Ann & Tony Mason
John & Norman Harrison
Vivien & Alan Brooks
Helen Lee
Nicolas Griffiths
Clive Maddock
Robin Lambert
Alan Atkinson
The route was from school along the canal bank to Lyme Park, over to Bow Stones, to Kettleshulme, and cross country to Taxal and Whaley Bridge via the reservoir path.
Contrary to weather forecasts, the weather was bright and sunny and good progress was made. Two herds of deer were seen in Lyme Park. A lunch halt was made at Bow Stones and a further short stop for refreshments in Kettleshulme.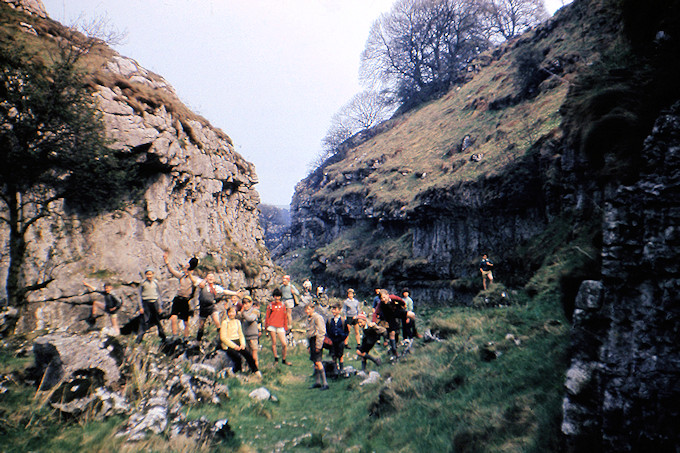 WW1960-011 Lathkill (from another walk)
The walk was very pleasant and enjoyed by all, with the result that the youngsters were unwilling to bus home from Whaley Bridge, and it was decided to walk to Marple along the canal bank. This proved rather uninteresting and Vivien and Alan Brooks dropped out at New Mills and were taken on the bus by Mrs Mason - who then walked in the reverse direction to meet the remainder of the party.
From New Mills the weather was bad with frequent squally showers of snow and sleet. Marple was reached at almost 6.0pm after 18 miles walking. A most successful day.