29th April 1967 - Rocky Hayfield Circular
Special: Rocky Hayfield Circular. This route was laid on so as to avoid expense, as members of the holiday group are saving for the Lakeland expedition. Taking part were:
| | | | |
| --- | --- | --- | --- |
| Dennis Kidd | Noel Flunder | Graham Davenport | Leaders: |
| Bobby Linton | Paul Tatton | Julie Flunder | Mrs L M Mason |
| Graham Hutchkinson | Dilys Robbins | Julie Rabin | Mr F R Mason |
| Andrew Mason | Sylvia Walker | Andrew Howie | |
| Peter Wilson | Terry Linton | Andrew Hill | |
| Mary Boothroyd | Bill Grundy | Andrew Borwell | |
Leaving Hayfield the usual track was taken to Kinder Reservoir then, after a sit down, we dropped down Horrible Hill to cross the stream and then up the path toward Sandy Heys but, veering off to the right, crossed over the lower part of the rocky section until directly below Sandy Heys, and then climbed straight up.
This part was fun; several members have no idea how to tackle this type of going and simply charge at it like a 'bull at a gate'. Fortunately, despite several displaced stones, all members arrived at the top without any untoward happening.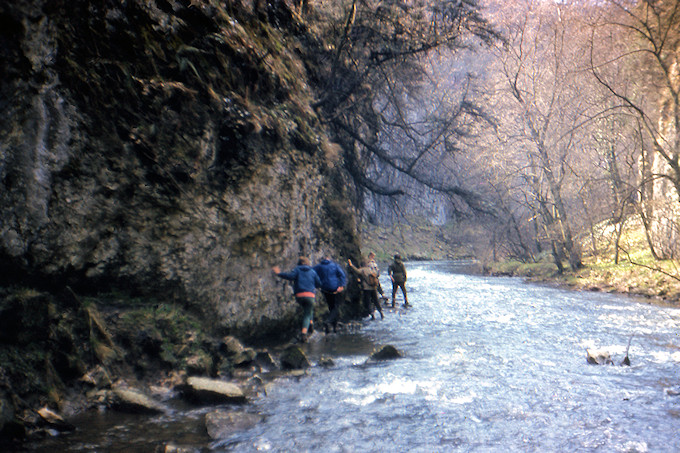 WW1962-008 an image from 1962

After reaching the summit we stopped for lunch for about half an hour - during our stay twelve people passed, all heading for the Downfall. After lunch we moved to the Downfall; this was a modification of the planned route, made due to shortage of time. We stayed for a short time at the Downfall where we met seven folk, including two senior scouts on a test.
From the Downfall we headed up stream along Kinder Brook for about a mile, before setting course approximately south across the peat to the spot height (2,088 ft) and to Noe Stool. Here we had a short break before setting off at a cracking pace across the peat to join the FP (footpath) down Tunstead, and so to Hayfield.
Saw three people at the 2,088 spot height, and several small groups in the distance crossing the plateau. On the way into Hayfield overtook two wardens (one full-time paid).
Allowed party to stretch out on this part as we were intent on catching 4.13 train; did not all make it so, after checking the register, Mr & Mrs M stayed behind at the station to await arrival of the late ones. They arrived a few minutes after the train had left - seems these folk stopped to visit a sweet shop. During the hour we had to wait, reported to the briefing centre.
Weather was hazy when we set out, with light wind and cloud at about 4,000 ft. Weather improved during the day and was fine and sunny by the time we returned to Hayfield - in fact was warm and sunny as we crossed the peat to Noe Stool.
A pleasant and successful ramble.