Thursday 24th October 1968 - Blackden Clough
Mid term already. At about 0910 the following members assembled at the school gates or were picked up at Marple Bridge for a bus ride to the foot of Blackden Clough on the Snake Road:
| | | | |
| --- | --- | --- | --- |
| Leaders: | Bill Smith | Jonathon Thorpe | Helen Davenport |
| F R Mason | Steve Priestnall | Phil Towell | Andrew Barwell |
| Mrs Crossley | Hilary Andrew | Trevor Wild | John Woodward |
| | Mary Boothroyd | Karen Mills | John Thornley |
| Assistant leaders: | Ann Crossley | Lesley Warburton | David Lees |
| Dan McGookin | Susan Wood | Christine Whelan | Karl Burrows |
| Andy Howie | Chris Lomas | Olga Thomas | Shaun Jenner |
| | Noel Flunder | Julie Broderick | Kathryn McMullen |
| | Gillian Bradley | Kathleen Winter | |
| | Peter Booth | Graham Davenport | |
As we passed over the summit of the Snake we were in cloud - this did not auger well for the day. The bus overshot a little, and we had a short road walk back to the access point.
We have only ascended this very attractive clough once before. This autumn day it looked fine; mist and cloud were dispersing and the sun was making an effort to shine. It was warm in the clough. The lads and lasses enjoyed themselves when we reached the rocky part of the stream and were able to clamber over the rocks.
When the high waterfall was reached many of the group were ahead of the leader, and started climbing in a disorganised way - there were bodies spread all over the face. The lads were all called off and the climb put on an organised footing with the more experienced members assisting and guiding the new-comers. This was fun was enjoyed by all.
Then the scramble continued - getting steeper and more rocky as we ascended until we were climbing over and around enormous blocks of gritstone. Near the top a number of experienced lads were released to scramble up an exciting tributary to the left. They reported favourably on this - more of us will try it next time on this route.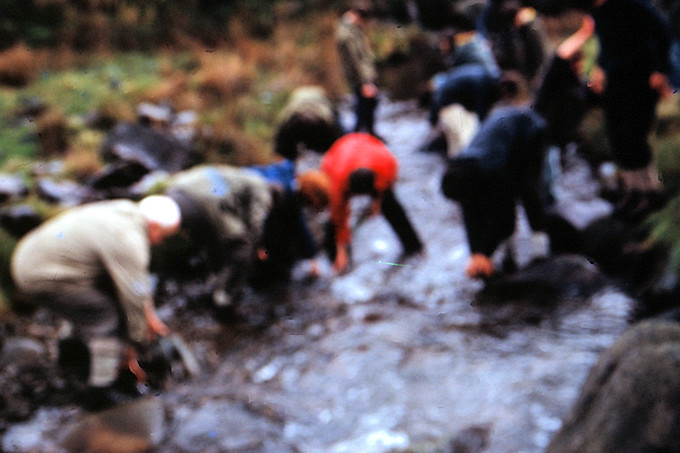 WW1969-002 an image from 1969
At Blackden Head we stayed awhile for lunch and played around a bit. Pat Crossley had found the pull up a little difficult, but expected to be OK on the more level going ahead.
From Blackden Head we roamed easily along the path skirting the Edge until we reached Fairbrook. On the way we had several stops to gaze around, scramble on rocks, and have strenuous rough-n-tumbles on the soft peat and undergrowth; a great deal of energy was consumed. On one of these stops our venerable leader had a wrestling match with Hilary Andrew - he had promised himself the pleasure of sitting on Hilary in 'revenge' for having been sat on by that lovely lass during the Arran holiday. From the expression in Hilary's eye, she was confident that she would sit on the poor old boy again. Little did she know - in a very short time Hilary was 'being sat on'. It was good fun.
Arriving at Fairbrook we set course across the peat bogs for Kinder Downfall. This is a very boggy stretch, cut up by many deep groughs; across one of these, which demanded a big leap on to a mass of well consolidated peat, Hilary delighted us all by making a good leap, then, having her feet well in the peat, sitting down fair and square in the pool of water behind her. Poor Hilary. This 'feat' would've made a wonderful picture - unfortunately the cameras were not immediately available, and we were all too much doubled up laughing to think much about them.
Finally we arrived on track at the Downfall, after a few more incidents with folk getting stuck in bogs. At the Downfall we stayed a short time to gaze around, and then divided into two groups; an easy group under command of Mrs Pat Crossley, but guided by Bill Smith and Steve Priestnall, and the remainder to 'do' the scramble or descent down the side of the gorge. This exciting bit was completed without untoward incident.
Having made the descent to the great blocks of rock, further progress was made, boulder hopping down the stream, to the confluence with Red Brook; here we met the other half who had traversed the western edge of Red Brook and then made an exciting descent down this rocky stream.
From this meeting we continued down the stream to the woods, then over the foothills to William Clough, up Horrible Hill, with a further rest at Nab Brow - where there is ample evidence of active vandalism - before pushing on that final two miles to Hayfield.
A very successful and exciting day.