Saturday 10th September 1966 - Nabb Brow
Those taking part were:
| | | | |
| --- | --- | --- | --- |
| Julie Flunder | Andrew Barwell | Susan Pratt | R Booth |
| Francis Isherwood | Chris Ridgway | Linda Bentley | Miss L M Dumm |
| Graham Booth | Phillip Travers | Noel Flunder | Miss P Meagher |
| Chris Gorman | Elaine Mulligan | Andrew Howie | |
| Andrew Hill | Ann Jaffet | F R Mason | |
Being the first ramble of the new school year an easy route was chosen - a route fairly free from mud, bearing in mind that many first year children would not have proper walking boots.
The route chosen was from Hayfield on the path towards William Clough and Nab Brow - this was after checking the shooting areas [9 & 10] for the day. On the map the main path skirts the area 9. However at the gate to the access area was a notice saying "no access today". However, after studying the map, decided to press on keeping strictly to the path. Met two wardens on patrol, discussed the matter briefly; the wardens agreed and we pressed on.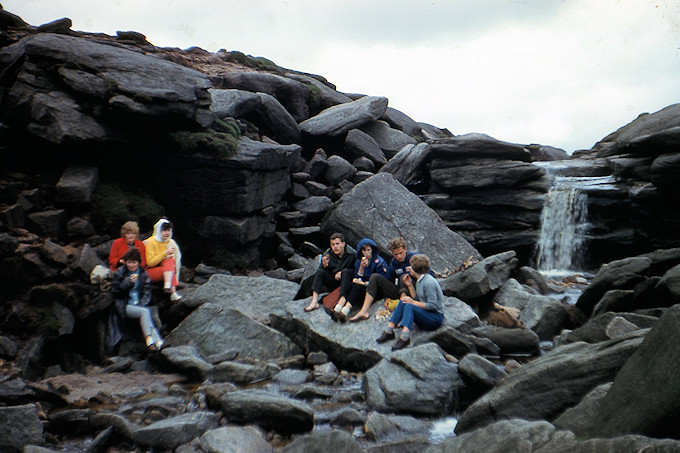 WW1960-007 an image from 1960
From Nab Brow we dropped down Horrible Hill over the fields to join the Kinder Brook. The brook was followed to just below the Downfall - here those folk with smooth shoes were directed to scramble up the steep RH (right hand) side; the remainder scrambled on over the rocks and then climbed up the ledges to the top. Here the two parties rejoined and ate lunch.
Had a chat with two London students from training college. Quite a number of people about.
Continued along the path dropping from Kinder Edge and finally down to the reservoir and into Hayfield. The weather was mainly cloudy with short sunny periods, but visibility was excellent and the country looked splendid.
A straightforward but pleasant outing. Nothing to report.